August 4, 2017 @ 12:49 PM
Seven Sensible Steps to Success as a Writer
Step 6 (continued): Life in death…
I can give a good example from experience of the value in talking a manuscript through with somebody you trust – and also of the significance of dialogue that has meaning and carries the story forward.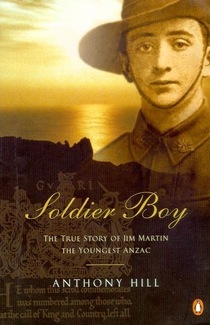 When I was writing Soldier Boy, we had trouble getting the opening pages right. I knew I wanted to use a circular structure. It's a very powerful one: beginning at the end, with 14-year-old James Martin dying on board a hospital ship off Anzac Cove, Gallipoli, in 1915.
But somehow it wasn't working. I kept being led into all kinds of irrelevant diversions, and the tale going off at a tangent. Telling the reader, for example, that not only did the drinking water taste of kerosene, but why it did so…
Sitting on the bed one morning I asked Jill, 'What would he be doing in his last moments...?'
'He'd be wanting his mother. Calling for her.'
'Of course he would.'
I went back to the keyboard and wrote as the fourth short paragraph: 'Please … Mum … water.'
And suddenly, in his death, young Jim Martin began to come to life on my page. The extraneous matters left the scene, to be written where they belonged later in the drama.
As it turned out, his story went on to become by far my most successful book - and Jim to take his place in the pantheon of Australia's war heroes.
Now I have it as a general rule that if my characters aren't talking by the fourth paragraph after we first meet them, there is probably something the matter...
Next: how many drafts?