Click on the covers for details, notes, links and to buy each book – more covers below.
Welcome to Anthony Hill's home page
OUT NOW!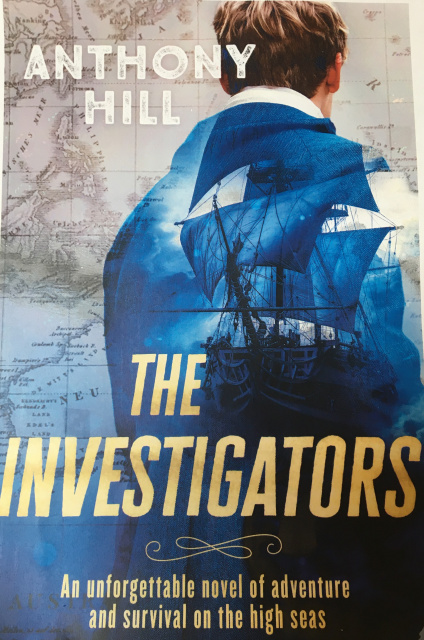 The voyage that put Australia fully on the map
A dramatic story of discovery, disappointment, tragedy, shipwreck and love denied for Matthew Flinders and his crew aboard HMS Investigator during the first modern circumnavigation of Australia.
Told through the eyes of his young cousin and midshipman John Franklin, who became a famous Arctic explorer and Lieutenant-Governor of Tasmania
To buy The Investigators Audio or eBook click here
Summer 2022 Newsletter: The Investigators
A year of writing tips for new and established authors
Anthony Hill is an award-winning Australian author of 21 books of stories ranging from the First and Second World Wars, soldier settlement, prisoners of war, boy soldiers and war orphans to convicts and the Aboriginal 'Stolen Generations'. His best-selling books include Soldier Boy, The Burnt Stick, The Story of Billy Young, Young Digger and Captain Cook's Apprentice. Anthony writes for adults and younger readers.
He has the unique skill of writing books which cross over from a younger audience to an adult readership... Christopher Bantick.
Anthony's Books. Click on the menu buttons (left) for notes and links for each of Anthony's books ... and About Anthony's background as a writer, journalist, and speech-writer for the Governor-General.
eBooks. Many of Anthony's books are now eBooks. Click on titles and links from your favourite online ebook store . Growing Up & Other Stories, Spindrift and Nganbra are new out as eBooks through my website.
Newsletters. Click on the Newsletters button on the menu list (left). Just published Summer 2022 Newsletter:
Bulletproof! 100 Years of War, Anzac and Children's Books (CBCA 2014)
New find: Admiral Isaac Manley's Map (Captain Cook Society journal)
'Young Digger': great new photos discovered
TEACHERS - CLASS SETS AVAILABLE OF BOOKS IN PRINT
Click on the covers for details, notes and links on each book