April 8, 2015 @ 8:14 AM
For nearly three weeks between the middle of March and Easter, my wife Jill and myself are travelling in New Zealand: mostly holiday through the North Island, but a few days to discus s the new book with my Editor, Suzanne. What follows are some random jottings – not a travel diary but a few stray thoughts.
Travels in New Zealand: Week One
Auckland – Whangerei – Bay of Islands – Makatane
* The Shock of the Old. It's not until you go travelling, that you suddenly realise how much things have changed and how the reflexes have aged. We were so busy worrying about Cyclone Pam, due to touch down in Auckland at the same time we were, we didn't give enough attention to crises at the Australian end. For instance:
* Forgot about the need to fill in the departure forms until confronted with the thronging chaos of Sydney International Airport. Quietly abused the airline for not giving them to us … only to find the forms snug in the envelope with our boarding passes. Which we'd also forgotten to look at … until walking onto the plane we discovered we had adjoining seats – but in different rows! A kind New Zealand man swapped his aisle seat for Jill's window.
* Didn't give enough thought to the new counter-terrorism, either. When we first started travelling 45 years ago, a money belt was considered essential for your cash and valuables. Not today – at least not at airport security checks. I forgot all about mine: was put into that awful feet-apart-hands-above-the head posture, scanned, had to remove the belt from my clothing in front of everyone and shout to Jill to watch our money as I was returned for further frisking. I understand the need for it absolutely. In this age when everyone is a potential suicide-bomber, we must all be regarded as such. But oh! The shame, humiliation and upset of finding it so.
* The joy was to arrive at Auckland three hours later to discover the cyclone had safely passed to the east, the airport calm and efficient, and to find again the universal friendliness of the NZ people. And I'd done one thing right. Decided to get a shuttle bus to the motel on the water just out of town, to avoid the peak hour traffic, and to know the route when I picked up the hire car next day. A wise move. Freeways should only be tackled by unfamiliar drivers after a long and stress-free sleep.
* New Zealand has been gripped by a scandale involving two 20-something English "celebrity" judges kicked off the local X Factor show for abusing a young male contestant with mild disabilities. It's a great plus for inclusion and the young fellow, who now finds himself a real celebrity. And for those of us who detest the ritual humiliation of "reality" television, it has the delicious irony: "Judges Voted Off TV Reality Show."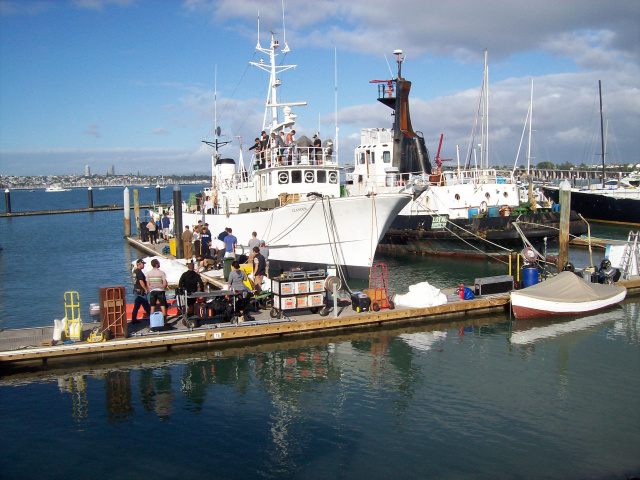 * Further evidence of the divorce between television, film and anything resembling real life. They were shooting part of a forthcoming series about Sir Edmund Hillary at our local Auckland ferry terminal while we were there. Lights, cameras and action on a launch by the wharf. A couple of actors in uniforms picking away at a small raft piled with ice, a green screen for a matt painting behind, which will become Hillary digging his way through the snow at the Antarctic.
* There were a couple of dozen people involved at least in another small scene were saw being set up, to show someone emerging from the cabin of the launch. The director, actors, assistants, cameramen, make up people, props staff, lighting technicians, wardrobe dressers, writers, a convoy of hired trucks and caravans up the back, a mobile kitchen and so on. All of them undoubtedly necessary to the production. But you can understand why some actors become rather conscious of one's importance , when it takes a crew like this just to show you coming out of a door.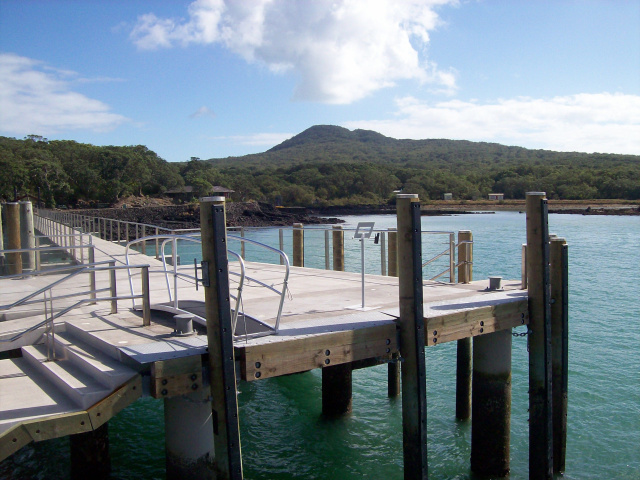 * A fine morning cruise on Auckland Harbour included a brief stop on the volcanic island Rangitoto, which rose from the sea bed 600 years ago. It's now covered in pohutikawa forest – New Zealand "Christmas Tree" – which turns the whole island scarlet with its foliage in December. A spectacular sight – no less than the first astonishing eruption must have been. It reminds, too, of the relatively recent volcanic origin of New Zealand itself … the ranges and spectacular coastline as we drive north. Promontories and headlands sharp as broken glass steeping into the sea. I think of the volcanic peaks of Tahiti and its South Pacific neighbours, from which the ancestral Maori came in successive waves of migration from 1000 to 600 years ago.
* Had the pleasure of a full Maori welcome ceremony when we went to the Waitangi Treaty Grounds on the Bay of Islands. Warlike cries, stamping feet, weapons brandished, tongues poking out in defiance. I became visiting chief for the occasion: had to say a few words of thanks "from this old/new chief", accept a kauri pine baton as a gift, and take centre place in the audience for a cultural display by the men and women. Weapons handling … singing … the poi balls for flexible wrists … dancing. Very impressive. Especially when the leader thrust his spear towards Jill and remarked she'd be "tasty" eating. A reference to an aspect of traditional Maori life not often discussed in polite society.
* Captain James Cook was the first Englishman to encounter Maori warriors and unmistakable evidence of cannibalism in 1769, when he circumnavigated the two islands of New Zealand (Aotearoa as the Maori know it) in HMB Endeavour. Cook's first meetings were a lot less peaceful than ours; but his voyage laid the foundations for the colonisation of the land and eventual recognition of British sovereignty at Waitangi in 1840. We shared one thing in common. Cook sheltered Endeavour behind the island of Motuarohia on the Bay of Islands (which he named) for a week to escape storms. So did our pleasure craft. It was pretty rough and sea-sickish on our day as well … and I suspect most of the passengers wished we'd stayed rather longer than ten minutes we did!
*Where we go, others follow! Leaving the Bay we saw that the liner Queen Mary had anchored off Waitangi overnight. A much calmer day for it than we had; though there'd be no shortage of volunteers for chief when they go up to the Treaty Grounds among such a large and wealthy passenger list.
* A grand drive across Northland. Fish and chips (or 'fush-n-chups') as many New Zealanders tend to say) overlooking the heads at Hokianga Harbour, from where unknown thousands of the majestic kauri trees were felled and exported during the 19th and early 20th centuries. In a former life as antique dealers, we bought and sold many pieces of furniture made from the magnificent tawny-yellow wood.
* How wonderful, then, to see one of the last remaining giants standing incredibly straight and tall in the Waipoua Forest, where it began life as a seedling some 2000 years ago. It is Tane Mahuta (Lord of the Forest), the oldest kauri still alive: over 17 metres (50-plus feet) before the first branches, 51 metres (150feet) to the crown, and a girth of 13 metres (around 40 feet). A mighty aristocrat indeed.