November 29, 2013 @ 10:28 PM
Rounding things off
So, eight years after the first editions of The Way My Father Tells It were published, my father John Bowden was still around, having not yet been carried out or led away from his Hobart house!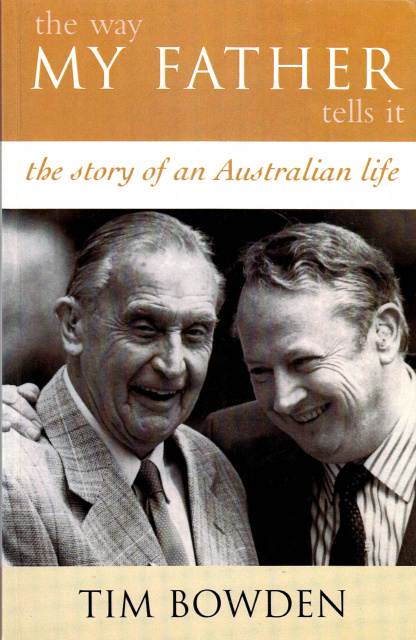 The ABC approached me to bring the book up to date for a new edition. I wasn't sure whether he could still handle tape recording by himself, and I went down to Tasmania to talk to him. He was quite keen on the idea. As we sat down to dinner he said:
'Do you know how old dogs go to sleep every time they lie down?'
'Yes, Father'.
'Well, old men of 90 do that too!'
A final chapter...
During that dinner we talked about what he might put into the new last chapter.
I suggested he revisit some of the issues he had dealt with in the first editions – he had since reflected on the nature of his parents' relationship with each other, for example – and that he should feel free to contribute extra anecdotes if he felt like it.
But I also suggested he talk about what it was like being really old, which he said he would look forward to tackling.
He began recording again with his customary flair on his trusty Sony ghetto blaster tape recorder.
Reflections
"
The fact of reaching 90 triggers a certain amount of reflection on the ageing process. There are deprivations – but this is no complaint. I am well aware that there are those who are much younger than I and who suffer from painful health problems like arthritis or heart trouble, and I realise how lucky I am.
The deprivations I feel are more like irritations by comparison. Lack of energy is something I feel considerably. Once I could get stuck into a job and finish it if I wanted to – like mowing the lawns. Now I can't do them at all.
Short term memory is another difficulty. You never know what the date is, and when you go and look at the calendar you have forgotten by the time you get back to put in on the letter you are writing.
There is also a big drop in your capacity to understand. Sometimes you have to read a paragraph in the paper three times before you get the sense of it. At least deterioration in hearing and sight can be coped with by the sciences, thanks to hearing aids and glasses.
One of the inevitable consequences of living so long is the loss of your contemporaries. The impact of your friends and acquaintances dying is not as great in old age as it was when you were younger.
The idea of one's death...
Even the idea of one's own death is sort of muffled – you don't regard it as anything important. I am quite honest when I say this.
There are things one would miss, like the people one loves, but there is a cushioning effect when even close friends die, because I am convinced that there is nothing tragic in the death of anybody over 80. It's sad, of course, for people who love them, but it's not a tragedy.
I'm happier talking about the pluses of old age. I think my tolerance of other people's behaviour has increased.
And there are an awful lot of things I used to think mattered, that don't matter at all. The capacity to mind your own business is a great comfort.
"
Because eight years had passed since the first edition of The Way My Father Tells It had been published, John Bowden had time to reflect not only on what he had said but added some extra anecdotes as well:
Anna's penis story
"
You can never be sure what children are going to say.
My eldest grand-daughter Anna is now 21. When she was about three we were having a holiday at the family weekender, Askelon, on the east coast of Tasmania.
I was drying myself after a shower, and the bathroom door opened and in slid this little girl. I went on drying myself as a good grandfather should. Anna stood there for a while, and said, 'John, you've got a penis'. I said, 'Yes Anna, I do indeed have a penis'.
She went on. 'Daddy has a penis, and baby Tim-Jim has got a penis too'.
The matter rested there for a moment and I suppose I asked for it a bit by saying, 'What have you got, Anna?' There was a short silence while she considered this.
'I've got a little bit of a cold.'
"
Elegiac
A long childhood...
Since The Way My Father Tells It was published in 1989 it has been reprinted seven times.
Both he and I were astonished by the response from readers all over Australia who said they had been touched in some way by his story.
The letters kept coming for many years. Often the writers asked me tactfully if John Bowden was still alive?
Tim Bowden with his mother, 1937
There was a feeling in those letters that losing him would be like the loss of a member of their own family, or a good friend.
They say that you never really grow up until your parents die. Happily, I have had a long childhood.
When I turned 60 in August 1997, someone mentioned this to my father and asked him what he thought about that. His reply was typical. 'I never thought I'd live long enough to have a geriatric son.'
He 'woke up dead...'
On 19 March, 1998 my father, John Bowden, stopped telling it. He, in his own words, 'woke up dead' as he wanted to do, still living in his own house, and his glasshouse bulging with tomatoes. He was 91.
There was no funeral, as he was against them. But we had a bloody good wake! Which, by the way, he attempted to join. Amidst the jollity and celebration of his long life, the undertaker rang the doorbell bringing us his ashes. John always liked to be at a good party.
Then in my 61st year, I had to face up to the realities of growing up. I'm not sure now at 76 that I have managed very well. Ros has now been waiting a long time for this – some 45 years of married life.
Tim Bowden today
A last musing on family history
The face of publishing has changed out of all recognition since 1989. Who then would have thought of eBooks and eReaders, or of books being produced on demand on a kind of sophisticated photocopier rather than publishers having to punt on large print runs.
Because of POD [Print On Demand], The Way My Father Tells It has been revived, and I have had some copies reprinted. The quality is astonishingly good when compared with the original.
My most recent task was to produce a full audio book of The Way My Father Tells It using as much as possible of the original tapes he recorded by himself in Tasmania – underlying the importance of trying to get as good quality a recording as possible in the first place.
Of all the books I have written, none has given me greater satisfaction than the collaboration with my father – who of course provided all the material. All I did was transpose some events and do some light editing.
John Bowden took great delight in the responses from all over Australia from people who also recalled the first half of the 20th Century from the horse and buggy days, steam trains, early motor cars and in many ways a more simple way of life.
Although he described growing up and living in Hobart, it could have been in any part of Australia. He was asked to give speeches about the book to Rotary Clubs, his old Tamar Rowing Club in Launceston, and other venues which he did with great aplomb.
Had he been able to, he would have been immensely satisfied with the manner of his death – maintaining his independence and completely bypassing the entire aged care system.
Don't wait until it's too late
His story transcended our family history, and has been widely shared with readers throughout Australia.
It is a great shame that family history is often not collected until too late.
The microphone cord long enough to reach the hereafter is yet to be measured. Yet almost every household these days has a recorder of some description.
Not everyone can record themselves as my father did, but a caring family member can assist in mining priceless memories, if gathered in time.
I urge everyone to consider this. I still think of things I want to tell my father, or ask his advice, but alas, he did not leave his telephone number.
********
Tim Bowden's website is www.timbowden.com.au, where copies of his available books can be ordered.