Anthony Hill's Newsletter
Winter 2022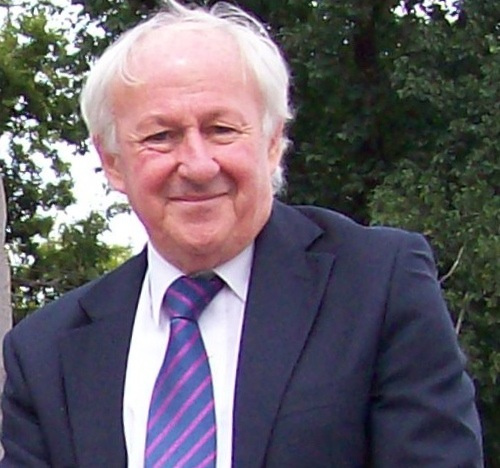 Dear friends
Welcome to my Winter newsletter. In this edition:
* Move to Melbourne
* The Investigators finished
* The Last Convict published
* Death of Bill Young
* Literary Awards
* Books in Print
Move to Melbourne
Welcome to this first newsletter from me after a hiatus of some 18 months. I'm sorry for the long silence – partly because of a physically and emotionally stressful move back home to Melbourne after some 48 years in Canberra, and partly because of a serious illness in the family. Both, I'm glad to say, have now turned out very successfully.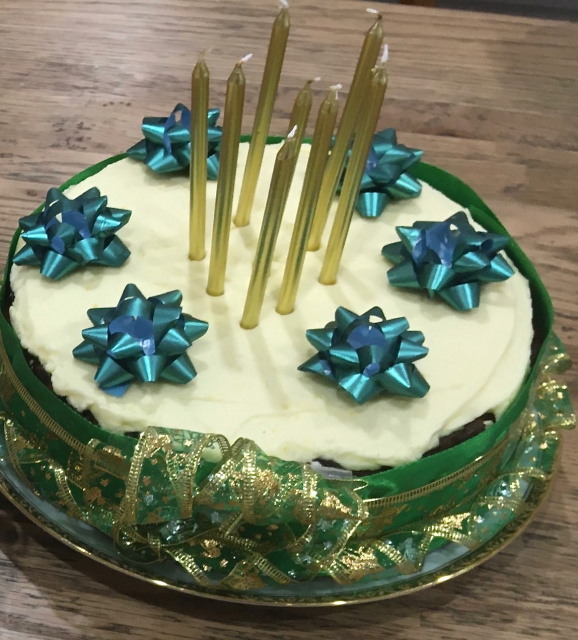 After a sometimes daunting relocation in October 2020 – the middle of Covid with both of us nudging our 80s – we're now happily settled at Parkdale, not far from the beach, public transport at the door, and only a few minutes by car from our daughter and her family.
We knew that if we didn't make the move now we probably never would – and given the circumstances, it was one of the best things we've done.
Eight for eighty candles on the birthday cake my wife made.
We had a housewarming the other week to celebrate my 80th and the renovations complete. Surrounded by friends and extended family, among whom so many old connections were being renewed, we felt that we had at last re-established ourselves back home.
The Investigators finished
Amid all this upheaval I was able to keep writing The Investigators, my new work dealing with Matthew Flinders and the circumnavigation of Australia in HMS Investigator 1801-03. And happy to say, the first draft was delivered only one day late at the beginning of April.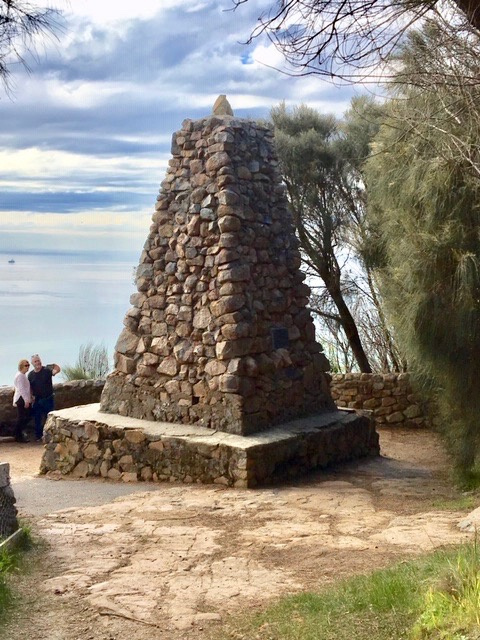 To be sure, I took a short break of a few weeks at the height of it. I have a very understanding publisher in Ali Watts at Penguin Random House.
But even then it seemed important to do a little every day … only a paragraph or two … to keep myself focussed, the mind concentrated and steady when all around were a myriad other issues to be dealt with.
The site on Arthur's Seat where Matthew Flinders took bearings of Port Phillip Bay, April 1802.
I'm fortunate that my usual work practice follows this pattern: a modest daily target of 200 words six days a week (often more words but never less), and always stopping at a point where I know how to go on next morning. Thus I circumnavigate the terrors of writers block, and at least every other day one more page gets added to the pile.
So with The Investigators. Bit by little bit the narrative got written down so that, as I say, the first draft was delivered on time. Luckily, the publisher's schedule was such I had time to complete the second draft, condensing the text considerably and generally making it an improvement as second drafts always are.
The good news is that the publisher is pleased with the manuscript, which is now in the editorial and pre-publication stages. It will be a while yet before we see any page proofs, but as things stand The Investigators is due to be released in March next year.
As it happens, 2023 is the 220th anniversary of HMS Investigator returning to Sydney after completing the first voyage around Australia . Matthew Flinders always wanted to call the continent Terra Australis by this name, and it was adopted within a few years of publishing his Voyage.
On board Investigator was his friend, the Eora man Bungaree, 'a worthy and brave fellow' who was thus the first indigenous person to circumnavigate his country. As, indeed, Flinders was also the first to call its inhabitants 'Australians'.
The Last Convict
Thanks to the havoc wrought by Covid in everybody's lives, publication of The Last Convict was pushed back from mid-2020 until February last year, when it successfully appeared and the story of old Sam Speed reached the bookshops and libraries.
The book was well received by the public and reviewers, and it was on the long-list for the 2021 ARA Historical Novel Prize. That was as far as it went, but a nice validation of the book's merits nonetheless.
There was some reservation among critics that we cannot be absolutely certain Speed, who died in 1938, was in fact the last transported convict to survive. But that's the nature of historical research. Speed believed himself to be the last, is widely accepted as such, and his claim has not been overturned after some 80 years..
In any event the book has sold well and life sales to date are well over 4000 copies – nearly half way to being a best-seller in Australian terms. Sam Speed would be pleased.
Although he has now left our house and taken up residence in the homes of his readers, the old chap continues to remain a personal favourite among the characters I've written about, including the French war orphan Young Digger and the girl Constance from my early fantasy novel The GrandfatherClock. After all, Sam lived with us for more than 14 years during the research and writing his story.
Death of Bill Young
It was with sadness that I learned of the death of Keith William Young in Hobart last month at the grand old age of 96.
He was the subject of my 2012 historical novel The Story of Billy Young:the last survivor of the Sandakan POW death camp in Borneo and the infamous Outram Road Prison in Singapore, where prisoners were brutalised and kept in solitary confinement for months – years – on end. He also spent some months in the Changi POW Camp.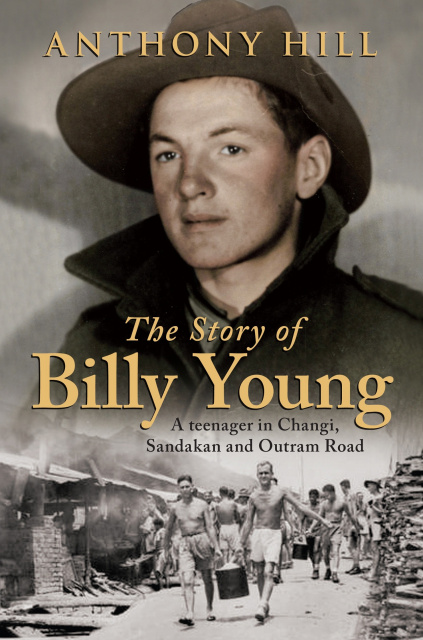 Billy was only 15 when he enlisted in 1941 and not yet 20 when he returned home at war's end. To many of the POWs, the teenager was known as 'Billy the Kid.'
Bill married and had four children. The later part of his life was committed to recording his war experiences and those of his mates, in self-published prose and verse – and, as he taught himself to paint, increasingly in pictures.
He turned his inner anguish outward into art – partly as a form of self-expression, but mainly to keep alive the memory of his fellow POWs who were no longer alive to tell their own stories. In some cases his work is the only surviving record of those suffering years.
We hadn't been contact in recent years, but it is a consolation to know that, through his own work and the book we did together, his story and that of his Sandakan comrades is now part of our national consciousness.
Internationally, too, when he was interviewed by Sir Tony Robinson in 2014 for his televised Tour of Duty series, screened the following year, on Australian military history in the 20th Century.
Literary Awards
Congratulations to the authors and illustrators of books both long- and short-listed for forthcoming annual literary awards. They include:
Miles Franklin Award long-list: winner to be announced in July.
The Other Half of You by Michael Mohammed Ahmad (Hachette Australia); After Story by Larissa Behrendt (University of Queensland Press); Scary Monsters by Michelle de Kretser (Allen & Unwin); Bodies of Light by Jennifer Down (Text Publishing); Echolalia by Briohny Doyle (Penguin Random House); The Magpie Wing by Max Easton (Giramondo Publishing); The Dogs by John Hughes (Upswell Publishing); The Airways by Jennifer Mills (Picador Australia, Pan Macmillan Australia); One Hundred Days by Alice Pung (Black Inc. Books); The Performance by Claire Thomas (Hachette Australia); 7 ½ by Christos Tsiolkas (Allen & Unwin); Grimmish by Michael Winkler (Puncher and Wattman).
Children's Book Council of Australia: Book of the Year Awards short-lists: winners to be announced in August.
Older Readers: Girls in Boys' Cars by Felicity Castagna (Pan Macmillan Australia); How to Repaint a Life by Steven Herrick (University of Queensland Press); Tiger Daughter by Rebecca Lim (Allen & Unwin); The Boy from the Mish by Gary Lonesborough (Allen & Unwin); Terciel and Elinor by Garth Nix (Allen & Unwin); Sugar Town Queens by Malla Nunn (Allen & Unwin).
Younger Readers: Dragon Skin by Karen Foxlee (Allen & Unwin); The Detective's Guide to Ocean Travel by Nicki Greenberg (Affirm Press); Huda and Me by H. Hayek (Allen & Unwin); A Glasshouse of Stars by Shirley Marr (Penguin Random House Australia); Exit Through the Gift Shop by Maryam Master, ill. by Astred Hicks(Pan Macmillan Australia); Rabbit, Soldier, Angel, Thief by Katrina Nannestad (HarperCollins Publishers).
Early Childhood: When the Waterhole Dries Up by Kaye Baillie, ill. by Max Hamilton (Windy Hollow Books); What Do You Call Your Grandma? by Ashleigh Barton, ill. by Martina Heiduczek (HarperCollins Publishers); Walk of the Whales by Nick Bland (Hardie Grant Children's Publishing); Amira's Suitcase by Vikki Conley, ill. by Nicky Johnston (New Frontier Publishing); Jetty Jumping by Andrea Rowe, ill. by Hannah Sommerville (Hardie Grant Children's Publishing); Winston and the Indoor Cat by Leila Rudge (Walker Books Australia).
Picture Book: The Boy and the Elephant by Freya Blackwood (HarperCollins Publishers); Blue Flower by Gabriel Evans, text by Sonya Hartnett (Penguin Random House Australia); Stellarphant by James Foley (Fremantle Press); The Inheritance by Armin Greder (Allen & Unwin); Just One Bee by Christopher Nielsen, text by Margrete Lamond & Anthony Bertini (Dirt Lane Press); Iceberg by Jess Racklyeft, text by Claire Saxby (Allen & Unwin.
Eve Pownall Award for information books: Still Alive, Notes from Australia's Immigration Detention System, by Safdar Ahmed (Twelve Panels Press); The Illustrated Encyclopaedia of Peculiar Pairs in Nature, by Sami Bayly (Hachette Australia); Book of Curious Birds, by Jennifer Cossins (Hachette Australia); Walking in Gagudju Country: Exploring the Monsoon Forest by Diane Lucas & Ben Tyler, ill. by Emma Long (Allen & Unwin); The First Scientists: Deadly Inventions and Innovations from Australia's First Peoples, Corey Tutt, ill. by Blak Douglas (Hardie Grant Publishing); Heroes, Rebels and Innovators by Karen Wyld, ill. by Jaelyn Biumaiwai (Hachette Australia).
New Illustrators: A Trip to the Hospital by Freda Chiu (A&U Books for Children and Young Adults); Everyday Wonders by Natala Graetz (Everyday Wonders); Great White Shark by Cindy Lane, text by Claire Saxby (Walker Books Australia); Walking in Gagudju Country: Exploring the Monsoon Forest by Diane Lucas & Ben Tyler ill. by Emma Long (Allen & Unwin); For Love by Cristina Neri (Lake Press Pty Ltd); The Boy Who Tried to Shrink His Name by Michelle Pereira, text by Sandhya Parappukkaran (Hardie Grant Children's Publishing).
Books in print:
Personally-signed books still in print can be ordered through the website here.
• Animal Heroes ($33 plus $9.50 postage)
• The Burnt Stick ($17.00 plus $3.30 postage)
• Captain Cook's Apprentice ($33 plus $9.50 postage)
• The Last Convict ($33 plus $10.50 postage)
• For Love of Country ($35 plus $15.50 postage)
• The Story of Billy Young ($23 plus $9.50 postage)
•Soldier Boy ($20 plus postage $3.30)
• Young Digger ($30 plus postage $9.50)
I will refund any excess postage if multiple books are purchased.
Books out of print:
I have a very few copies left of some of my older titles that are now out of print. They include Antique Furniture in Australia; The Grandfather Clock; Growing Up & Other Stories; River Boy; The Shadow Dog; and a couple of Harriet and Spindrift. If readers are interested in any of them, please contact me directly at anthony@anthonyhillbooks.com and I'll let you know prices, postage and payment.
The next scheduled newsletter will come out at Christmas.
Until then, with best wishes for the rest of 2022.
Anthony
Photo credits: Books covers courtesy Penguin Random House; photos of birthday cake and Flinders' cairn by Anthony Hill