Animal Heroes
Chapter Notes
Read these notes with the article Writing Animal Heroes and the Animal Heroes References

To see the many photographs at the Australian War Memorial go to > Collections > animals > Horrie, dogs, horses etc > also search by conflict. And for the official records on Horrie see the files at the National Archives of Australia > Recordsearch > Guest search > Horrie 1945

Abbreviations:
AWM – Australian War Memorial.
AWM224 etc – AWM file number (spacing will vary).
NAA - National Archives of Australia.
RELAWM – AWM relic or heraldry items (note spacing).


INTRODUCTION. See notes to Horrie, Cassius, Sandy, Pigeon VC, Murphy, mascots etc below. Digger, AWM 749/069/006, inc letters from Mrs O.M. Macnaughton; RELAWM16602, 16603, 16604 for collars and tanned skin (Digger was made into a hearthrug); AWM Australian Postcard Collection 2/4/34.

DRIVER. AWM93 7/4/225, letters and reports from Driver L.E. Ross, curatorial notes; Chatto pages 8, 144; Long (ms kindly made available by Elizabeth Burness).

MURPHY. AWM25 172/3 The story of 'The Man with the Donkey', compiled from AWM records; AWM27 397/9 Request to Australian and NZ Forces for information on the location of 'Murphy' after evacuation from Anzac, March, 1916; The Anzac Book page 53, 'Jenny'; Bean Official History Vol I pages 552-555; Carlyon pages 266-271; Cochrane especially chapter 6; Curran especially chapter 12; Dennis.

ZEP. AWM PR86/342 Papers of C.F. and E.H. Fryer; author interview with Mrs Barbara (Judy) Holt, who donated the Fryer material to the AWM on behalf of her family; Remembrance booklet for Charles Francis Fryer, kindly loaned by Judy Holt.

LAST RACE. Billjim is invented, but the name was often used by the light horsemen of themselves (possibly a combination of common Australian and New Zealand names). See also AWM database Encyclopedia entries for 'Kangaroo Feathers and the Australian Light Horse' and 'Waler'. Last race at Tripoli, 22 February 1919, Darley pages 170-172, Olden pages 298-300.
Horse disposals, Nutting, page 64 states 667 horses of the 4th Regiment were destroyed at Tripoli, the remainder handed over to the 11th and 12th Regiments and the 5th Cavalry Division. For overall numbers see notes to Sandy below. Saluting, lamp, Gammage pages 140-141; Turkish POWs page 143. Bill the Bastard, Jones page 21; the gallant animal later became an officer's packhorse. Beersheba, Gammage pages 133-34; Jones pages 96-106. Some 31 light horsemen were killed and 36 wounded in the charge of 31 October 1917. At least 70 horses died.

BULLET, TRICK AND NELL. AIF War Diaries, 2nd and 4th Aust Div Signal Coys, May-August 1918, (AWM4 rolls 408 and 410). Bullet's 19 hour run, with 16th Bn, 18 June 1918. Messenger dogs, Bean Official History Vol VI page 39.

BILLY BANTAM. AWM265 21/5/26 Mascot bantam of the 13th Battalion, inc letters from Mrs Igoe; White page 62; Smith's Weekly 30 October 1926, 'Fighting Chook'. Jackie, AWM photograph caption P01835.014; also see P01836.003, Jackie perched on a stack of rifles. Robert, AWM photo EN0104. The Royal Family, AWM photo E02427 and caption.

ROFF. AWM93 7/1/55 German Messenger Dog inc letters to AWM from Capt McKillop, George Starke and others 1926; letters from Lt-Col Marks 1918; McKillop, vets, AIF staff and others 1919. Background notes kindly made available by Elizabeth Burness. Names in caption to RELAWM04369. Monash page 241; White page 136; also see Chris Goddard, 'Roff's War', in Wartime Issue 20. Roff was placed at the Bitterne Manor Farm Quarantine Kennels.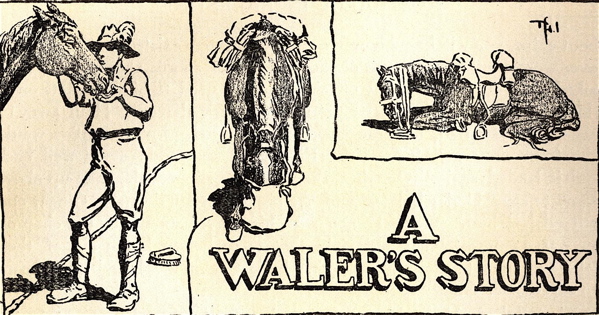 From Australia in Palestine, 1919
SANDY. Chris Coulthard-Clark, 'One came home' in Wartime Issue 19. Voyage, Jones pages 23. Horses at Gallipoli, Bean Official History Vol 1 pages 78, 169. Bridges, Dennis page 120. Sandy's return, AWM13 7026/2/31 and AWM27 397/10. Camels, The Kai Ora Coo-ee pages 13, 19; Gullett Australia in Palestine, especially page 125, 'The Camel Brigade' by Trooper Bluegum (Oliver Hogue), also page 149 'The Horses Stay Behind'. Numbers, Yarwood pages 180-181: of the 135,000 horses who left Australia in WWI, 43,000 were used by the AIF, the rest by British and Indian units.
Fate of horses, AWM25 245/112 Disposal of Animals on Demobilisation, shows that when the war ended, the AIF had about 15,000 horses and 6000 mules in Europe. Almost all were sold to farmers or for horsemeat. The fate of the horses left in Egypt and Palestine is more contentious, some historians suggesting they were either all shot or 'sold into slavery' (eg Cooper page 47, Gammage page 138). Yet the majority appear to have been transferred to Imperial (mainly Indian) army units, and continued their military lives.
A document in AWM25 29/1 Disposal of AIF Animals in Egypt June-August 1919 by Col. Kendall of Veterinary Services, states that 6126 AIF horses were transferred to Imperial units for War Department purposes, 72 were sold, and 111 destroyed. Before the transfer, 2583 horses and mules had been destroyed (which Kendall assumes are those classified as aged over 12 or unfit, and destroyed by AIF units themselves, as at Tripoli.) A cable (AWM25 245/112) of 15 January 1919 from Australian Administrative HQ states that few surplus riding mounts were left 'after refitting Indian Cavalry Division and other Imperial formations, thus assuring quick satisfactory disposal majority AIF Animals.' No doubt some Australian horses were among those sold in Egypt after the war, whose mistreatment led to the establishment of the Brooke Hospital at Cairo in the 1930s, see Cooper page 48.
RSPCA Memorial, RSPCA brochure; Bird; author interviews with Dr Hugh Wirth and Steven Holland. The Desert Mounted Corps memorial unveiled at Port Said in 1932 was designed by C. Web Gilbert and completed by Sir Bertram Mackennal.

HORRIE. Author interviews with Norma Allen, Betty and Brian Featherstone, Ian Moody, Leonie Moody. Idriess pages 78 war dog, 124 messenger dog, 163 Imshie, 222 Hobo. Moody L, pp 78 pack, 83 smuggling, 85 Imshie, and Horrie home, letters, poems, articles etc. Letters to Jim from his father, Henry, March 1945, kindly loaned by Leonie Moody. NAA: now online files A432 1945/480 Destruction of dog, Horrie; A11984 V213 Legislation – Commonwealth – Breaches 'Horrie the Wog Dog', especially letters from Wardle and the Director-General of Health, Dr J.H. Cumpston; WW2 Defence Service Records VX13091 J.B. Moody, and NX11568 D.M. Gill. Daily Telegraph 13 February 1945; Truth 18, 24, 25 March, 22 April 1945; Daily Mirror 25 April, 28 June 1945; Melbourne Herald 15 March 1945.
Mascot smuggling, Australian soldiers tried to smuggle many mascots home. A letter from Wardle in NAA files states that in March and April 1942 (when Horrie got ashore) quarantine officers seized 21 dogs, 17 monkeys, 3 squirrels and a cat, rabbit, parrot and other birds found aboard returning troopships. See also Salt.

PIGEON VC. Author interview with Keith Wrightson, a lieutenant with the Australian Corps of Signals' Pigeon Service in New Guinea during WW2; Wrightson interview with Andrea Close, ABC radio 2666, Canberra, 11 October 2002. The ABC kindly made the tape available. AWM database Encyclopedia, 'Short history of the Australian corps of Signals' Pigeon Service from 1942', and also 'Dickin Medal'; Kilgower chapter 2, 'Pigeons at War'.
Fate of pigeons, Keith Wrightson estimates up to 10,000 pigeons were left behind in New Guinea when the war ended. There were no natural food grains suitable for them in country, and cost and quarantine regulations prevented their entry to Australia. It was felt a humane thing to gas the birds, and only very few bodies were returned for display. They included the two Dickin Medal winners.

GUNNER. Author interview with Percy Westcott. The Canberra Times, 15 August 1981, page 2 article by Frank Cranston on Gunner. Cocky, Soldiering On page 158; 'Air Picquet' by Roy Hodgkinson 1942, AWM ART21686. Smiler, AWM photo 025238 and caption.

REDLEAD. Author interview with Mrs Norma Collins, widow of Bob Collins who died in 2000. The kitten's name was spelt as one word. Cassells pages 123-125 is based on interviews with Bob. AWM database Encyclopedia entries for Perth: 'The cat who knew'; Dr Peter Stanley transcript, 'The loss of HMAS Perth, 1 March 1942'; items from the collection including Christmas card, map, news clipping; entry for HMAS Perth on RAN history site (www.navy.gov.au). See also Whiting page 86; and Parkin chapter 9, Sunda Strait, for Perth's last battles.
Ferdie, AWM photo OG2824 and caption. Priceless, AWM 118415 and caption. POWs, Dennis page 481: 18,400 Italian, 5600 Japanese and 1600 German POWs were held in Australia during WW2. Enemy aliens, Dennis page 28. Over 5700 German, 5100 Italian, and 4300 Japanese men, women and children were interned in Australia during WW2. See Fischer and Bevege for detailed accounts of internment in Australia during WW1 and WW2.

JUDY. Author interview with Sheila Bruhn (née Allan); correspondence with Virginia Kanka, the late Freddy Bloom's daughter; correspondence with Hilary Kinghorn, Iris Parfitt's niece and co-Executor of her estate, who kindly gave permission to use illustrations from Miss Parfitt's Jail-Bird Jottings. Extracts from Weekly POW-WOW at the Imperial War Museum, London, kindly researched by Edward Mann and Barbara Large.

March, Allan page 36, Bloom pages 24-25, Parfitt page 2. Cells, Parfitt page 10, also Bloom and Allan. Sparrow, Allan page 61, Bloom page 76. Votes, Bloom page 81. Nipper, Weekly POW-WOW 27/1/43, plus various references to the dogs, cats, sparrows, goat and hen. Window, Bloom page 42. Quilts, Allan page 174 and following. Secret police, Bloom page 115 and following. Judy leaping, Bloom page 139. Judy's death, Bloom page 147, Allan page 178. John Allan died in June 1945, two months before the war ended. Sheila came to Australia and has lived here ever since. Her diary was published in 1994.

THE DAWN DOG. Author interviews with Lance Abbott, George Gray and Allyn McCulloch. Prince served in Malaya 1955-57 with George Gray and other Australian dogs including Jewel, Pedro, Tex, and a mascot cocker spaniel, Wild Dog. Four cross-Labradors from Australia – Rank, Toddy, Gunnar and Simba – served in Malaya and Sarawak during the period of Confrontation 1964-66. They were trained in South Australia by Mason Clark.
George Gray's magnificent Alsatian dog, Prince
Dog's scenting, Sgt Grant Teeboon of the RAAF Military Working Dog Training Flight, says if the human olfactory membrane were flattened out, it would be the size of a postage stamp compared to a large handkerchief size for a dog. We can smell a stew. A dog could tell you the history of every ingredient in it.

STAN'S BAD HABIT. My thanks to Ted Chitham, secretary of 8/9 RAR Association, for sharing his recollections, and also for permission to draw on information about the mascot, published on the association's website: There were four successor Stan the Rams before 8/9 RAR was disbanded in 1997.

CASSIUS. Author interview with Norm Cameron; Cassius' autopsy report in AWM98 R72/1/3, which shows he collapsed at 10 am and was presented to the vet at 3 pm. Tiber, author interviews with Norm Cameron, Mal Collison, Ros Leonard (formerly Selleck); Melbourne Herald 10 May 1969; Melbourne Sun 18 June 1970, and 13 October 1975 where Tiber was still alive after the fall of Saigon, and promoted to acting Warrant Officer.
Marcus, author interviews with Ian Atkinson, Bob Bettany, Denis Ferguson, Peter Haran; Wartime Issue 18, 'Dogs of War' by Elizabeth Stewart'; Haran, Trackers, page 196. See also 'Black Dogs' by Trudi Tate, in Quadrant, September 2001. Bob Bettany is secretary of the Australian Army Trackers & War Dogs Association. Memorials to Australia's military working dogs are at Alexandra Headland in Queensland, and at Goolwa in South Australia.
Fate of dogs, Simon Whitehead has done much research into the Vietnam dogs, but there are still gaps in the record. Marcus apparently was handed to a New Zealand military family in Saigon in 1971, when his eyesight was failing. Caesar was given to the British Air Attaché in September 1970 (letter in AWM98 R72/1/3); and Justin was photographed in Saigon with the manager of the Chartered Bank, who took him in December 1969. Milo also went to a Chartered Bank family, and David Cree, who handled him in 1971, received two Christmas cards from him. The files suggest that Trajan went to a banking family, Janus and Juno to US families, Julian and certainly Tiber to Australian and Marcian to British diplomats. Trajan's Regimental Record of Service (his AAB-83 form) is at AWM98 466, the only one of the Vietnam dogs' known to still exist. It incorrectly calls him 'Trojan'. See also AWM98 72/1/1 and /2.

SERGEANT COURAGE. Author interview with Cpl Kyle Stewart, a member of the search party, and the mascot's chief handler (2004). Biographical notes on Courage I and II kindly supplied by 2nd Cavalry Regiment. Trooper Courage rose through the ranks again, becoming Sergeant Courage once more in 2001. He later bit the finger of the Chief of Army, General Leahy, was busted again, and is slowly getting his stripes back.

SIMPSON. Author interviews with Peter Churcher and WO2 Neil Dailey, Army History Unit, who visited Bagram in August 2002; Lt-Col Stephen Delaney, Capt Jason Logue, Don Barnby and Mick Malone. AWM captions to Churcher's paintings. Rendezvous, Journal of the SAS Association, December 2003, page 15. I acknowledge the kind assistance of the CO and men of SASR.

DOLPHINS. Author interviews with Leut-Cmdr Scott Craig RAN, who was with the joint mine clearance team in the Gulf and observed the dolphins at work; Capt Matt Grant. Article by Leut-Cmdr Michael Maley RAN, Deputy Underwater Mine Countermeasures Commander for Operation Iraqi Freedom, in Navy News 22 May 2003; articles in The Times 29 March and The Australian 31 March 2003.
Information and photographs of the dolphins, sea lions and other Marine Mammal Systems may be found on the US Navy SPAWAR (Space and Naval Warfare) San Diego website. It states that the survival rate of the Navy's marine mammals over the past decade has been around 95 per cent, equal to their survival in the wild.

SNAPPA. Author interview with Maj Nick Faughey, formerly OC 102 Field Workshop, who kindly made available Snappa's Soldier Performance Appraisal Report. Further material from Capt Matt Grant, and staff of Billabong Sanctuary. See also Army News 27 March 2003; and Northern Services Courier November 2003 for Snappa's promotion. The crocodile was hatched in 1981, and enlisted as a mascot in 1985.

BORIS. Author interviews with Cpl Lee and Spr Deanne Doyle. It is not known what became of Sandra and her sister after Lee left Dili. Military working dogs, author interviews with WO2 Michael Pimm of 44 Military Police Platoon, Oakey, Qld; WO Paul Andersen, Flt-Sgt John Baguley and Sgt Grant Teeboon of MWD Training Flight, RAAF Security and Fire School, Amberley, Qld; Dr Michael Hibbert and Robin Martin of the Australian Quarantine Inspection Service.
Zac, Army News 1 August 2002, and Bear, Army News 28 August 2003. After Zac died, Cpl Bowes was allocated another dog, Littleman, who went on to serve with him in the Solomon Islands (author interview with Stephen Bowes). Somalia, author interviews with Seamus Doherty and Cpl Simon Harvey, 3rd Combat Engineer Regiment (3 CER). Costs, author interviews with Grant Teeboon and Michael Pimm. Buster, International Express 16 December 2003 (see chapter 'Pigeon VC' for Dickin Medal). Malaya medals, author interview with George Gray, see ch 'The Dawn Dog'. 'Old Horse o' Mine' by T.V.B., in Gullett Australia in Palestine page 149. 'Why' by Grant Teeboon, 1987, at thepawman.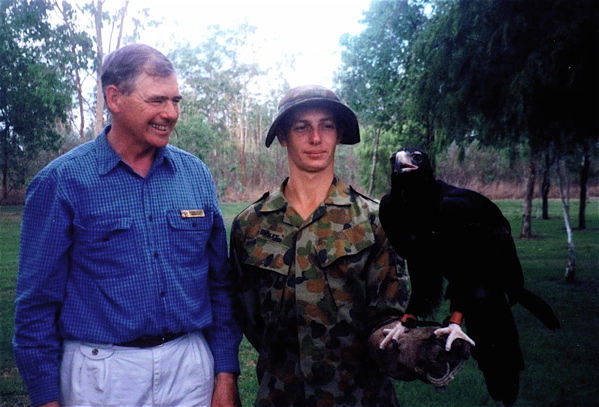 Rear Admiral Ken Doolan, with Sergeant Courage and his handler