Anthony Hill's Newsletter
Christmas 2014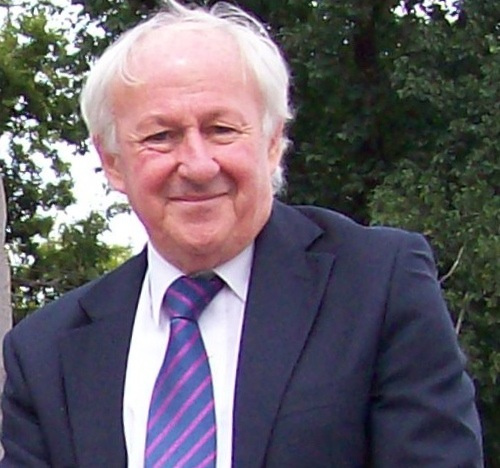 Dear friends
Apologies to all who wondered why I missed my Spring Newsletter. I can only plead pressure of work – and in this case it's quite literally true.
I've had my head down and fingers to the keyboard solidly these last six months trying to finish my book about the soldier-settler family by Christmas.
Done!
Which, I am very pleased say to say, I've done! 'The End' was typed at the bottom of the last screen page at precisely 11.41 a.m. on Monday 1 December - three years, one month and four days since the first tentative words were tapped out in October 2011. Given the strain and commitment to such a big project, one tends to get pedantic – not to say obsessive – about these things.
Still it's a great relief to me, and a nice Christmas present for my wife who's been living with a bear this last half-year or more. A lot more, actually. I can never adequately express how deeply I value Jill's moral and artistic support. She's my best critic – the reader for whom I write, and always the first person to read the words as they come off the printer. I might kick and scream if she suggests changes or incomprehension: but she's usually right.
So thank you sweetheart. We're married 50 years next year, and plan to do a fair bit of travelling. And I'm under clear instructions. NO RESEARCH.
Literary Crash Diet
There's a lot more work to be got through before the book is really finished. The composition is complete, but there's a great deal of revising, editing, cutting and fact-checking to be done to keep me occupied during the golden anniversary, even when away from home. For which one blesses the laptop computer. What a revolution it's made to the creative life.
Workman, Peggy Earl 1984
The first draft came in at around 145,000 words – it's a long book – and I'll need to cut it by 10 per cent. Which is no bad thing, and not difficult. It's amazing to discover how many superfluous words one writes when you revisit them after three years.
Everything goes in at the early stages: every detail and perception, which you realise at a distance are either unnecessary or repeated elsewhere in the text. Cut. Cut. Cut. It's like going on a literary crash diet. The result at the end of it being altogether more trim, taut and interesting.
Or at least one hopes so. From the protective nurture of home and study, the new progeny has to take its first steps into the wider world and learn what others think of it. The letting go is always a little painful, like a child's first day at school: both joyful and sad.
Editors
To this end I'll be sending the finished draft to my
editor, Suzanne, for a New Year read, and will await her opinion with a degree of trepidation. Her judgment is the one outside view I value most.
We've worked together on most of my important books; and while Suzanne understands my approach, she never lets me get away with anything that's less than the best I can do. I recall she had me rewrite Young Digger three times before we got the structure just right: and I must say the book was far better and more layered because of it.
Novice authors who object to the services of a good editor don't know what they're doing. The golden words are not hewn from stone, but from an artistic point of view are endlessly malleable. A fine editor wants only the best for both the book and the author, and I'm very grateful to Penguin they agreed to make Suzanne available for this project.
From here on to publication it will be very much a collaborative effort.
Publisher
The other good news is that Penguin Books has accepted the manuscript. It took a little while, but contracts have now been signed, advances paid and we're looking at publication in the second half of 2016.
Some might ask, Why not next year and the centenary of Anzac? But I've always felt that it should be later. Not only is there the risk our book will be swept away in the tidal wave of Gallipoli publications already breaking over the market, but the theme is the long-term effects of the Great War on the soldiers and their families.
The structure is in three parts spanning two generations: First War – Between the Wars – Second War. Much more appropriate I think it should come after the 1915 commemoration, when readers' minds will be turning to consequences.
Title
My own mind has been concentrating very much on the title of the book. I began by calling it Aftermath, accurate enough though not quite as strong or encompassing as it might be.
For a long while it was Sacrifice – even Blood Sacrifice at one point, for I thought 'They'll pick that one up!' until friends told me it sounded like a vampire novel. Even so, Sacrifice wasn't quite right either. The word is not only something of a 'downer', but says nothing about the rural life, farming and the land which was so important to the soldier-settler family and myself, for it takes place very close to where I live.
Well, as a bonus when I finished the book I think I found the title: For Love of Country. The phrase has the military connotation. It embraces the landscape. And it has the uplifting emotional resonance I was after. The publisher likes it, although of course it may change between now and the day it goes to the printer. But for now that's the working title.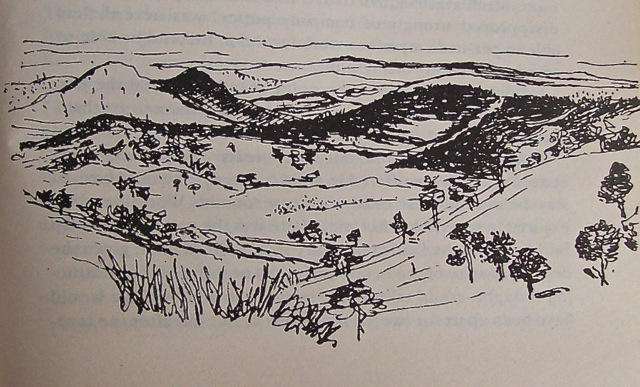 Valley Landscape from The Bunburyists, Peggy Earl 1984
Last Words
The title was there in the last words of the book – and I'm very grateful to Jenny Walsh for giving me permission to use the lines from a poem written by her late father, Jack Mudie.
The book finishes by saying how much the valley has changed today. It's all suburbs, though the ridgelines and the distant mountains, bronzed and veiled in a eucalyptus blue mist, are the same as they've always been. It concludes (and forgive me for not yet revealing the family name):
...So that not just for Jack E * * and the 60 prisoners of war who died at Naoetsu Camp, for whom Lieutenant Mudie – who was also there – wrote his valedictory poem, but for all who with love of country lift their gaze, it may be said:
When days were gray, their tired yet steadfast eyes
Would turn to gleaming sands and rolling plains,
To wheat fields kissed by gentle southern rains,
And gum trees nodding under azure skies.
This is the last military book I propose to write, for I've nothing more to say on the subject. But I think that will do as a sentiment on which to end.
Happy New Year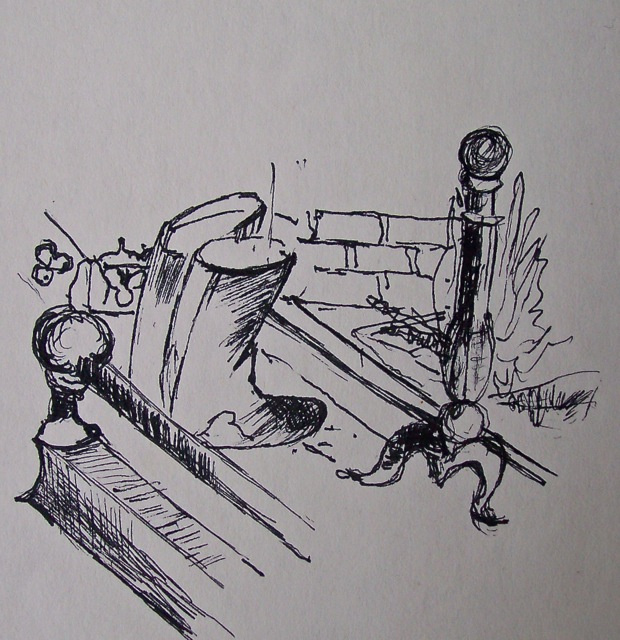 As a stimulus to and reward for finishing the book, I've been buying a beautiful set of Patrick O'Brian's Aubrey-Maturin novels (of which Master and Commander is the first) published by the Folio Society. There are twenty volumes in all, not to be opened until I finished. What a Happy New Year I'm in for now!
Home Fires, Peggy Earl 1984
And after that? Well … there's a convict story I've long wanted to write, and the fellow is already elbowing his way into my active consciousness. Room for me now! And then there's an idea about Matthew Flinders…
So, as I get ready for Christmas, a long rest from the composing desk, and a golden wedding, may I wish you all a very Happy Festive Season, and a successful and prosperous 2015. Thanks for staying the journey with me.
Literary Awards
I'm not sure it was a good idea (though it showed a generous spirit) for the Prime Minister apparently to exercise his prerogative and insist on a joint fiction winner for this year's PM's Literary Awards. Why bother having a judging panel? But even so, the public criticism levelled at some of the winning books by certain of the judges and short-listed authors has been unedifying even by Australia's rough-and-tumble standards, and no doubt painful to those on the receiving end of it.
Of course you have to have broad shoulders to withstand abuse in this business, and everyone knows that literary awards, like most other prizes, are pretty much a lottery. One can only hope that extra sales generated by the rancorous publicity will give the prize-winners some consolation.
In the meantime, let me offer my own warm if belated congratulations to the winners and short-listed authors in this year's round of major literary awards:
* Richard Flanagan who won the Man Booker Prize for The Narrow Road to the Deep North and shared the fiction prize in the PM's Awards with Steven Carroll for A World of Other People.
*Other PM's Award winners: (Poetry) Melinda Smith for Drag Down to Unlock or Place an Emergency Call; (Non-fiction) Gabrielle Carey for Moving Among Strangers and Helen Trinca for Madeleine: A Life of Madeleine St John; (Australian history) Joan Beaumont for Broken Nation: Australians in the Great War and Hal G.P. Colebatch for Australia's Secret War: How unionists sabotaged our troops in World War II; (Young adult)Felicity Castagna forThe Incredible Here and Now;(Children's) Bob Graham for Silver Buttons.
* Evie Wyld who won the Miles Franklin Award for All the Birds, Singing.
* CBCA Book of the Year: (Older Readers) Fiona Wood for Wildlife; (Younger Readers)Catherine Jinks for A Very Unusual Pursuit; (Early Childhood) Jan Ormerod, & Andrew Joyner (Ill.) for The Swap; (Picture Book)Shaun Tan forRules of Summer; (Eve Pownall Award, Information Books) Christopher Faille & Danny Snell (Ill.) for Jeremy.
Vale Margaret Simpson
Finally a tribute to my friend the late Margaret Simpson of Gymea, Sydney, who died last month. Margaret was a teacher, headmistress, fellow member of the Captain Cook Society, and lover of all things literary, historical and educational. She and her husband Ron were of enormous assistance to me during the writing of Captain Cook's Apprentice, and we remained good friends. Margaret will be greatly missed.
Christmas Story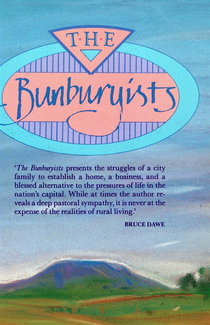 The Christmas story is from my first book The Bunburyists, published by Penguin in 1985. It's a largely autobiographical memoir of our time in the country, running the antique shop, discovering our love of this land and, for myself as a writer, finding I had something to say.
My thanks to Juliet Brown, daughter of our dear friend the late Peggy Earl, for permission to use some of her illustrations from the book.
The Christmas Donkey
Anthony Hill
From Chapter Four of The Bunburyists, 'Natural Disasters', in which I discuss our failed attempts at animal husbandry with chooks, ducks, sheep and an old horse, all of which to a greater or lesser extent ended in failure…
… In the end, we let our paddocks out on agistment to at least keep down the grass, and expected the owners of the sundry sheep and horses that grazed there to look after the animals themselves. It was far less harrowing.
Even our friend Mary, who has more sympathy and communion with nature than anyone else we know, could not cope in the end with a lecherous billy goat she once owned. Not for nothing did the Greeks give their satyrs horns and cloven feet.
Donkey, Peggy Earl 1984
Whenever Mary appeared out of doors, the goat would curl his upper lip in some awful erotic grimace, chase her into the blackberries and, when she escaped his advances, tear the washing off the line and leave his mark over it.
Eventually she had to give him away, although the experience failed to change her opinion of the essential harmony and beauty of life in the state of nature. It works for Mary. But whenever I reflect on our own encounters with animals, I am all for the philosopher Thomas Hobbes and his seventeenth century view of life in the wild, without the benign imposition of order, as 'nasty, brutish and short.' Nature's violent instincts can be disguised only temporarily beneath the fragile veneers of civilisation.
Consider. One Christmas, Mary invited a group of friends from the city to share the festive board and contemplate the tranquilities of nature. Here, far away from the stress and strain of the metropolis, they would be refreshed and restored, nervous breakdowns postponed until next year.
To emphasise the significance of the occasion and lend charm to the season, Mary contrived a Bethlehem scene in the courtyard outside her picture window. An open timber stable was erected, with thatched roof and complete with a manger and bales of hay. The chickens, the ducks, the sheep and two donkeys (a jenny and a gelding) took their places in the tableau, over which shone a paper golden star. The visitors, sitting down to their Christmas dinner, exclaimed in admiration at the spectacle and remarked that here indeed was all the joy and harmony of nature, united in an expression of peace and goodwill.
But there was one thing. The jenny was in season as well. And the stallion up in the back paddock caught the scent of it. Without a thought for the consequences, Jacko thundered down to the house, jumping the fences as he went. And with fearful braying, in his excitement kicked down the courtyard gate, demolished the stable and the manger as he swept all before him.
He attacked the gelding and chased him off, kicking and bellowing. The ducks and the chickens shrieked as they escaped. The sheep scattered. The air was thick with flying hay. And there, amid the mayhem, the cacophony of sound and the ruins of Bethlehem, Jacko performed the act of generation before the astonished gaze of the guests at the picture window,
Disaster. The golden star trampled underfoot. The illusion dashed.
But that's what I mean. It always happens. Whenever you do try to live close to nature and enjoy it, nature always comes along and spoils everything.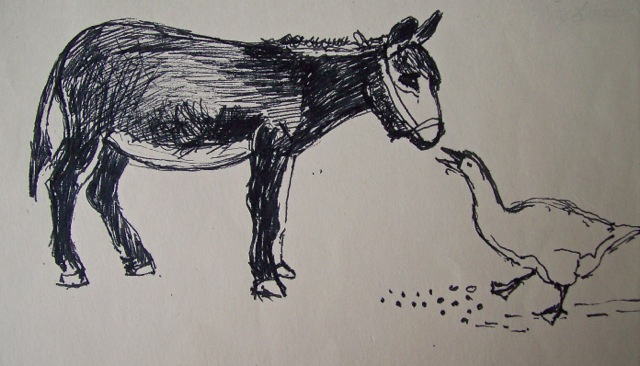 Donkey and Goose, Peggy Earl 1984
Back copies:
There are still a few back copies available until stocks run out.
• Forbidden ($15 plus $2.10 Australian domestic postage).
• Harriet ($18 plus $3.50 Australian domestic postage).
• The Grandfather Clock ($15 plus $3.50 Australian domestic postage).
• The Shadow Dog, hardback ($20 plus $3.50 Australian domestic postage).
• Spindrift ($15 plus $2.10 Australian domestic postage).
If you are interested in any of these books, please contact me directly at anthony@anthonyhillbooks.com. Payment can be made by PayPal, direct deposit or by credit card. Please ask me for the details.
Until next time, with Season's Greetings,
Anthony