Anthony Hill's Newsletter
Winter 2018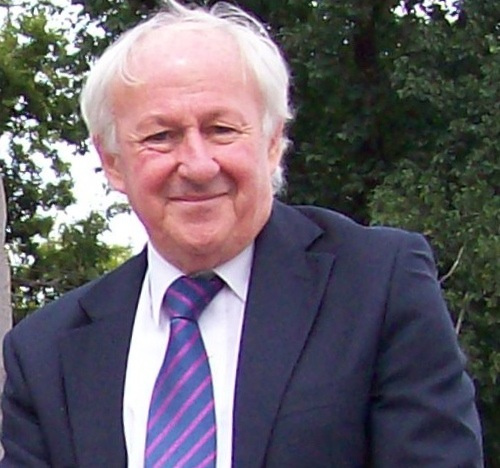 Dear friends
Welcome to my Winter newsletter. In this edition:
* Captain Cook's Apprentice published
*Convict Story: Research trip to WA
* Indian-Pacific train, Perth, Busselton
* Literary Awards
* Books in Print
Captain Cook's Apprentice
Good news for the start of the financial year. The new edition of Captain Cook's Apprentice was published by Penguin-Viking on 2 July, and it has already got off to a pretty fair start. There's been good publicity, especially on radio, and a number of visits are planned.
The cover is especially good, I think: light, inviting and conveys a marvellous 'feel' for the story. I hope you agree.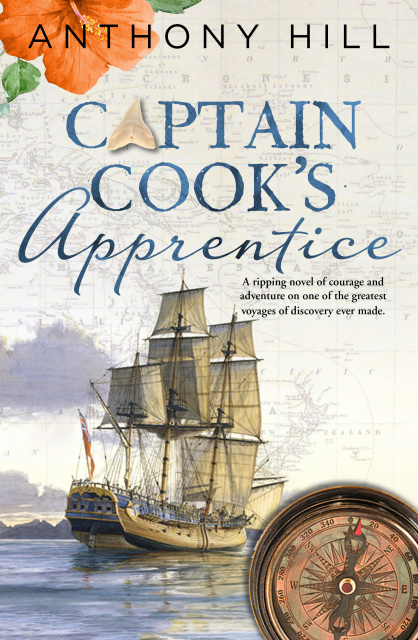 The book concerns the celebrated Endeavour voyage 1768-71, seen through the eyes of young Isaac Manley, a servant boy on board, who in life rose to become an Admiral and lived to be 82, the last survivor of the Endeavour crew.
When he died, the first steamships were crossing the Atlantic, and British settlements had been established in New Zealand and along the eastern seaboard of Australia which he'd been among the first Europeans to see.
The voyage is one of the prime foundation stories of modern Australia. It yielded remarkable scientific results in astronomy, navigation, botany and anthropology. And it remains a tremendous adventure.
With August marking the 250th anniversary of Endeavour leaving England, there's been a degree of controversy in the media – mainly from indigenous groups – over Cook and his territorial claim of New South Wales (as he named it) for the British Crown.
Some of Cook's memorial statues have been defaced and there have even been a few calls to have them removed: a futile gesture, I think, for the past cannot be reversed – however much there may be a case for an additional plaque on them stating that the first indigenous inhabitants, not Cook, were the original discoverers of these lands.
Still, it generated a lot of public interest in the subject, and the Penguin Random House publicity team put together a solid list of media interviews for me, plus events in Canberra and interstate. I'm at Harry Hartog's Bookshop at Woden on 19 July, and the Canberra Civic Library on 10 August. I'll also be attending the Readers and Writers Festival at Orange on 28 July, talking about the food eaten by the Endeavour crew.
The pickled sauerkraut, plus fresh meat, spruce beer and the greenstuff Cook gathered wherever they landed, were his key ingredients for preventing scurvy, the big killer on 18th Century ships.
Cook received the Copley Medal from the Royal Society for his work; but while he and the botanist, Joseph Banks, also used concentrated lemon juice, much of the essential vitamin C had been boiled out of it. Not until fresh limes and lemons were introduced into ships' diets was scurvy finally beaten. Hence the term 'limeys'.
At the wheel of the Endeavour replica
So, there's a good deal to talk about, not to mention the native foodstuffs the Endeavour men ate along the way ... yams, sweet potatoes, South Seas dogs, vegetarian Tahitian rats, kangaroo, green turtles and so on. And discovering, in New Zealand, that the Maori also ate their enemies. Cook later introduced goats and pigs to the islands, which thrived and provided an alternative source of protein for the Maori than human flesh.
I have copies of the new edition available for sale at $33.00 plus $8.50 postage within Australia, total $41.50. If you're interested, orders can be placed through my website here. I'll include a complimentary bookmark plus a signature and inscription if desired to the recipient.
Captain Cook Memorial Plate: Earlier this year I had an article published in Cook's Log, the Journal of the Captain Cook Society of which I'm a member. It's about a small blue plate I found at a garage sale painted with Captain Cook's Coat of Arms. I've posted a copy of the article on my web site and interested readers can see it here. I've also posted on the Historical Notes I wrote for the new edition. The second edition also contains the full Chapter Notes, previously available only from my website.
Convict Story
Many of you may be aware that for some time now I've been talking about a convict book I was planning to write. For years it was to be my next project, but it was always put aside for some more urgent task.
Well, you may be interested to know that at last I've started work on it. More than started, indeed: the book has been pouring out this year, and after five months I'm more than two-thirds through the first draft. It's an unheard-of rate for me, whose literary writing is usually fairly slow.
It's been an extraordinary bit of serendipity.
In mid-January, when I sent off the final corrected pages for Captain Cook's Apprentice, I said to Jill that I really was going to write the convict story this year. I pulled out the files I'd put together, read the material through, and contacted several researchers in Western Australia who'd helped me with the work in the past.
The very next day, Jill was scrolling through the newsfeed on her phone, when she came across an article about the same convict. 'Have you seen this?' And showed me not just an academic piece about him, but they'd found a photograph of the old fellow and an interview he'd given not long before he died. It must have been digitised after I did my initial research at the National Library ten years ago.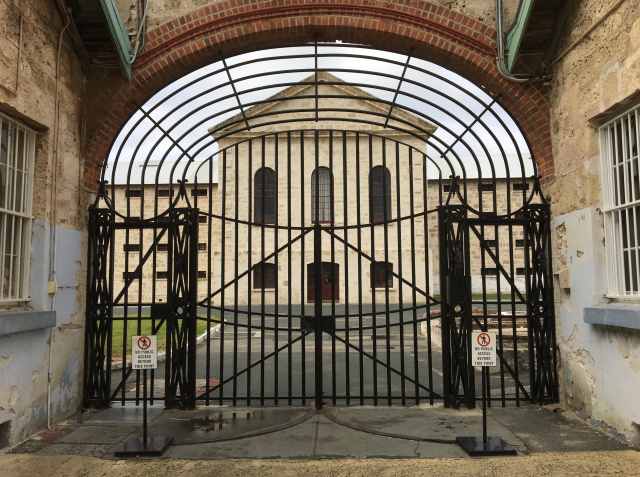 Fremantle Prison
(You'll forgive me if I don't tell you his name just yet, for there's still a long way to go with the writing and editorial production, and I'd rather not alert the competition too soon.)
Anyway, suddenly I had a face to put to my convict (admittedly looking like death-warmed-up), and some scraps of narrative with which I could clothe the bare bones of the story. Talk about spur me on with my own research!
Within a fortnight I tapped out a few opening lines on the little iPad sitting at a desk at the National Library. They took hold, and since then, as I say, the book has been flooding out. An historical novel – though in this case it's far more novel than history, unlike Captain Cook's Apprentice, and I'm luxuriating in the fresh green pastures of literary fiction.
Western Australia trip
Still, like all my historical books, it's essential that the externals of the story are as accurate as I can make them. Since the convict was transported to Western Australia in the 1860s, and lived well into the 20th Century, it was necessary to make a research visit to the West, which we did in June. I'd just landed my convict at Fremantle, and it was the right time to go.
Indian-Pacific:
We actually travelled from Sydney to Perth with a cousin, Jan, in the Indian-Pacific train – four days and three nights in a sleeper. It was a journey I'd long wanted to, and we loved every moment of it.
Well ... perhaps not every moment. There wasn't much sleep on the first night, partly because the motion of the train and the bunks were unfamiliar, but mostly because the New South Wales line gets a lot of heavy use and is now rather bumpy in parts. Second and third nights, however, we slept like lambs.
The cost was a bit over $2000 each, food and beverage included, and it was terrific. Different menu every day - even the cooked breakfast was never the same - and the lounge car was very comfortable when partaking of the beverages.
There's a lounge and dining car to every four sleepers, so it's never over-crowded and the service is smooth and of a high standard.
The mostly young people who staff the train are first-rate, and turn an interesting trip into a memorable one. Highly-trained, professional, obliging and pleasant, they know your name on the second meeting – and they do a run twice a week.
At Cook, on the Nullarbor Plain
The on-board crews change at Adelaide, where we stopped for a few hours. There was a choice of side-trips to the Barossa, Hahndorf or the Adelaide Museum. We chose the latter and had a really interesting dinner and talk from one of the specialist Antarctic scientists on the staff.
Other stops were an early morning sight-seeing tour of Broken Hill, an hour to refuel at the settlement of Cook in the middle of the Nullarbor Plain (population four), and evening drinks at Rawlinna on the WA side of the border.
All in all, a great trip ... followed by four days in Broome at a Cable Beach resort. Every day, as I looked at the Canberra sub-zero temperatures, I struggled out of the bungalow in 30-degrees and tumbled into the pool. A tough way to prepare yourself for a 12-day research trip down south, but somebody has to do it.
Perth:
We were in Perth for the first week of research, and had a busy schedule trying to flesh out the last part of the book from the landscapes, buildings and surviving records from Western Australia's convict past.
It included a trip out to Rottnest Island, for I wanted to see from the water the Old Men's Home where my convict died, Fremantle, the old wooden bridge and the outlying islands. All of them are of importance to the story.
The original buildings of the Home still exist, and thanks to the WA Government, the site is being preserved and restored as a heritage and cultural precinct. I'm very grateful to Paul and the officers who arranged to show them to me on a private visit.
I spent time at the Battye Library looking at records from the convict ship and having lunch with Loreley and Audrey, two women who have helped me enormously with the research to date.
And courtesy of Lorraine, another researcher who has been of great assistance, I was invited to speak about my work at the Royal Western Australian Historical Society.
I was happy to reassure them that I hoped historical novelists like me would never replace the invaluable research undertaken by traditional historians and genealogists. They unearth the real bones from the past, which we novelists provide with fictional flesh and an inner life that can come only from our imaginations.
Fremantle:
The real focus of this part of the research was Fremantle Prison, where my convict laboured for 18 months before he got his ticket of leave — mainly on building the first wooden bridge across the Swan River, parts of which still exist beneath the modern structure (hence the boat trip).
I spent a couple of days in the fine old portside town. The first was taken up by a very good tour of the prison – the most complete remaining structure from Australia's convict history, surviving because it was used as a penitentiary up until the 1990s.
Some of the convict cells have been restored to what they were in the 1860s: bleak, cramped quarters only seven feet long and four feet wide, where the prisoners spent nearly 12 hours a day locked up from dusk to dawn. A bucket, a hammock, a stool and tiny table, and that was it.
And it was for the well-behaved prisoners. The miscreants were faced with the punishment cells, some of them 'dark cells' where they could be placed for days or weeks at a time on bread and water – not to mention the triangles which have been re-erected in a small courtyard with only just enough room 'to swing a cat' (o-nine-tails).
The second day I spent time clambering over the Roundhouse, Fremantle's first prison on the headland overlooking the harbour and the jetty where the convict transports were unloaded. Time, too, at the Maritime Museum and the Library, where I found some very useful maps showing what the settlement was like in the convict era, and from which I can reconstruct my chap's daily movements.
Back then to the prison and a splendid session with Olimpia and Eleanor, the prison museum's curator and assistant curator. We discussed many points of detail – were the convicts chained when they first came ashore from the transport, or what books were in the prison library? – all of which may accumulate to create a sense of authenticity in the text. We've since been able to share a number of research documents which I hope will be in all our interests. I'm most grateful for the time they made available to me.
Busselton:
The last leg was a five-day trip south to the Bunbury-Busselton districts, where my convict worked in a sawmill and as a farm labourer during his ticket of leave. It's beautiful coastal grazing country, lush green after the recent rains, and still with enough buildings remaining from the convict past to make the visit worthwhile. In fact, I felt I got very close to the heart of the story.
The old police station, courtroom and cells are still there at Busselton, now part of a heritage precinct, as are several churches and private buildings. And staff at the local library kindly made quite a file of newspaper clippings, monographs and historical booklets available to me – all very useful in developing background knowledge of the time and place in which my characters lived.
But the best of it came a few kilometres down the road. The township where the convict worked has now virtually disappeared; but calling by chance at a house nearby, I found a whole suite of buildings from the era carefully restored by Norma and Rob. A weatherboard cottage from 1860, the barn, storeroom, police lockup and so on, much as the old fellow would have known them.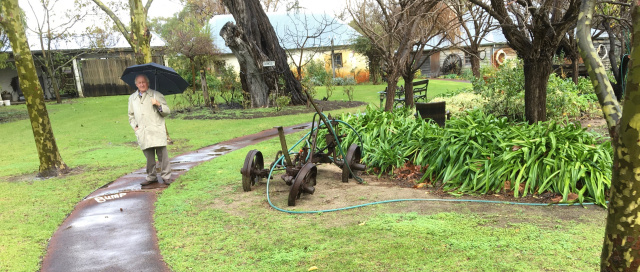 Indeed, Rob and I discovered we're both former journalists with News Ltd., and that led to more valuable help. A long telephone conversation with Chip, a descendant of the pioneer who had the sawmill … photographs of the original homestead … and in particular of a painting, done by a seaman at the time, of convicts loading sawn timber from the jetty into the waiting boats.
It was a wonderful few days for this writer, and much has flowed from it. I'm enormously grateful for the assistance I received all along the way, and can only hope that the finished book will do justice both to my convict and those who have helped me tell his story.
Literary Awards
CBCA: Congratulations to the authors and artists nominated in the shortlist for this year's Children's Book Council of Australia Book of the Year Awards. The winners will be announced during Book Week in August. The nominations in each category are:
Older Readers: Mallee Boys by Charlie Archbold (Wakefield Press); In the Dark Spaces by Cally Black (Hardie Grant Egmont); Take Three Girls by Cath Crowley, Fiona Wood & Simmone Howell, (Pan Macmillan Australia); Because of You by Pip Harry (UQP); The Secret Science of Magic by Melissa Keil (Hardie Grant Egmont); Ballad for a Mad Girl by Vikki Wakefield (Text Publishing).
Younger Readers: The Elephant by Peter Carnavas (UQP); How to Bee by Bren Macdibble (Allen & Unwin); Henrietta and the Perfect Night by Martine Murray (Allen & Unwin); Marsh and Me by Martine Murray (Text Publishing); The Shop at Hoopers Bend by Emily Rodda (HarperCollins); The Grand Genius Summer of Henry Hoobler by Lisa Shanahan (Allen & Unwin).
Early Childhood: Rodney Loses It by Michael Gerard Bauer & Chrissie Krebs illust. (Omnibus Books); Boy by Phil Cummings & Shane DeVries (Scholastic Australia); I'm Australian Too by Mem Fox & Ronojoy Ghosh illust. (Omnibus Books); The Second Sky by Patrick Guest & Jonathan Bentley illust. (Little Hare); The Very Noisy Baby by Alison Lester (Affirm Press); Hark, it's Me, Ruby Lee! By Lisa Shanahan & Binny illust. (Hachette Australia).
Picture Book: Ten Pound Pom by Liz Anelli & Carole Wilkinson text (Walker Books); The Great Rabbit Chase by Freya Blackwood (Scholastic); Mopoke by Philip Bunting (Omnibus); A Walk In The Bush by Gwyn Perkins (Affirm Press); Swan Lake by Anne Spudvilas (Allen & Unwin); Florette by Anna Walker (Penguin Random House).
Eve Pownall Award for Information Books: Do Not Lick This Book by Idan Ben-Barak & Julian Frost illust. (Allen & Unwin); M is for Mutiny! History by Alphabet by John Dickon & Bern Emmerichs illust. (Berbay Publishing); Left & Right by Lorna Hendry (Wild Dog Books); The Big Book of Antarctica by Charles Hope (Wild Dog Books); Amazing Australians In Their Flying Machines by Prue and Kerry Mason & Tom Jellett illust. (Walker Books); Koala by Claire Saxby & Julie Vivas illust. (Walker Books).
Crichton Award for New Illustrators: Can You Find Me? by Patrick Shirvington (New Frontier Publishing); I Just Ate My Friend by Heidi McKinnon (Allen & Unwin); Mopoke by Philip Bunting (Omnibus); Once Upon An ABC by Christopher Nielsen (Little Hare); The Sloth Who Came to Stay by Vivienne To (Allen & Unwin); Tintinnabula by Rovina Cai (Little Hare).
Literary Landscape
I've written at length in this Newsletter about the research trip to Western Australia for the convict book, so I'll finish with a photo of the area around Busselton once known as the Vasse (after one of Baudin's sailors who drowned on the coast there in 1801). Heavily timbered with tall jarrah forests in the convict days, it's now splendid grazing and dairying country, emerald as New Zealand or Erin after the early winter rains.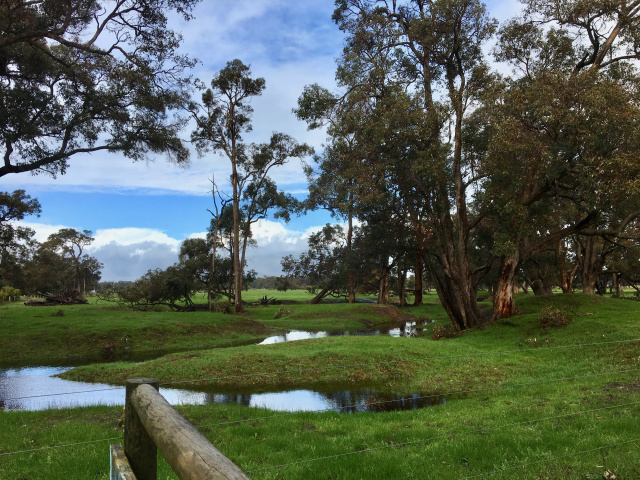 Books in print:
Books still in print can be ordered through the website here
• Animal Heroes ($33 plus $8.50 postage)
• The Burnt Stick ($17.00 plus $3.00 postage)
• Captain Cook's Apprentice ($33.00 plus $8.50 postage)
• For Love of Country ($35 plus $13.50 postage)
• The Story of Billy Young ($23 plus $8.50 postage)
• Soldier Boy ($20 plus postage $3.00)
• Young Digger ($30 plus postage $8.50)
Complimentary bookmark, signature and personal inscription are included. I will refund any excess postage if multiple books are purchased. Please advise if you'd prefer just a signature or the book signed to somebody.
The next scheduled newsletter will come out for Christmas.
Until then, with best wishes
Anthony
Photos: Book cover courtesy Penguin Random House; all other photos by Anthony or Gillian Hill.
http://www.anthonyhillbooks.com