Samuel Speed's Interview
The Mirror, Perth, Saturday 27 August 1938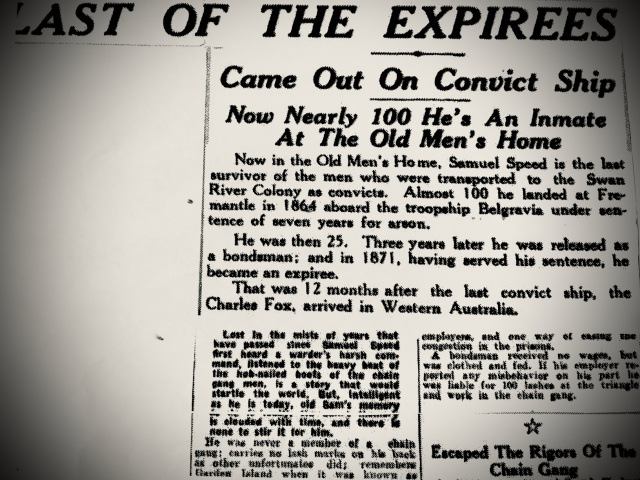 LAST OF THE EXPIREES
Came Out On Convict Ship
Now Nearly 100 He's An Inmate
At The Old Men's Home
Now in the Old Men's Home, Samuel Speed is the last survivor of the men who were transported to the Swan River Colony as convicts. Almost 100 he landed at Fremantle in 1864 aboard the troopship Belgravia under sentence of seven years for arson.
He was then 25. Three years later he was released as a bondsman; and in 1871, having served his sentence, he became an expiree.
That was 12 months after the last convict ship, the Charles Fox, arrived in Western Australia.
Lost in the mists of years that have passed since Samuel Speed first heard a warder's harsh command, listened to the heavy beat of the hob-nailed boots of the chain gang men, is a story that would startle the world. But, intelligent as he is today, old Sam's memory is clouded with time, and there is none to stir it for him.
He was never a member of a chain gang; carries no lash marks on his back as other unfortunates did; remembers Garden Island when it was known as Sulphur Town; helped build the old Fremantle bridge; has never smoked in his life.
"Never cared for it," said Sam to a "Mirror" representative. "Besides, I could always sell my tobacco rations to the other prisoners."
Not Another Black Mark Against Him
He was born in Birmingham in 1840. Still a young fellow when he received his sentence of transportation, Samuel Speed left behind a brother and sister, neither of whom he has heard of since.
From the day he landed at Fremantle he has never had a black mark against his name; and so exemplary was his conduct that, after three years, he was released as a bondsman. In those grim old days, a convict whom the governor regarded as trustworthy was released to work for a private person. It was cheap labor for employers, and one way of easing the congestion in the prisons.
A bondsman received no wages, but was clothed and fed. If his employer reported any misbehavior on his part he was liable for100 lashes at the triangle and work in the chain gang.
Convict cell at Fremantle Prison
Escaped The Rigors Of The Chain Gang
A wise man was Samuel Speed. He kept free of the trouble many of the hot-heads he ran into; and the authorities were quick to recognise his sense of responsibility. So Sam escaped the monotony and rigors of the chain gang.
Among those unfortunates transported, he recalls, were men in every walk of life; doctors, lawyers, shirt-soiled gentlemen and social outcasts tipped together in the hot-house of humanity that was the Swan River Colony.
Vividly Sam Speed recalls the trip out on the Belgravia. The waiting on the hulks at Chatham was an awful time. "Whatever stories you hear," he said, "the officers were pretty good to us. We had plenty of food, and my back bears no lash marks today."
On his release as a bondsman, Sam Speed went to work for Manning of "Manning's Folly" fame. Later he was with the Batemans, the Gallops of Dalkeith, and the Samsons.
"Mrs Willie Samson will remember me well," he said.
Many a bolt he drove building the old Fremantle bridge; and he grinned as he added: "And now they're telling me it's being pulled down for a new one. Let's hope they make as good a job of it as we did in those days."
Moondyne Joe, a romantic figure to us of the present generation, was a very real person to old Sam. He knew the ex-convict; knew of his dramatic escape to the bush around Bunbury; knew of the fruitless hue and cry that was raised by the prison authorities. But "Moondyne Joe" got clear away – was smuggled away on a ship to Boston where he became editor of a newspaper.
"As Lively As A Two-Year Old"
"Did you ever marry, Sam?" we asked the old-timer. "Marry? Me, marry? Not on your life, not with all the girls chasing me like they used to. I was a regular 'nineteener'."
Sam recalls well the dramatic escape of the Fenians, and the occasion on which a number of convicts broke prison, escaped to Sulphur Town and burned down the shops. "Those were the days when you had to walk wherever you wanted to go – unless you had the fare for a coach ride. None of your motor cars or trains. We didn't mind hoofing it – I think the young people aren't so tough these days."
Tucked up in his bed during the week with the mercury dropping quickly, old Sam was as cheerful as ever.
"He's as lively as a two-year-old" said one of the attendants. "We just prepare his bath and he jumps in and out as nimbly as though he were getting ready to go courting again."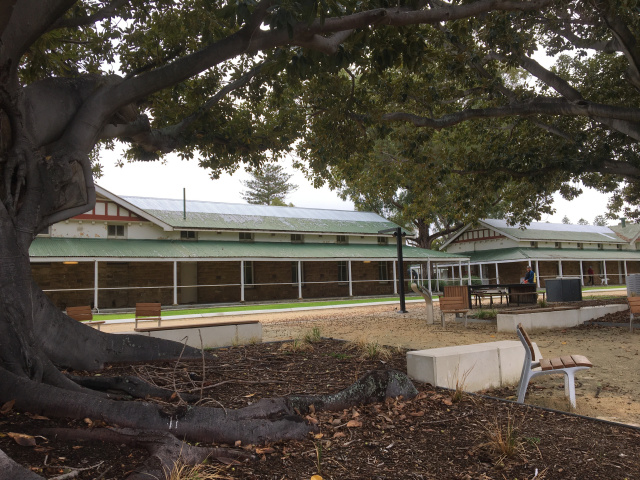 The Perth Old Men's (Sunset) Home
*
[As written. There are a number of errors: The Belgravia arrived in July 1866; the Hougoumont was the last convict ship to arrive in Fremantle in January1868; ticket-of-leave men were paid wages and Sam's monthly rates with Yelverton and Dawson are noted on his convict indent; it was John Boyle O'Reilly who escaped from Bunbury by ship and became editor of a Boston newspaper; escaped convicts fled to Garden Island and Sulphur Town in 1858, eight years before Speed arrived in the colony (see Chapter 10). Sam's true age remains fluid.]
*
Sam's photograph was published on the front page of the Mirror with the caption:
Aged 105, according to some records, but officially accepted as 98, Samuel Speed, now at the Old Men's Home, is the last surviving expiree. He came to Australia in the convict ship Belgravia and was released three years later. He has no other black mark against him and has since been an excellent citizen. (Story, page 16).
[Speed's age was given as 95 on the Death Certificate.]
(Photos: Perth Mirror, Anthony Hill)