Anthony Hill's Newsletter
Christmas 2017
Dear friends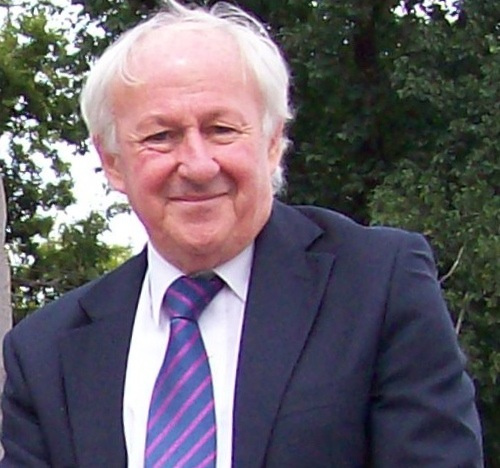 Welcome to my Christmas newsletter. In this edition:
* Season's Greetings. The year ahead
* James Martin ('Soldier Boy') Scholarship
* Young Digger on TV
* Horrie the Wog-Dog new edition * Literary Awards
* Literary Landmark: The Great Hall of the Inner Temple
* Christmas Aboard Endeavour * Books in Print
Season's Greetings
Why is it, I wonder, that the passage of time seems to increase exponentially with age? When we're young, it seems we'll never reach the next birthday: but when there are many more birthdays behind us than there are to come, the next one appears almost immediately to be upon us.
So with Christmas. It feels like it was only last month that I was wishing all my readers every happiness for the Season and the New Year ahead. And here we are doing it already for 2017-18.
It's been a good year for me on the literary front - and also the personal front let me add. April saw the successful publication of the new, expanded edition of Animal Heroes, and a splendid visit to Portland, Victoria, for Anzac Day where the animals in war were especially remembered.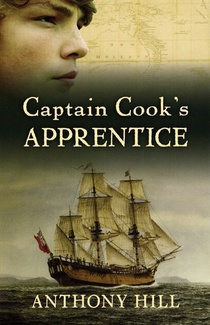 From May, I've been working on the new edition of Captain Cook's Apprentice, which Penguin Random House will publish in mid-2018 to coincide with the 250th anniversary of the Endeavour bark leaving England.
Indeed, I'm delighted that my publisher has given permission to include an extract in this newsletter as my Christmas story for the year: Christmas Aboard Endeavour. I hope you enjoy it.
Captain Cook's Apprentice is a favourite among my books, as the Captain is among my handful of heroes. It has been a joy to revisit the story and to rework it a little - putting back some of the passages that were cut for space reasons from the first edition in 2008 as mentioned in my last newsletter.
You'll be happy to know that the page proofs landed on my desk just the other day, giving me something to do over the holiday period! It's always the same. Animal Heroes arrived to proof read last Christmas, and Young Digger the year before that, as I recall.
But I no complain. To have a publisher who is still interested in one's work is the best gift any writer can have, especially one who this year became five years overdrawn on the Biblical three score and ten.
The year ahead
Speaking of the future, I've already begun preparations for a new work which I plan for the coming year or two. As I may have mentioned before, there's a convict story I've long wanted to write, but have been putting it off these ten years or so to concentrate on more immediate projects.
Now it's his turn. You'll forgive me if I don't reveal him to you just yet: but over the last few weeks I've been pulling out from the filing cupboard all the research I did on him years ago, re-establishing contact with those who helped me with it, and beginning to think seriously how I might approach the writing.
We've already planned a couple of research trips – one to Western Australia in mid-year, the other to Britain in October. The book will essentially be an historically-based novel, like Captain Cook's Apprentice; but as with all these things I find it essential to visit the locations to stimulate and give a sense of authenticity to the literary imagination.
So, with some luck 2018 will turn out another good year for me and the books. May I wish with all my heart the same to you and every one of your undertakings for the year ahead.
James Martin Scholarship
There has been a high degree of interest from people in the proposed James Martin (Soldier Boy) Scholarship mentioned in my last newsletter. So much so, that the launch has been postponed until next March.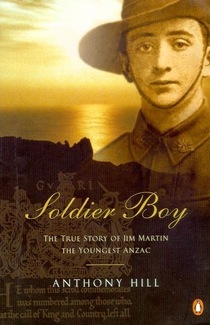 The Scholarship was to have been launched in November at Swinburne University, during which I was to speak, as part of the 'My School Remembers' program. It is intended for Year 9 history students in Boorondara City, which takes in the suburbs of Kew and Hawthorn in Melbourne where Jim grew up and went to school.
However, the founder and CEO of the program, Brenton Pettit has advised that interest from politicians, members of the RSL and the public has outgrown the initial scope of the launch and it is being redesigned 'to truly do the memory of young Jim Martin justice.'
The launch will now take place at Swinburne University on Wednesday 7 March. I am scheduled to speak about Jim's short life: so far as we know the youngest of the Anzacs, and at fourteen years and nine months among the youngest Australian soldiers to die in war.
I've been in touch with several members of the Martin family and hope they will be able to attend. Mr John Harris, whose grandmother was Jim's sister Mary, writes that she was one of Jim's five 'very proud sisters and she would be overjoyed at this development.'
The University, off Glenferrie Road, Hawthorn, is only a short walk from Mary Street where Jim lived with his family, and the Manningtree Road State School where he was educated. The artist, George Petrou, is to paint a portrait of Jim, which will be auctioned to raise funds for the scholarship.
Young Digger on TV
Another character from one of my books, the French war orphan 'Henri Hemene Tovell' (known as Young Digger), will make an appearance on Australian television in the coming year.
The story of how the nine-year-old waif was adopted as a mascot by No 4 Squadron of the Australian Flying Corps and smuggled back to Australia by the brothers Tim and Ted Tovell, will feature in an episode of the program 'Australia Remembers' to be aired on SBS in the weeks leading up to Anzac Day.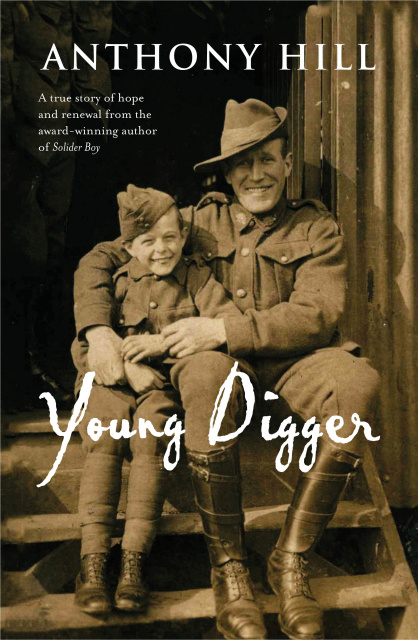 Produced and directed by Vicki Bennett and Alan McGirvan, the series is titled 'Never Forget Australia'. It features six stories about the relationship between France and Australia forged during the First World War.
They include the rebuilding of the school at Villers-Bretonneux after the Great War, helped by donations from Australian school children.
The German spring offensive of 1918 was stopped at Villers-Bretonneux and the town liberated by Australian and British forces. The school building still carries the sign N'oublions jamais Australie (We never forget Australia), and the Australian National Memorial is located at the war cemetery not far from the town.
The program about Young Digger features short interviews with myself and members of the Tovell family, and a narration telling the wonderful story of how love between the airmen and the orphan boy grew from the ashes of the Great War. I've seen a copy of the episode, and I think the producers have done a very good job of it. You will find the link to buy it here.
As readers will remember from the last newsletter, an option to the film rights of my book Young Digger has been acquired by Lady Byron Pty Ltd., through its principal, the noted Australian author Di Morrissey. We all hope that one day Digger's remarkable story will make it to the big screen as well as the small one.
Horrie the Wog-Dog new edition
For readers who have been following the adventures of Horrie the Wog Dog in Animal Heroes and also the book Horrie the War Dog written by Roland Perry a few years ago, it will be of interest to know that the Ion Idriess original work has just been republished.
Tom Thompson, of ETT Imprint, has kindly sent me a copy of the new edition which bears the entertaining title Horrie the Wog-Dog, The Original Tail. The paperback cover has a photo of Horrie in his army jacket with corporal's stripes, standing on a petrol can. It's the same photo from which his sculpture was modelled, unveiled last year at Corryong in northern Victoria (see the Spring 2016 newsletter).
The book was written by Ion Idriess with the help of Horrie's master, Private Jim Moody of the signals section of the 2/1 Machine Gun Battalion AIF, who smuggled the dog back to Australia in 1942. It was first published in 1945 and went through several reprints until the last in 1955.
Tom Thompson advises that the book is available at Au$25 in some shops or through ETT Imprint, PO Box R1906, Royal Exchange NSW 1225. It is also available as a print on demand book through Amazon worldwide at US$20, and is available as an eBook through Kindle and on iTunes.
Tom kindly gave me permission to use several quotations from Ion Idriess in Animal Heroes, and I am grateful to him.
Literary Awards
Man Booker Prize: Congratulations to George Saunders who won this year's Man Booker Prize for his novel Lincoln in the Bardo. It concerns the grief of the American Civil War President following the death of his son Willie, transcending the bounds of realism to incorporate aspects of the supernatural in a way that has been described as both hilarious and terrifying.
Prime Minister's Literary Awards: Congratulations also to the winners and short-listed authors of this year's Prime Minister's Literary Awards.
The winners were: Fiction, Their Brilliant Careers by Ryan O'Neill; Poetry, Headwaters by Anthony Lawrence; Non-Fiction, Quicksilver by Nicolas Rothwell; Australian History, Atomic Thunder, The Maralinga Story by Elizabeth Tynan; Young Adult, Words in Deep Blue by Cath Crowley; Children's (Joint), Dragonfly Song by Wendy Orr and Home in the Rain by Bob Graham.
Literary Landmark: The Temple great hall
Today's Literary Landmark is the great hall of the Inner and Middle Temple – one of the four Inns of Court, or professional associations of barristers and judges, in London.
Dating from the early Tudor period, when the Temple was substantially rebuilt, the great hall is notable for students of literature because it's believed that Shakespeare's play Twelfth Night was first performed there on 2 February 1602. The first recorded performance certainly took place on that date in the great hall, with its magnificent hammer-beam ceiling and minstrel's gallery.
If music be the food of love, play on:
Give me excess of it, that, surfeiting,
The appetite may quicken and so die …
Twelfth Night, when by tradition the Christmas decorations are taken down. The eve of Epiphany, when it's believed the three Wise Men (the Magi) presented their gifts to the infant Christ. What more appropriate subject could there be for a Christmas newsletter?
The Temple has also been the location for many contemporary films and television dramas, including Shakespeare in Love and The Da Vinci Code. The Temple Church, built by the Knights Templar in the late 12th century, features in the Dan Brown story, and consequently attracts a great many visitors.
I was there some years ago during the research for Captain Cook's Apprentice. Isaac Manley's father, John, was a barrister and a Bencher of the Temple – one of the senior governors of the institution. Indeed, his family crest of a black hand on a white shield can still be seen among the arms of many other learned members that adorn the oak-panelled walls of the great hall.
Christmas Story
As this seems to be turning into a Captain Cook's Apprentice edition of the newsletter, I thought I'd include an extract from the new edition for this year's Christmas story. Sincere thanks to my publisher, Ali Watts, for permission to reprint it here.
It's taken from Chapter 4: December 1768. Young Isaac Manley is a servant on board Endeavour, which has just left Rio de Janeiro after an unhappy visit. The ship is now heading down the coast of South America to the dagger's point of Cape Horn, with its cold and treacherous seas…
Christmas Aboard Endeavour
… The weather grew sharper. South Atlantic gales bore down, and the ship sometimes ran before them for days under close-reefed sails. When wind backs and glass falls, be on guard for rain and squalls. Whenever he could, Isaac willed himself up with the topmen: hands freezing as he hauled the sheets and hitched the gaskets, eyes fixed above the wave mountains to stop vomiting.
He could have stayed below among the so-called 'idlers' – the carpenters and other tradesmen who didn't have to go aloft or stand watch. But it would not have taught Isaac his seamanship; and his readiness to go up stood to his credit. Working the ship became more demanding, and every hand was required.
Cook changed the three-watch system (which gave six to eight hours off duty), to watch and watch about. Four hours on and four hours off. Barely enough time for sleep. On the whole, the sailors didn't resent it. This was the discipline of survival. Indeed, men who knew spoke of how well Endeavour rode out the storms, and what a tonic they were doing her.
'There's nowt like a good shakin' to loosen her joints,' declared old John Ravenhill over his midday rum. 'She'll settle even better after next one.'
Whatever the ship, Isaac's own joints were stiff and sore. Ice was in the air. Tom Richmond and George Dorlton felt it worse than anyone. The two Africans huddled in their blankets and shivered.
'We thought it was supposed to be summer in the south Mister Isaac, but this is as bitter as Christmas in England.'
True. Christmas Day was just like home: braw, though thankfully calm. For it was celebrated in the traditional way, too. Almost everyone got drunk. The Captain and gentlemen in the Great Cabin. Officers in the wardroom. Men and boys around the stove on the mess deck. And there was scarcely a sober man to steer the ship.
Rum flowed (mixed with water into grog for the lads). An extra ration of beef and sauerkraut was served for dinner. Cheeks reddened. Tongues wagged. And as they edged closer to the tip of America, came tall stories of Patagonia and the terrors of rounding the Horn. These were unknown waters to most seamen, and the few who had sailed them were listened to agog.
'They reckon there be giants in Patagonia,' said a carpenter, Francis Haite, who'd been with Captain Byron on the Dolphin's first voyage in '64. 'Men twice as big as Mr Cook. Though they kept 'emselves well 'idden when we wuz there.'
'We saw a horseman on Tierra del Fuego built like a colossus,' remarked Charles Clerke, one of the Master's Mates. 'Wearing wild animal skins he was, and hideous face paint. I felt like a pigmy.'
'No, they were the pigmies,' corrected Francis Wilkinson. 'The Indians we met with Captain Wallis two year ago were small and stank abominably. Ate raw seals and fish caught straight from the water. Head first, look you, like seagulls.'
'Why?' asked Isaac, genuinely interested.
'So the gills won't get stuck in their throats going down backwards. Stands to reason, boyo.'
'Oh, he still don't know nuffing much yet,' teased his friend Nick Young, until Isaac silenced him with threats of another ducking in icy seas.
'Those waters, where three oceans meet!' mused Richard Pickersgill. 'Worst in the world. Fogs, lightning and tempests, even in the height of summer. It took us nearly four months to get through the Straits of Magellan and into the Pacific. Beaten back each time by storms.'
'And 'ere we are facing 'em ag'in!' cried Francis Haite. 'It'll take stout 'earts and strong stomachs to get through, bullies. Fortified wiv much Christmas rum. So pour out another and give us a song...'
We'll rant and we'll roar like true British sailors,
We'll rant and we'll roar across the salt seas...
Giants! And four months to round Cape Horn. Isaac's heart quailed. As he mixed himself and Nick Young another tumbler of grog, he wondered how many other true British sailors were feeling the same…?
Books in print:
Books still in print can be ordered through the website here
• Animal Heroes ($33 plus $8.50 postage)
• The Burnt Stick ($17.00 plus $3.00 postage)
• For Love of Country ($35 plus $13.50 postage)
• The Story of Billy Young ($23 plus $8.50 postage)
• Soldier Boy ($20 plus postage $3.00)
• Young Digger ($30 plus postage $8.50)
Complimentary bookmark, signature and personal inscription are included. I will refund any excess postage if multiple books are purchased.
Newsletters:
As I've now passed my three-quarters-of-a-century, and still have a few literary projects ahead of me – the convict story and perhaps another voyage – I've decided to cut back somewhat the rest of my self-imposed workload.
I'll be posting very little on Facebook or Linked In, and in future propose to bring out a newsletter only twice a year. I hope you understand. Of course, if anything of immediate moment arises I will let you know by a special message.
The next scheduled newsletter therefore will come out in mid-year.
Until then, with best wishes
Anthony
Photos: Book covers courtesy Penguin Random House; The Temple great hall and Endeavour under full sail by Anthony Hill.
http://www.anthonyhillbooks.com