Anthony Hill's Newsletter
Winter 2014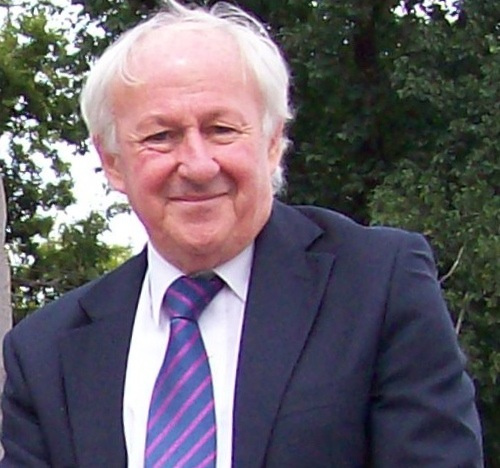 Dear friends
Welcome to my Winter newsletter. In this edition:
• Great find! New photos of Young Digger
• Admiral Isaac Manley's Map: Cook Society article
• CBCA talk: Bulletproof! 100 Years of Anzac, War and Children's Books
• Growing Up stories • New edition of The Story of Billy Young • Back copies • Peter Greste petition
New photos of Young Digger found
One of the joys of writing biographical novels is the fact that the story never really finishes. Long after I've written 'The End' and the book has gone through several printings, a new fact may turn up … a fresh discovery emerge which casts another light on the tale … so that the record of history is in a constant state of change and development. The past, it's said, is never wholly the past.
So it has been recently with the book Young Digger I first published with Penguin 2002. It concerns a little French war orphan known as Honoré or Henri Hemene, who was adopted as a mascot by No. 4 Squadron of the Australian Flying Corps stationed in Germany at the end of the First World War.
As you may know, 2nd Air Mechanic Tim Tovell and his brother, Ted, decided to bring the boy home and raise him as one of Tim's family.
The book itself concentrates on the great adventure as the Squadron travelled into Belgium and France, smuggled Young Digger, as they called him, across the Channel to England, and eventually on board the ship that brought them back to Australia.
Digger with Ted Tovell, courtesy David Daws.
Well, a few weeks ago I was contacted by a reader, David Daws of Melbourne, who was going through a photograph album owned by his late father, Leslie Gerner Daws, who had been with No 4 Squadron. And to our mutual delight he discovered in it several photographs hitherto unrecorded of the little mascot
Morever, there are a number of photographs of AFC men, many with their names written on the back, which we hope will prove invaluable to the archives of No. 4 Squadron, now re-formed and to whom Young Digger holds a special place in the unit's history.
The photographs were taken at Hurdcott camp near Fovant in Wiltshire, when No. 4 Squadron was stationed there on the homeward journey between mid-March and early May 1919. The locations, and some of the poses, are very similar to photographs held by the Australian War Memorial and the Tovell family.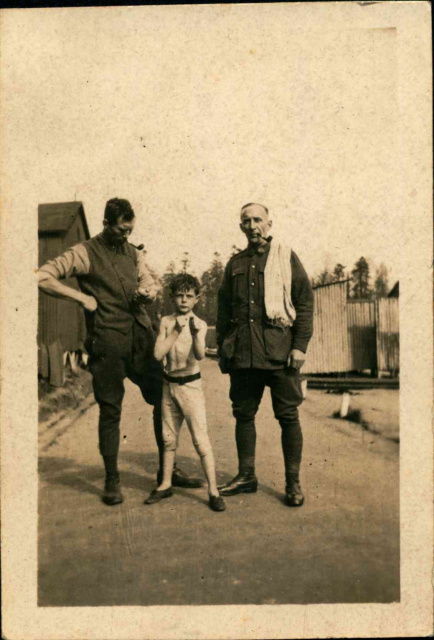 In one of them Digger, then aged about nine, has stripped down to linen breeches, rather like his underwear, and is photographed in a boxing stance – 'fighting trim' the note on the back calls it – with Tim Tovell and an airman called Bill Pindar.
'Fighting Trim': Digger with Tim Tovell and Bill Pindar. Courtesy David Daws.
In another, the boy is photographed mounted rather unsteadily on a bicycle that looks all too big for him, with an airman whose name is given as Nicolson standing beside him. He's wearing the slouch hat of the Australian Army: and indeed, the AFC was an Army Corps until the RAAF was formed in 1921.
You'll also notice that in two of the photographs Digger is wearing the tailor-made uniform and proper forage cap with which he was kitted out by the military tailors in Horseferry Road, after the Squadron arrived in England. Above the left breast pocket was a replica of the Mons Ribbon, for Digger's father was believed to have been killed in that first significant battle of the Great War.
Before that the young mascot had worn a scratch uniform made by a tailor in the German city of Cologne, where the unit had been stationed, from an army greatcoat 'retrieved' by Ted Tovell.
The pick of the photographs, I think, is a wonderful shot of Digger sitting close to Ted on the steps of the dormitory hut at Hurdcott. It glows with a sense of deep affection between the man and the boy. And you can see the cheeky, vulnerable smile on the face of the war orphan that so endeared him to the men of No. 4 Squadron that they decided to make him their mascot and smuggle him home.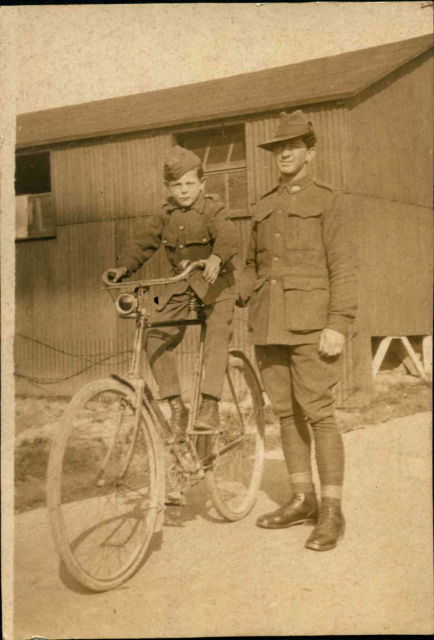 Leslie Daws, a motor mechanic, was from Unley, South Australia. He enlisted in the infantry in March 1918 at the age of 18, transferred as a 2nd Air Mechanic with the AFC in Melbourne, and left in SS Zealandic, only weeks before the Armistice was signed and the fighting in Europe came to an end.
Daws joined No. 4 Squadron on 6 January 1919 at Bickendorf Aerodrome, just outside Cologne. He returned with them to Hurdcott camp and then to Australia on board the transport Kaiser-i-Hind, disembarking on 14 June at Adelaide.
Mascot with Nicolson. Courtesy David Daws.
Digger went on to Queensland with the Tovells, He grew up with Tim and his family, who regarded him as their son, until he left for Melbourne and the RAAF at the age of about 14.
I'm deeply grateful to David Daws for allowing me to use the photographs in my Newsletter. I've put him in contact with Wing Commander Harvey Reynolds, presently OC No. 4 Squadron.
I hope these wonderful photographs will continue to shed more light on the early history of the unit and in particular the little French mascot they called 'Young Digger.'
Admiral Isaac Manley's Map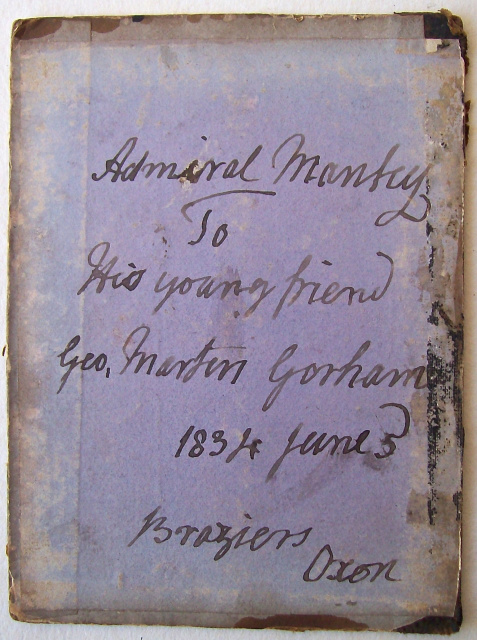 The discovery of the 1832 Map of the World signed by Admiral Isaac Manley, the subject of my book Captain Cook's Apprentice, and its subsequent history with the Gorham family, is another instance where a story has kept on growing long after the book itself had been written and published.
I wrote at some length about my preliminary researches in the February and March newsletters: of how Admiral Manley gave the map to George Martyn Gorham, then a boy of five in 1834 … and of how George, 42 years later, passed it on to his 12-year-old deaf and dumb daughter, Edith.
I've since completed most of the research and written an article about the map for the Captain Cook Society, which will probably publish it in Cook's Log later this month. If you wish, click here to read full article.
I won't repeat the material here, other than to say that I received a copy of Gorham's will, proved after he died in 1904. It makes it clear that all four of his children – Alfred, a barrister, Mary, Charles and Edith – were alive and close to him at the time of his death.
The considerable estate amounted to £12,871, and each child received specific bequests of furniture, plate, pictures and books, and shared equally in the balance of the property when it was sold.
Edith, for example, received a large squab chair, a small rosewood table, a silver toast rack with her grandfather's crest, all "antique and curious china" in the house, a black marble clock, six pictures of her choice (after those selected by her sister Mary), a Bible with red edges and gilt rim, and various other books including two small volumes of Hogarth's prints.
I'm seeking copies of the wills of Edith who died in 1941, and her companion Elsie Higgins, another artist, who died in 1953. They may say something about the disposition of the map before it came into my possession. I'll keep you posted.
Meantime, I'll be talking about the map at the CCS meeting in Sydney next month.
Bulletproof! CBCA Conference
As mentioned last time, I was a guest speaker at the Children's Book Council of Australia biennial conference in Canberra during May. It was a splendid weekend with several hundred delegates and speakers including Nadia Wheatley, Jackie French, Libby Gleeson, Dr Mark Macleod among many others.
One of the highlights was the conference dinner held at the Australian War Memorial beneath the Second World War Lancaster Bomber 'G for George.' As I was starting part three of my current book, which involves Bomber Command, the setting was very apposite. During the dinner there were reminders of another war (and another aspect of my project), when a performance was given foreshadowing Morris Gleitzman's new book about the Light Horse Loyal Creatures, that Margaret Hamilton launched during the conference.
In this is centenary year of the start of the First World War, I called my talk 'Bulletproof! 100 Years of War, Anzac and Children's Books'. It looked at the way attitudes towards war have changed in young people's literature over the past century.
Cliffs at Ariburnu, Gallipoli
I used descriptions of the Gallipoli Landings for my comparisons, showing how they shifted from much vainglorious nonsense in the early years to the more realistic view that, however courageous and necessary war may sometimes be, it is never anything other than horrible and inhumane.
To read the full text of 'Bulletproof! 100 years of War, Anzac and Children's Books', Click here for the page on my website.
In Brief
The Story of Billy Young new edition: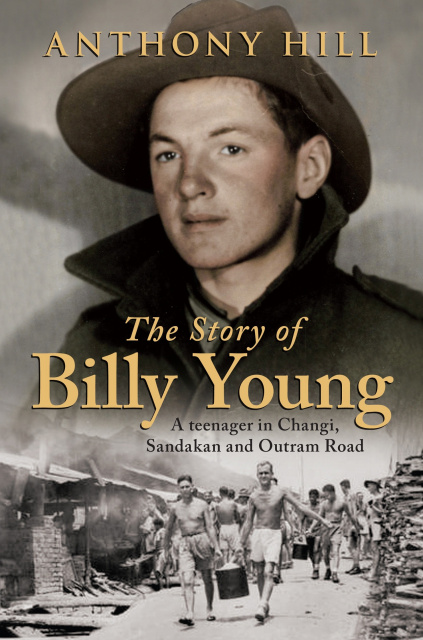 The new mass market paperback edition of The Story of Billy Young goes on sale in August, priced at $22.95.
It's a smaller-sized paperback, known as a 'b' format, although apart from a few minor corrections it is almost every other respect the same as the original edition. Bill Young himself is very pleased with the new edition of our story. He says the new edition makes the old Bill look Young.
I was pleased to learn that during the special promotion over the Anzac Day period, over 350 copies of The Story of Billy Young eBook were sold.
Growing Up & Other Stories eBook: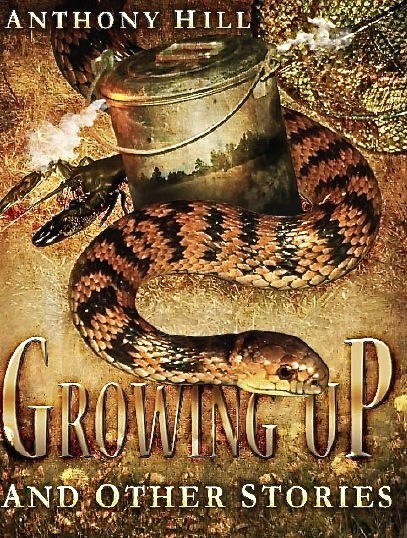 I've taken advantage of a spell in bed with a prolonged bout of the flu to re-jig the eBook version of Growing Up & Other Stories.
I wasn't happy splitting the 14 stories into two separate volumes. Much better to put them all back together in the one set, so that readers can get a sense of the overall architecture spanning the years from a child at the age of three, to a young man facing university and the predicaments of the world he is to inherit.
The stories are at present available only on Kindle, although I'll be extending that shortly to Smashwords. I've continued to use the splendid cover designed by David Schembri. I'll also be uploading Spindrift to Smashwords in the near future.
Back copies: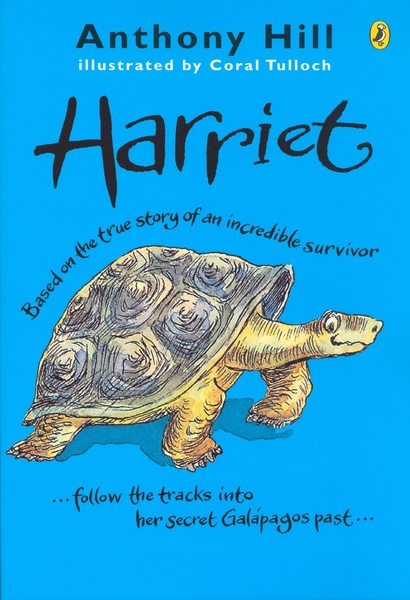 There are still a few back copies available until stocks run out.
• Forbidden ($15 plus $2.10 Australian domestic postage).
• Harriet ($18 plus $3.50 Australian domestic postage).
• The Grandfather Clock ($15 plus $3.50 Australian domestic postage).
• The Shadow Dog, hardback ($20 plus $3.50 Australian domestic postage).
• Spindrift ($15 plus $2.10 Australian domestic postage).
• Lucy's Cat and the Rainbow Birds, paperback ($15 plus $7.60 Australian domestic postage).
If you are interested in any of these books, please contact me directly at anthony@anthonyhillbooks.com. Payment can be made by PayPal, direct deposit or by credit card. Please ask me for the details.
Peter Greste:
If you are as concerned as I am about the conviction and jailing in Egypt of the Australian journalist, Peter Greste, of the Al Jazeera network for what appears to be political reasons and without any relevant evidence of wrongdoing being offered to the court, you may wish to sign a petition to the Government of Egypt.
I don't as a rule discuss political matters publicly, as we all have our opinions. But it seems to me that the issue of media freedom and basic concepts of justice are too important to ignore in this case.
If it is of interest, click here to add your name to the petition calling on Peter Greste and his colleagues to be freed.
Markets:
I'll be at Canberra's Old Bus Depot Market with my books and small antiques on 'Portobello Road' day, Sunday 17 August. Come up and say hello if you're there. I'd love to see you.
Until next time, with every good wish
Anthony