Anthony Hill's Newsletter
Autumn 2016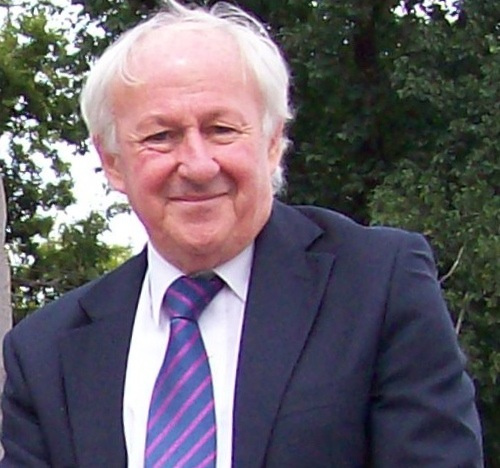 Dear friends
Welcome to the Autumn edition of my newsletter.
* For Love of Country published 28 March
* Young Digger cover, and plaque unveiled for Anzac Day
* Literary landmark photos from England: St Cross
* Vale Brian Johns, Harper Lee and Umberto Eco
* Back copies
For Love of Country
Well, the new book For Love of Country, A true Australian family story of love, war and the ultimate sacrifice has at long last gone to press, and will be officially published by Penguin/Viking on 28 March ... almost exactly five years since I began detailed research on the project.
The launch will be held at Canberra Grammar School a few days earlier, where the honours will be done by my friend Rear Admiral Ken Doolan AO, National President of the Returned & Services League and until recently Chairman of the Australian War Memorial Council of which he remains a member.
I'm most grateful to Ken for accepting the invitation, and to CGS for kindly hosting the launch. It's most appropriate the two should come together like this.
Not only did the three fallen sons of the Eddison family of soldier-settlers attend the school – Eddison House is named after them – but the whole theme of the book concerns the experience of returned servicemen.
It was Bob Sessions, then publishing director of Penguin Books, who in early 2011 suggested the idea.
At this time when we're remembering the centenary of the Great War, Bob proposed a work that would look at the long-term effects of that conflict on the soldiers and their families after they came home.
Now, I'm a novelist not a historian, and I began casting around for a suitable subject. Shortly afterwards my cousins, Esther and John Davies to whom I've dedicated the book, suggested the Eddison family whose farm was where the Woden shopping centre now is in Canberra not far from where I live.
I travel what was their land almost every day: and indeed a desire to express my own love for the country I inhabit and its people began to emerge as a subsidiary theme quite early in the writing.
Walter Eddison served with the light horse at Gallipoli, and was gassed with the infantry in France – not a lot, but enough.
He brought Marion and the family to Australia from England after the war. And from a previous theatre work I knew the outline of the tragedy that saw their three boys die in the Second World War – surely the most important consequence of the First.
It was a very proper subject, I thought, to explore the aftermath of the Great War on the human beings caught up in that maelstrom – the repercussions of which are still in many ways shaking the world 100 years later.
The Eddisons had six children – three sons and three daughters, one of whom, Pamela, is still living in a suburb overlooking what was the family farm known as Yamba.
So in March 2011 I went to see Pam and her late husband Brigadier Paul Yonge, and it was with enormous gratification to me that they welcomed the project to write the story, supported my research every step of the way and, with their extended family, made available the large archive of letters, diaries, notebooks, memorabilia, records and especially photographs going back to the 1860s and beyond.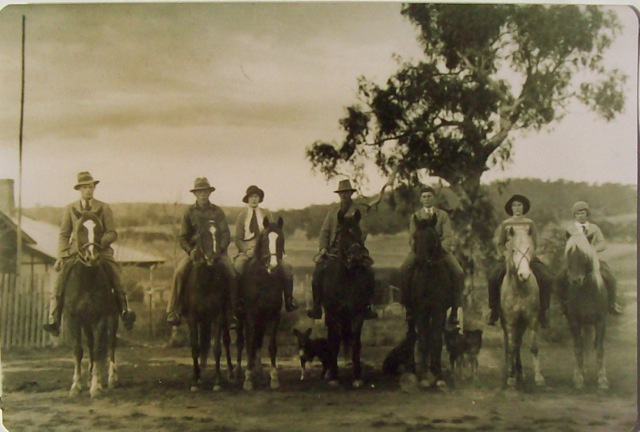 Seven riders: Walter Eddison and his children, Yamba 1934
I've never worked on a book that offered such an amount of original primary source material: a considerable challenge to me as a writer I might say, covering such a breadth of time, characters and history. It was also I think a factor in the ACT Arts Council generously making available a grant to carry out the necessary research here in Canberra, where there is much material about the soldier-settlers in the public archives, as well as travel to Turkey and Britain.
One always needs a story that will carry you to interesting locations.
I warned the family when we began that it would take four of five years to complete the work. It usually does with me if I'm to do it properly, so I have to be pretty sure the idea is good enough to sustain itself over that time.
I had no doubt of it in this case, and it's been a great joy to have Pam by my side during this journey ... not merely giving encouragement and reading the chapters for accuracy as they came off the printer, but always at the other end of a telephone to answer my many questions relating to the minutiae of detail as the paragraphs were tapped out.
'Pam, did Tom's horse Trooper have a blaze and three white socks, or was that another animal?'
'That was Trooper.'
Only one who was there can give you that degree of accuracy.
Pam visiting her brother Tom's military grave in Holland, 2015
Here, then, we're near the end of the journey ... or at least the private part of it, where the book is known only to those few people (quite a few actually) who've been involved in the research, editing and reading. Now begins its public life, where the book goes into the world to make its own way, as one's offspring always have to do.
To be sure there's generally a little post partum sadness involved; but how wonderful it is when those that thrive, like Soldier Boy, The Burnt Stick, Young Digger or The Story of Billy Young, find their own feet and go on to lead a quite independent existence altogether from the author who brought them into being.
So, let us hope it will be with For Love of Country, A true Australian family story of love, war and the ultimate sacrifice.
Author signed first edition copies of For Love of Country will be available from late March.
The book comes in at just over 400 pages with 16 pages of photographs. The price is $35 plus $13.40 for Australia Post satchel (the cheapest option).
Each satchel can hold four or five books if ordering multiple copies, and any excess will be refunded. You can contact me before 28 March at anthony@anthonyhillbooks.com with details of how you'd like me to sign the book – or order through the website after publication day.
Walter Eddison, Egypt 1916
Young Digger cover
As promised in the Christmas newsletter, here's the cover of the new adult edition of Young Digger to be published by Penguin/Viking on 13 June.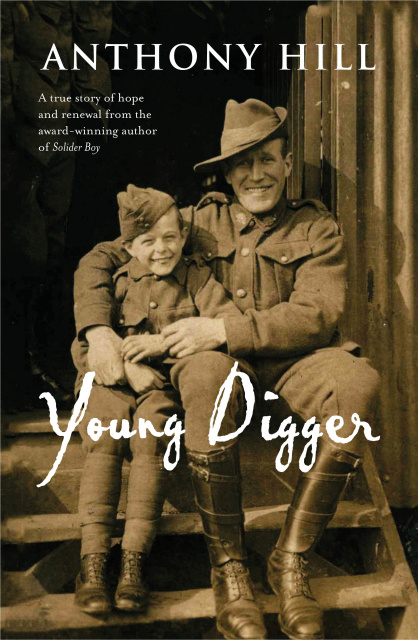 I think you'll agree it's a stunning photograph of the little war orphan 'Henri', taken at Hurdcott Camp in England with Ted Tovell, one of the two airmen brothers who smuggled him back to Australia in 1919 at the end of the Great War.
It was Tim Tovell who became the boy's guardian with 4th Squadron of the Australian Flying Corps, and who cared for him as a foster father when they got home to Queensland.
In many ways it's a pity that Tim is not in the photograph, for the publisher thinks this is one of the more arresting covers seen among recent military history books.
It was found by David Daws of Melbourne in the album of his late father, Leslie, who served with 4th Squadron in 1918-19, and I'm deeply grateful for David's permission to use it. See Winter 2014 Newsletter here.
On the other hand the identity of the soldier is of somewhat secondary importance. The whole photograph is focussed on the shining face of the boy in his miniature uniform, as indeed his story is the focus of the book.
It says everything about the devotion that bound Young Digger to the airmen and they to him, and which led them to risk a great deal to bring the lad back to Australia and give him a better chance in life at war's end. The photo of Digger with Tim taken at Béthune in France appears on the back cover, as in the first edition.
I've always thought the emotions that impelled this story were essentially adult ones. It's therefore with deep gratitude that I welcome Penguin's decision to publish this new edition of Young Digger: one that will place this remarkable tale of hope and renewal drawn from the ashes of war before a new and wider audience.
Trumpeters' Corner
As flagged in the last edition, I'll be travelling for Anzac Day to Jandowae in Queensland, out from Dalby on the Darling Downs.
It was here that Tim and Ted Tovell brought Henri to live with Tim's wife and family. It was here that Tim had built a two-storey wooden hotel, still standing, today very brightly painted and known to everybody as the 'Pink Pub'.
And it was in the pink pub that a group of local Second World War soldier-settlers used to meet and yarn about their military exploits: 'blowing their own trumpets' as some of the other drinkers colloquially put it.
Being ex-soldiers, they adopted the insult with pride (think the 'Rats of Tobruk', the 'Old Contemptibles') and became known as 'The Trumpeters'.
Eventually a sign saying 'Trumpeters Corner' with their initials and a tin trumpet attached was placed at their favourite watering hole – and in time it was erected on a tree near their properties on the Nine Mile stock route between Jandowae and Warra.
The 'pink pub' at Jandowae Qld., built by Tim Tovell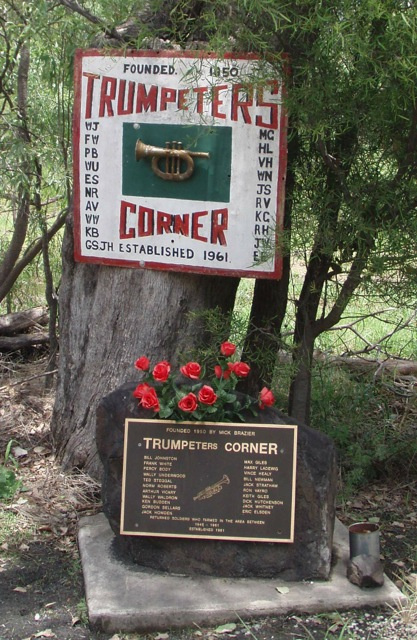 The soldier-settlers have all passed now: but Trumpeters' Corner continues as an unofficial war memorial and stopping place for travellers.
On 24 April, the day before Anzac Day, a memorial plaque to Young Digger will be unveiled at the Corner courtesy of funding from the Tovell family, together with a plaque to two military nurses from the district who served.
I've been asked to say a few words, and it will be an honour. It's quite remarkable to me how the story of the little French war orphan – whose true identity is even now unknown – continues to develop and spread through the actions of people here and overseas so touched by the tale they continue to honour his memory.
The new edition of the book will further the process among a new generation of readers. Indeed, not until we discover who Digger really was will we properly be able to say that his story has reached its end.
Trumpeters' Corner memorial, Warra Qld.
Literary landmarks
St Cross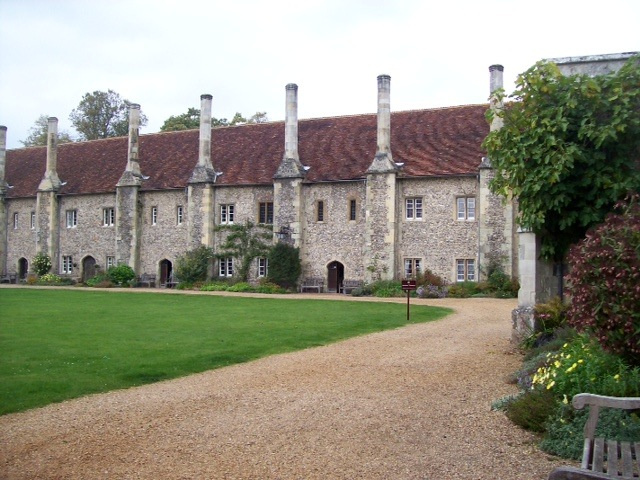 One of the places I love best in the world, and to which I return every time I visit England, is The Hospital of St Cross and Almshouse of Noble Poverty, a gentle stroll of about a mile from Winchester beside the river along what is known as 'Keats' Walk' (see the Christmas newsletter here).
It is a site of utmost tranquillity and beauty, with a Norman church like a cathedral in miniature; a row of medieval stone almshouses with a kitchen and dining hall; an ancient barn (now a tea room); a Tudor cloister and a magnificent walled garden still containing an ancient fishpond.
Those who have seen the BBC's adaptation of Hilary Mantel's Wolf Hall will have seen St Cross used in some of the settings.
St Cross almshouses
St Cross was established centuries ago to house 25 poor men. Today's Brothers still reside there – and indeed until recently at least travellers used to be able to get a small wayfarer's refreshment at the lodge gate. Perhaps they still can.
Apart from its enduring sense of calm and solace and television connections, St Cross is also a literary landmark in its own right. For it was in part the inspiration for the first two of Anthony Trollope's Barchester novels.
Both The Warden and Barchester Towers are said to have had their origin in a financial scandal that erupted at St Cross in the 19th Century.
I can't give chapter and verse, for I rely on what I was told by a local woman during a visit some years ago: but it seems that in the mid-1800s the-then Master of St Cross purloined for his personal use a large part of the charitable monies held in trust to run the almshouses.
It led to a fearful outcry and demands for church reform – which, as readers of The Warden or viewers of the Barchester television series will know, is the mainspring for the action in Trollope's imaginative novels involving another ancient almhouse and another group of old men.
Another warden, too, who ends his ministry in a tiny upstairs church in town – and there are two just like it, St Swithun's and Saint Lawrence, in Winchester as well.
St Cross church, cloister and garden
Vale Brian Johns
Let me pay a belated tribute to the late Brian Johns, publisher, colleague and friend, who sadly died on New Year's Day at the age of 79.
I first met Brian in 1972 when I arrived in Canberra to work as a journalist in the press gallery for the Melbourne Herald, and Brian was chief of the Sydney Morning Herald bureau. He later became part of the Whitlam administration, then publishing director with Penguin Books at a time when we had fled Canberra to run a rural antique shop (and incidentally for me to discover I had something to say as a writer.)
Yet it was Brian who accepted my first book The Bunburyists in 1984, edited by Julie Watts, who went on to become the renowned publisher of Penguin's children's and YA list, a dear friend, and whose daughter Ali is publisher of For Love of Country. It's a small world, and the older you get the smaller it becomes. From there Brian commissioned Antique Furniture in Australia from me, which was in print for 17 years and remains a standard reference work for the trade.
In later life Brian became managing director of SBS and the ABC, chairman of the Australian Broadcasting Authority, the Copyright Agency and a director of Melbourne University Publishing.
Brian Johns was a driving force behind the renaissance of Australian publishing over recent decades, a champion of the creative arts in all their forms, and one who fought to protect our interests. I salute him and mourn his passing from Australian public life. He will be long remembered.
Harper Lee and Umberto Eco
The literary world has also mourned the passing in recent weeks of two novelists known globally for one famous work.
Harper Lee published To Kill a Mockingbird in 1960, celebrated everywhere, winner of a Pulitzer Prize, a classic of American literature, and of course the subject of an almost equally famous film starring Gregory Peck. Harper Lee's second novel, Go Set A Watchman was published only last year. Although written before Mockingbird, it portrays the later lives of her characters in ways that did not always please her readers. She died in her home town on 19 February at the age of 89.
Coincidentally Umberto Eco, the Italian novelist, essayist and philosopher also died on the same day aged 84. His 1980 novel The Name of the Rose involving a murder mystery, the Church, religious archaeology and sex became a world-wide best-seller, the subject of another fine film, and cast the template for what has become almost a modern literary genre.
We honour their great contribution to the canon of western literature.
Animal Heroes back copies
I still have some copies of Animal Heroes remaining from the last print run. If you would like one inscribed as you wish please contact me at anthony@anthonyhillbooks.com. The price is $20 plus postage $8.25 for a small Australia Post satchel, until stock runs out.
Books in print
Books still in print can be ordered through the website here
• For Love of Country ($35 plus $13.40 postage in Australia), after 28 March
• The Burnt Stick ($16.95 plus $1.80 postage)
• The Story of Billy Young ($23 plus $8.50 postage)
• Soldier Boy ($20 plus postage $2.10)
Complimentary bookmark, signature and personal inscription are included. I will refund any excess postage if multiple books are purchased.
Photo Credits: Covers of For Love of Country, Young Digger and Animal Heroes, courtesy Penguin Books. Eddison photos courtesy Pam Yonge and the Eddison family; Pam at Tom's grave by her daughter Sue Sarantos. Trumpeters' Corner courtesy Des Underwood. The pink pub, St Cross photos by the author.
The Winter newsletter will come out in early June with full details of Young Digger.
Until then, with every good wish
Anthony