l'ultimo detenuto Italian interview (with translator)
Notes for the pessime idee Italian edition of The Last Convict:
L'ULTIMO DETENUTO
Anthony Hill
I am very honoured to have my historical novel The Last Convict published by pessime idee. It was due to come out in Australia in June 2020, but because of the Coronavirus publication has been postponed until March 2021. The book will therefore appear first in its Italian translation, a quite rare, almost unique privilege.
There were four main reasons that attracted me write a book about Samuel Speed, widely believed to be the last transported convict to survive in Australia, and which I hope Italian readers will find of some relevance to them.
First, is the strangely contemporary nature of the story. It has truly been said that the past is never really the past. Transported to Western Australia in 1866 for burning a barley stack, Speed lived into the modern era. He died in November 1938 – the eve of the Second World War – only a few years before I was born and within the lifetime of many people in Australia – as in Italy – still living.
Of course, Italy is today also experiencing waves of migration as refugees seek to cross the Mediterranean from distant countries, with all the difficulties of readjustment that implies: not dissimilar from transportation to Australia – although in that case the convicts were mostly brought out against their will.
Secondly, the story gave me an opportunity to research aspects of the convict experience in Australia, something that I've not written about before. In the 80 years between 1788 and 1868 more than 160,000 men, women and even children convicted of crimes in Britain were deported to Australia. Their lives helped to shape the Australian character and culture as it is today.
It resonates not only in people of British ancestry – our fairly egalitarian, anti-authoritarian way of life – but increasingly with the children of those who migrated from other countries, not least Italian families. In the quarter century since 1945 nearly 290,000 people came to Australia from Italy; and as the generations have intermarried so, too, has the convict story become part of their cultural heritage. Where once it was thought shameful to have a convict ancestor, today it is regarded as a badge of honour.
Another element that drew me to Samuel Speed was his age. He was probably 93 when he died, but some newspaper reports put it much higher than that. Whatever the truth, increasingly, as I began to write, the story developed partly into a study of old age. As a group, the elderly are often ignored in contemporary literature. And as one who is entering that stage of life, I not only understand some of the aches, vulnerabilities and petty tyrannies it involves, but I also wanted to give us a voice that may still be heard in this age of Coronavirus. We are also human, with our own worth and dignity.
Finally, it was a sense of injustice that drove me on. Not long after starting the research I found a full newspaper report of Speed's trial. What so angered me was that, even before his trial began, the judge made a long speech saying what a terrible crime rick burning was, how perpetrators should be flogged and sentenced to long terms in prison. The judge seemed to be poisoning the jury's minds against him before the trial – and even after 160 years I wanted to expose what, to modern readers, was a shocking travesty of justice.
While very few facts are known about the real Samuel Speed, I was lucky to find a newspaper interview he gave a few months before he died, including a photograph of him. From various hints and quotes in the report I was able to reconstruct a version of Speed that I hope brings him to life for readers in The Last Convict. Other interpretations are always possible; but while I have written it as an historical novel, I sought to remain true to the known facts as we have them. The report of the trial and the 1938 newspaper interview are included as appendices in the book.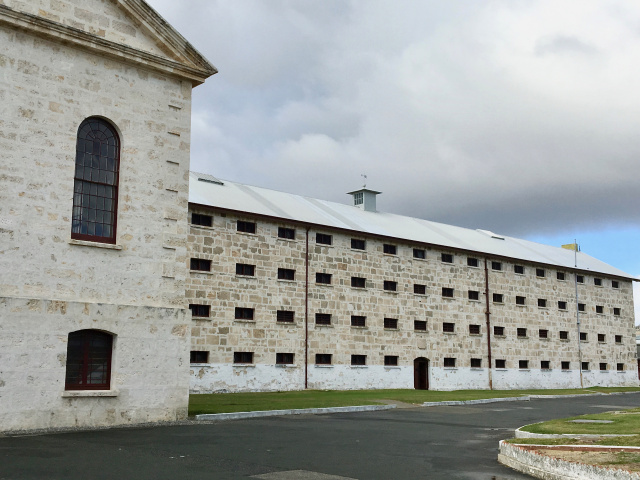 The vast west wing of Fremantle Prison
(Photos courtesy pessime idee and AnthonyHill)