Buy the eBook for Kindle, Apple
Reviews of For Love of Country
Buy author-signed For Love of Country $30
For Love of Country
A true Australian family story of love, war and the ultimate sacrifice
'This book emphasises yet again the importance of individual and family stories as an antidote to the thoughtless mass-produced and mass-targeted hype that has characterised much of Australia's commemoration in recent years.' Honest History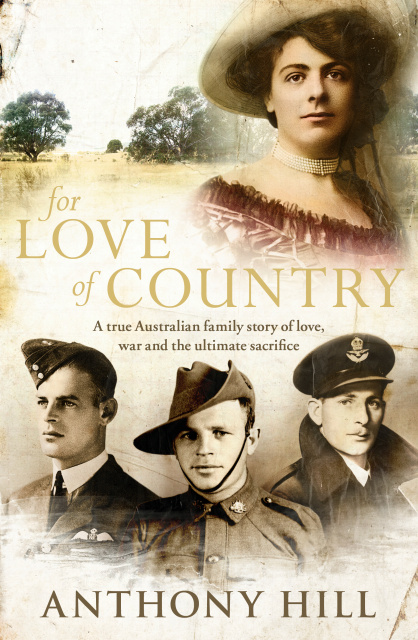 From the back cover:
An impeccably researched family history from the award-winning author of Billy Young.

At the close of the First World War, and after surviving a gas attack on the Western Front, Captain Walter Eddison moved his family from war-ravaged Britain to start a new life in Australia. The Eddisons were promised land fit for heroes under the Australian government's soldier-settlement scheme, but the grim realities of life in the remote Australian bush were not easy for a family used to the green pastures of England.

Walter and his wife Marion made the best of their limited prospects, but as they raised their young family on the outskirts of the nation's newly established capital, tensions were again simmering in Europe. When the Second World War broke out, Walter and Marion were forced to confront their worst fears as their three sons headed back to the battlefields they'd tried so hard to leave behind.

Anthony Hill expertly weaves complex military history and gripping accounts of frontline fighting into this intimate portrait of a family who sacrificed everything for their country. For Love of Country documents the domestic experience of war in vivid detail, showing how the global conflicts of the twentieth century came home to Australia, with tragic consequences.