For Love of Country
Chapter Notes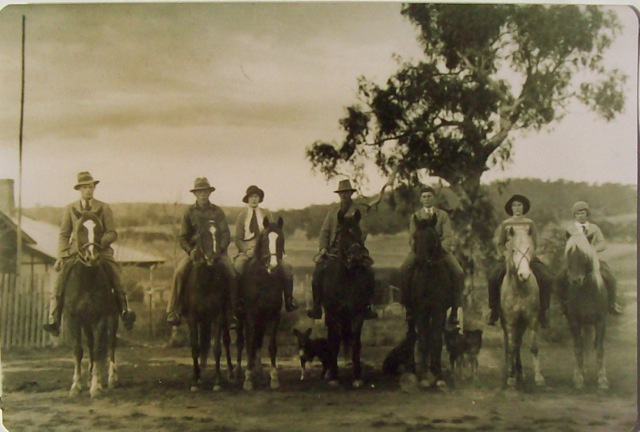 Seven Riders, Yamba August 1934: Tom (left), Jack, Diana, Walter, Keith, Pam, Marion
Here are the full Chapter Notes of For Love of Country. They should be read in conjunction with the References to give the complete source documents.
AWM: Australian War Memorial; NAA: National Archives of Australia; AACT: Archives ACT
Chapter 1
Pioneer switch. 56 Bn War Diary, 31 May–2 June 1918. Eddison's experience is necessarily imagined.
Gas attack. 56 Bn War Diary; Sloggett; Third Army Standing Orders, Instructions for "Wind Dangerous" period, Duties of Anti-Gas Personnel. See also Griffith 109-10.
Pat pat sound of gas shells. Bean Official History Vol IV Ch. XV, The Battle of Messines, June 1917 page 589. Also Holmes 423.
Gas mask. Particular thanks to Dr Alan Cowan, and Chris Goddard of the AWM, for their advice with this and following chapter; also to Dr Michael McKernan for advice on Eddison's war record and service papers. Chris Goddard kindly allowed me to inspect a small box respirator in the AWM collection.
SOS rocket.Williams Company 181. Wheat crop. Ibid 193.
Chapter 2
Gas droplets, treatment. Sloggett 16-20. Mustard gas. Ibid 22-32.
Eddison's movements. W H Eddison No. 686 service papers NAA (also 61, the same numbers were sometimes allotted to various soldiers during the war); 56 Bn War Diary June 1918.
'Chunder Loo'. Williams Company 169. The nickname was not uncommon during WW1. The Cobra boot polish advertisements featuring 'Chunder Loo of Akim Foo' appeared in the Bulletin from 1909. Norman Lindsay's brother, Lionel, wrote a book based on the character in 1916.
Oatley. 56 Bn War Diary 18 April 1918. Frederick Oatley died in Sydney the following year.
Roberts report, gas testing. 56 Bn War Diary 4,7 June 1918. The first German gas attack was at Ypres on 22 April 1915.
Villers-Bretonneux. Carlyon, The Great War 606-16; Bean Anzac to Amiens 430-5; Official History Vol V, Chs 16-18. N'oublions jamais l'Australie is still found written on the local school.
Peaceful Penetration. Bean Anzac to Amiens 445.
Horse sports. Williams Company 205, 56 Bn War Diary 7,15 June 1918, 28 Sept 1916, Eddison papers.
Olympia, Decoy Pond, Edna, Scouts. Mrs Pam Yonge interview, Eddison family papers and photos.
Hospital. Eddison service papers.
Chapter 3
Rouelles. AWM photographs; author visit 2000.
Medical condition. Eddison service papers; interview Dr Alan Cowan.
Wandsworth. AWM photographs; Eddison service papers.
London bombing.I nternet sites, UK National Archives, and Wikipedia entry 'German strategic bombing during WW1'. There were some 27 Gotha raids over England, which dropped over 111,000 kg of bombs, causing more than 835 deaths and 1900 wounded. A further 550 people died in the Zeppelin raids. German casualties from Allied bombing raids were estimated at some 740 killed and 1900 wounded.
Officers' ward. AWM photo C01996 and A01041.
Family background. Family interview Mrs Marion Eddison (1970), Mrs Pam Yonge (2011); Eddison service papers. Marion took the mill cottage at Burcombe, not far from Hurdcott, for the summer months of 1917 (inscription on back of photograph).
Hamel, August 8, Péronne. Bean Anzac to Amiens 459-83; Williams Company 213-64; Carlyon The Great War 681-94.
Chapter 4
Correspondents. See e.g. The Times 2 Sept 1918.
Blighty. illiams Company 262.
Williams. Williams Company 253. Wounded. Ibid 260-1.
O'Connor. Sgt Alexander Ignatius O'Connor from NSW, No. 2965 service papers NAA; citations AWM Honours and Awards, search under People.
Dalkeith. Captain Edward Lumsden Dalkeith, No. 568 service papers, citations; Williams Company 252; interview Marion Eddison (1970).
Nurses, fear. Williams Company 263.
Dulce et Decorum Est.T he celebrated war poem by Wilfred Owen (1892-1918), Available online.
Hindenburg Line, quiet mutiny. Bean Anzac to Amiens 483-92; Carlyon The Great War 698-731.
Eddison. Service papers, medical reports.
Officers at Wandsworth. Williams Company 266.
Mustard gas. The preliminary bombardment used the first consignment of British mustard gas shells to reach France, Bean Anzac to Amiens 490.
14th Brigade. Williams Company 267. 15th Division. Ellis 380.
Weymouth. Butler, Vol III, Ch 13, 626 ff; AWM War Diaries No 2 Command Depot Weymouth, September-October 1918. A Quartermaster is responsible, under the CO, for clothing, equipment, messing, feeding and arming a battalion.
Uncle Jack Eddison and relations at Adel c.1910
Chapter 5
Frank Eddison. See e.g. Kerr 240-1; Whitehead 5-11.
Hardy. See Tess of the d'Urbervilles Ch XLVII opening pages. Dark, Satanic mills. William Blake, Jerusalem.
John Fowler. Bonnett 39-41. Robert Eddison Lane 44-5.
Oxfordshire Steam Plough Co. Bonnett 108-11, Brown. My particular thanks to Dick Eastwood and the Steam Plough Club, and Jonathan Brown of Reading University for their help with this part of the research. Allen purchased the business from Dr Jack Eddison for £13,000 in October 1897. See also below under Francis (Frank) Eddison.
Adel. Eddison connection, see Cole and Davison Wheelwrights 7-14, and Cole Farming 42-8. My thanks to Don Cole, Val Crompton, Ann Lightman and the Adel History Group for their generous advice and assistance during an author visit in 2012.
Walter Eddison (Bertie). Family Bible, Walter's diary notes and personal papers courtesy of Pam Yonge; UK Births, Deaths, Marriages, Ancestry records; letter from form master H D Meyrick, Oxford High School for Boys, Eddison papers. Allandale. 1881 Census. Thanks to John Murray-Smith who showed me around Wendling Hall, which he now owns.
Eddison family. See Woodall for Edwin Eddison's Quaker background. Edwin (c.1805-67), m 1830 Hannah Baker (1810-72). He was a solicitor, Leeds Town Clerk and farmer. In February 1850, Edwin negotiated purchase of Adel lands by George North Tatham, Hannah's uncle, who died three months later leaving the Adel estates to his two sisters, one of whom was Hannah's mother from whom she inherited. Hannah's will divided the Adel properties among her six sons: Robert (1835-1900); Frederick (1837-86); Francis (Frank 1840-88); John Edwin (Jack 1842-1929); Walter Herbert (Dad 1845-1903); Octavius (1850-1916). The eldest child was Hannah b 1833, who married a clergyman Middleton-Wakes.
Francis (Frank) Eddison. Died 8 May 1888 leaving an estate of £11,063. His children were too young to take over the business which was sold, becoming Eddison and de Mattos. The firm continued into the late 20th century – as did John Allen and Sons, which began life as the Oxfordshire Steam Plough Company [q.v.], established by Walter Eddison (Dad) and Richard Noddings, both Fowler's engineers, in 1867.
Bankruptcy petition. London Standard notice 7 March 1890.
John. Cowper. In a taped family interview Marion Eddison said the uncle in America took Bertie's money and that 'he was a bad lot.' There were no further details. Ellen's brother John Cowper (c.1857-1912) went to America in 1885 under the auspices of the American Colonization Company, and went to Custer County in Nebraska. In 1890 he married Daisy Snyder and they moved to Ravenna. Extracts from the Ravenna News 7 September1893, 4 May, 12 October 1894 and5 April 1895 when the closure of the First National Bank is reported. I am grateful to Linda Heil of the Sherman County Historical Society for her kind assistance. I have assumed the bank's failure was the reason the Eddisons lost their money: their return to England within the month seems too coincidental.
Return. The Eddisons went to America on the SSBerlin, arriving New York 1 October 1894; they left on the SS Saale, arriving at Southampton 25 May 1895, NY Passenger Lists, UK Incoming Passenger Lists (Ancestry).
Beaulieu. Eddison family photographs and papers, including letters from Lord Arthur Cecil, Lord Montague of Beaulieu, Lady Helen Montague; Kentigern stud advertisement. The town is pronounced "Bue-lee". Walter Eddison. Died intestate 19 July 1903, buried Beaulieu, described as 'Retired Farmer.' Ellen d 27 February 1912 at Southampton, leaving an estate of £94. Particular thanks to David Horton who showed me over Decoy Pond farm when I visited in 2012.
Marion. Born 2 May 1885. Her mother Marion Bertie Cator was connected to the Norfolk landed family. An ancestor was Captain John Bertie Cator, who was involved in an 1850 expedition to the Arctic in search of Sir John Franklin.
America. Eddison's diary notes, Marion interview 1970.
Married. 22 March 1911, Marriage Certificate. Mottisfont. Marion interview. Tom. b 29 October 1911; Diana b 17 January 1913; Jack b 31 March 1914.
Euripides. Letter from Lord Lucas dated 14 November 1913, Eddison family records. Walter and Marion had clearly been considering a move for some time.
Chapter 6
SS Euripides. Left London 1 July, arrived Sydney 15 August 1914, Eddison and shipmate Frank Flavell on NSW Unassisted Immigrant Passenger Lists.
Outbreak of War. Bean Anzac to Amiens p 20-58; Official History Vol 1.Australian Encyclopedia, Wikipedia WWI articles. See especially Philip Bell 'Origins of the War of 1914' in Hayes for an excellent survey of the background to the war, including a discussion of the German archival research by Fritz Fischer [q.v.].
Fischer p 103 ff examined Chancellor Bethmann Hollweg's September Programme, drafted 9 September 1914. Fischer's book is based on a new examination of archival documents. The Introductory chapter makes it clear that Germany's elite had long been planning a war to politically and economically dominate eastern and much of western Europe (Mitteleuropa as they called it).
Sarajevo provided the opportunity for Germany to urge Austria into war with Serbia, knowing it would probably lead to a wider European conflict. Fischer makes it clear that not all the responsibility for the Great War rests with Germany, but the greater part of it does. The war was no accident into which the nations stumbled.
Even had Britain stayed out of the war, it is not unreasonable to suppose it would eventually have been drawn into conflict with a resurgent and victorious Germany; and had it lost, the consequences for Australia's domestic economy, international trade, defence and regional security would have been enormous. Suggestions that the Great War had nothing to do with Australian interests seem mistaken.
Card. NSW Immigration and Tourist Bureau printed Introduction for W H Eddison, 18 August 1914, Eddison family records.
Jingo.Words from a song by G H MacDermott and G W Hunt, popular at the time of the Russo-Turkish war of 1877, Hence the term 'Jingoism'.
Newstead. Historic Houses Trust of NSW Trust website article; Reference photos kindly taken by Dianne Beatty and Andrew Doran.
Enlistment. W H Eddison record of service. It states he was 7 years with the Hampshire V.B. (Volunteer Brigade), 17 years with the Hampshire Yeomanry. The conversation with the roustabout is imagined. Bertie's 1914 letters home have not survived, but we have the letter he received from Dr John Eddison in Cairo at the end of February 1915, see Ch 7. Corporal A squadron 6 ALH 10 October to 24 November 1914.
6 ALH. Berrie Ch 1; ALH Association website www.lighthorse.org.au.
Walers. Gullett Official History 29-39; Jones 7-13; Husband 71 ff; ALH Association website; AWM ALH Liverpool photographs. During the desert campaign, Walers were to bear loads of 280 pounds (20 stone), carry their riders 50 miles a day in the heat, and sometimes went 60 to 70 hours without water.
Chapter 7
First Contingent. Bean, Anzac to Amiens Ch 4-5. The convoy consisted of 38 transports escorted by four warships including the Japanese cruiser Ibuki. Japan was an ally in WW1.
Emden. On 9 November a radio signal from Emden was picked up off the Cocos Islands. HMAS Sydney was sent in pursuit, and sighting the enemy near Keeling Island engaged her with heavy guns. Within half an hour Sydney radioed back that the Emden was'beached and done for', run aground on a coral reef. The survivors were picked up and put ashore when they reached Colombo. See eg. Bean Anzac to Amiens 60-62.
Second Contingent. BeanAnzac to Amiens 67. Eddison. Reduced to Trooper 24 November 1914, service papers – no reason given but note his subsequent promotion to Captain. Suevic. Berrie 16. The AE2 achieved fame when it became the first submarine to break through the Narrows and damage Turkish shipping on the day of the Anzac Landings. After five days it was sunk and the crew captured. Horses. Bean, Official History Vol I 99; Husband 71. By way of contrast to Australian habits, when a French horse transport steamed into Alexandria shortly before the Gallipoli campaign, it could be smelt from the outer harbour: the stalls hadn't been cleaned, the horses were standing 18 inches deep in manure. And that was just a short trip across the Mediterranean (Bean).
Egypt. 6 ALH War Diary; Husband; Berrie 17; Jones 19-22. Maadi AWM photos 6 ALH. The 'Wozza' has various spellings, I use Jones.
Letter. Dr J E Eddison to W H Eddison, 27 February 1915, Eddison family records. Captain Mills. Interview with Pam Yonge.
Canakkale. The combined naval assault took place on 18 March. Three Allied French and British ships were sunk in the minefields off Canakkale before the sweepers could get through, and another cruiser was badly hit. A renewed effort that day might have succeeded, for the Turks were running low on ammunition; but the Allied commanders couldn't know that and the attack was called off – a major victory of national survival which Turkey has ever after celebrated. Carlyon Gallipoli esp 68-71.
Gallipoli. Mainly Bean Anzac to Amiens. Background. Ch VI. Landing. Ch VII. Holding On. Ch VIII; Hill Soldier Boy 44-46. See also Carlyon Gallipoli; BeanOfficial History; Newspapers, see e.g. Melbourne Herald 1 May 1915. Author visit October 2012.
2ALH Bde. Berrie 20-27. Ryrie. Ibid 21. Lutzow. Ibid 24. Eddison. Service papers.
Turkish attack. Bean Anzac to Amiens 130.
The Nek. Author visit October 2012. Goodbye Cobber. Trooper H Rush.
Chatham's Post. Berrie 33-43. Water. Ibid 38. He says the water was often rationed to a pint a day and the tea was 'so nauseating as to be undrinkable.' Ion Idriess, who served with 5 ALH, famously remarked in The Desert Column of the Gallipoli flies, 'Of all the bastards of places this is the greatest bastard in the world.'
Dalkeith. Enlisted January 1916, became a sergeant with 12 ALH, transferred to 6 ALH at Gallipoli 28 August. Promoted 2nd Lieutenant and transferred to 4th Battalion 8 December 1915. Denny. (No. 523) Enlisted 15 November 1914. Arrived Egypt with 1st reinforcements 6 ALH, trooper with A Squadron. To Gallipoli 15 May, hospital with rheumatism Gallipoli and Mudros 20 June, Cairo from 27 June, returned to Gallipoli 22 August 1915.
Anzac coastline from the ridges looking towards Suvla

Chapter 8
Maadi.I was unable to locate the 6 ALH records for the Maadi detachment, but the Routine Orders for the 7 ALH at Maadi May-December 1915 give a similar picture. Rumours. 27 August.
Eddison. Movements from his service papers, and letter 25 December, see below.
Evacuation. Principally Bean Anzac to Amiens 170-82; Official History; Carlyon Gallipoli Ch 32. Marching down the deres. Bean, Anzac to Amiens 178. Thanks to Izzit Yildirim and Zecki who took me around the Gallipoli sites during an author visit in 2012.
Last night. Carlyon 522-24; Gallipoli. War Diary 2 ALH Bde; Berrie gives an excellent eyewitness account from one who was with the very last party out. McKernan 198 is among those historians who think at least some Turks must have suspected what was up. Eddison's letter (below) makes it clear the soldiers at the time didn't share that view.
Monash. Carlyon, Gallipoli 524
Eddison letter. Alexandria Harbour, Christmas Morning 1915. Eddison family papers. Both Eddison and Denny returned on the transport Beltana (service papers).
Chapter 9
End of the war. No 2 Command Depot War Diary, November 1918; Internet, eg, Wikipedia entries The Armistice, Turkey, Russian Revolution, Vittoria Veneto, Desert Campaign.
Naval mutiny. General Ludendorff, in one last gamble to assert German valour, determined on a demonstration in late October to break the naval blockade – at which the sailors based at Kiel mutinied. They'd been bottled up in port for most of the war, and were not now about to commit collective suicide. Six million Germans had already died.
Weymouth celebrations. No 2 Command Depot War Diary 11 November; Weymouth Telegram 15 November; Southern Times 16 November. Photograph in Pritchard & Hutchings p 109. I thank the staff of the Dorset History Centre for their kind assistance.
Desert Campaign. Gullett, Australia in Palestine 1-59. Battle of Beersheba. 31 October 1917, Coulthard-Clark Encyclopaedia 134-5.
Eddison moves. Service papers; 56 Bn War Diaries April-December 1916, January 1917; Williams Chs II-VI.
Fromelles. Bean Anzac to Amiens 223-36, also Pozières and Mouquet Farm Ch XV; Coulthard-Clark Encyclopaedia 116-117, also Pozières 117-118, and Mouquet Farm 119-120; Williams Company Ch V;
Arnold Denny. Service papers 2nd Lieut Arnold Lorimer Denny No.523, DOW 26 July 1916, NAA, available online,
Transport Sergeant. Eddison Letter to Mrs Foster of Malvern Victoria, 6 November 1916 re her son Sgt Leonard Foster, courtesy Pam Yonge.
The Somme. Williams Company Ch VIII, Christmas rum and turkeys p 110;
Home leave. Eddison service papers, 28 November-12 December. The scene is necessarily imagined.
Eddison moves. Service papers:Hurdcott 1917, France 1918, Hospital and Weymouth June 1918-April 1919. Eddison was promoted Captain at Hurdcott 1 November 1917, Dalkeith 8 October 1917.
Chapter 10
Orvieto. Inward Passenger lists, 12 December 1919, Ancestry. History. Wikipedia entry, also www.petermanchester.me.uk; photographs AWM collections and captions.
Howse. ADB online; Boer War Memorial site online www.bwm.org.au
Nursemaid. Marion Eddison in a taped interview from the 1970s recalled her upset not to have a nursemaid in Australia; Pam Yonge in an interview 2013 related how the nursemaid disappeared on the wharf at Sydney.
Treaty of Versailles. History Learning Site online www.historylearningsite.co.uk; Wikipedia;
Scapa Flow. Wikipedia;
Eddison and Dalkeith at Weymouth. Service papers for both men.
Eddison NME. Service papers. Letter from farmer Brown in Eddison service file.
Voyage. Ports of call. The Times 1 November 1919; concert program 11 November 1919 (first anniversary of the Armistice), Eddison family papers;SydneyMorning Herald 10 December 1919 reporting late arrival. Nanny. Marion Eddison interview 1970, and Pam Yonge interview.
Chapter 11
Bobingah. Author visit, May 2013. My thanks to Peter Taylor, the current owner, and Jim Baker, son of the former owner, for their kind recollections and advice about the history of the property. The original shearers' huts are still standing.
Marion. Descriptions of the Eddisons' arrival at the huts and the graffiti on the chimney are based on an interview Marion gave in 1970 and a letter she wrote December 1968 to a recent arrival from England, 'Mrs Kate' in family papers.
St Ives. The house still stands in considerably reduced grounds in Crescent Street, Hunter's Hill. A history was published in 1997 by Rosemary Broomham, a photocopy of which is in the State Library of NSW [Call No. Q994.4006/48].
League. The Returned Sailors and Soldiers Imperial League of Australia (RSSILA) was formed in 1916. It has undergone various name changes and is now the Returned and Services League of Australia (RSL).
Simpson, Denny. Service Papers of Major Adam James Simpson (b 1888), and 2nd Lieutenant Arnold Lorimer Denny (b 1892). The Eddisons maintained close relationships with both families for many years.
Dalkeith. Marion recounts the meeting with Edward Dalkeith and the connection with Charles Baker in her 1970 interview. Servants. Marion also recalls the high cost of maintaining the St Ives staff, and the fact the family had to move quickly because they couldn't afford to remain at Hunter's Hill.
Baker. The precise nature of the association between Charles Baker and Dalkeith is unclear. The fact that the Bobingah railway siding was named 'Dalkeith and Bakers siding' (see note below Ch 12), suggests he had some importance in the first year or so of Baker's ownership. It is also unclear exactly when Baker entered Bobingah. A NSW Land Grant (Vol. 1573 Fol. 1460) shows the property of 1674 acres was transferred to Charles Byron Baker on 1 June 1920. He purchased it from three beneficiaries of Richard Witton who died in 1918.
As Eddison's woodyard advertisement appeared in the Cooma Express on 16 January and Marion remembered the snowfall of 27 January (see below), it seems likely Charles Baker and his son had access to the property before the purchase was completed. This apparently is not uncommon in rural areas. My thanks to Tim Johnstone of Canberra for his advice on the Certificates of Title, and to V J Ralph & Co of Sydney for searching the documents.
Captain Eddison.An undated Statement of Account from the Sydney branch of the Commonwealth Savings Bank states that Walter had an accumulated balance at final settlement of his army pay of £1889.13.9 (approx. $3804). A letter dated 12 February 1920 states that Walter's appointment in the AIF would cease on 3 January 1920 – and not, as he'd previously been notified, 18 February. A notice dated 31 January 1920 advises that he was eligible for a war pension of 21 shillings and threepence per fortnight payable from 19 February. It may have been backdated, as his enlistment was terminated earlier than he'd been told. These letters were addressed to Eddison at Hunter's Hill, though the family had by then moved to Bobingah (see under Snow next chapter).
Cooma Express. The notice about Captain Eddison's proposed woodyard was published on 16 January 1920.
Railway. I assume the Eddisons travelled on the scheduled passenger train which left Sydney at 8.25 pm, Goulburn 1.56 am, Queanbeyan 4.30 am, reaching Cooma at 7.20 am (Queanbeyan Age 28 May 1918). A mixed passenger/goods train left Cooma for Nimmitabel on Mondays, Wednesdays and Fridays at 7.40 am.
Cooma. Marion is not quite clear about the sequence of events. It appears they stayed first at the hotel in Cooma because of the floods before moving to Bobingah. June in January. Cooma Express 30 January 1920, which also reported district flooding 23 January.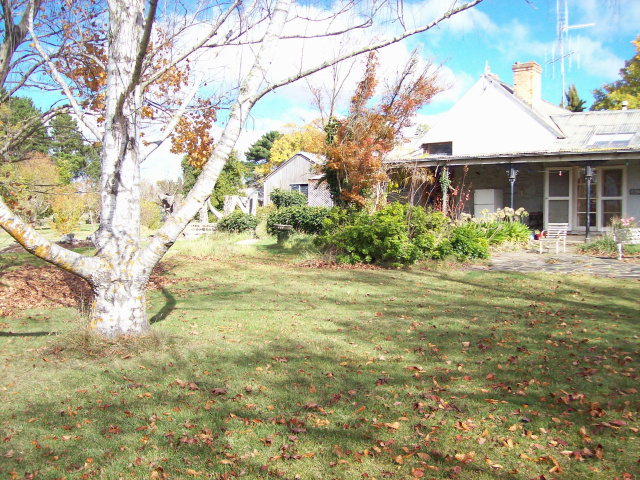 Bobingah homestead 2012
Chapter 12
Snow. In her 1968 letter to 'Mrs Kate' Marion recalled the family woke on the first morning to see the country covered with snow and 'alas I had given all he children's woollies away before leaving [England]'. The Cooma Express 30 January, reports that six inches of snow fell at Nimmitabel on Tuesday 27 January.
Marion. Recollection by Pam Yonge and Marion Douglas. Big hate on. Marion Eddison letter 1968. Marion was glad the recently-arrived 'Mrs Kate was impressed with Australia but went on: 'I loathed it and I was very home sick, I just had a big hate on generally. The heat, the work, the lack of every convenience & so on … but of course I suppose one can get used to most things in time.' She went on to add: 'We were right out in the paddocks, & I half expected a snake to pop its head out of every big log at every corner. It was grim.'
Household Hints. Cooma Express, 1920, various dates. Scones. Pam Yonge interview.
Move to Cooma. Unclear as to date. Pam Yonge recalled the family lore that the house was close to St Paul's Church at the top of Commissioner Street. A photograph in the family album shows the house which still stands (2012).
Population. Wikipedia entry for Cooma based on Commonwealth Census 1911, which gave the population as 2330, though it had fallen to 1969 by 1933.
Birdwood. Cooma Express, April 1920. Report of speech and Eddison at dinner.
Dalkeith. Pam Yonge interviews with author. James Baker in an interview with the author stated that his grandfather found that 'Dalkeith was not what he wanted' and he'd gone by 1921. Dalkeith and Bakers Siding opened 27 August 1920, renamed Bobingah 22 August 1921, closed 1975, see internet (www.NSWrail.net/locations Bobingah). My thanks to Jim Baker for making family papers and pages from Jeffrey available.
Cash on delivery. Copy of invoice letterhead courtesy Pan Yonge: 'The Cooma Woodyard … Dr to W.H. Eddison (Late Captain A.I.F.) Commissioner Street, Cooma, Sales by weight, Wood cut to any lengths, Cash on Delivery.'
Woodyard. Marion stated in 1970 interview that the woodyard was quite big but 'didn't work at all'. She also mentioned there were five or six former soldiers employed.
Summer Hill. Advertisements, Cooma Express February 1920. The auction was on 9 March.
Chapter 13
Dulhunty. Marion in her 1970 interviews says Walter was brought to Canberra by Mr Dulhunty who spoke of the good land in the district. I am grateful to David Dulhunty of Merimbula for the information he shared about his grandfather. Hubert Alfred 'Fred' Dulhunty born Queanbeyan 1882, married Edith McKeahnie (pronounced 'McKecknie') of Booroomba in 1916, enlisted AIF 3 May 1916, served in field artillery. He was a wool traveller with Winchcombe Carson before the war, and returned to the job afterwards. David has Mary McKeahnie's invitation to Canberra's 1913 naming ceremony..
Ryrie, Bridges. Australian Dictionary of Biography online entries, also Wikipedia.
Canberra. I have drawn liberally on Gibbney for this and other material relating to the capital city during the period. Names 7-8. Lady Denman 8. Griffin Ch 2.War years Ch 3. Bridges' funeral 45. Stagger juice 17. Depression 58.
Queanbeyan. I have drawn principally on Lea-Scarlett for the Queanbeyan material. Population 176. War 181. Post war.183. Woodger. Marion in her 1970 interview says that Walter and Dulhunty stopped for tea and met Bill Woodger, who recommended they put their names in for the ballot.
Board. The Soldiers Settlement Board met at Queanbeyan council chambers 26 October 1920, Queanbeyan Age same date. Telegrams 8 November. To Eddison (NAA A361 DSG23/2218) and Dulhunty. Formal letters written same day. Dulhunty was also successful in the ballot, and was awarded Block 30, two blocks further from Eddison down Long Gully Lane (A361 DSG23/57). The property known as 'Weston' was some 17 years later purchased by Rodolf (Tony) De Salis, see Chs 27.
Chapter 14
Pleased with block, housing.Walter letter to Sheaffe 13 November 1920.
Rabbits. Exchange of letters 2-3 December 1920.
Storm. Cooma Express 21 January 1921.Hillston. Ibid11 March. Ryrie. Ibid 18 March.
Arrival. NAA A361 DSG23/2218. In a letter dated 17 March 1921, Walter writes to the Surveyor-General from an address in George Street, Oaks Estate, saying 'I found I could not get away from Cooma until now & have just arrived here permanently.'
George Street, Mr Collett. Marion interview 1970.
Davidson's furniture. Marion interview 1970.
The Oaks. Background and history, see Williams K. I am grateful to my friend Furze Hewitt, her daughter Jane and Jim Cottee for allowing me to visit The Oaks in July 1913 with Pam Yonge, the Eddison daughter born in August 1921. It was Pam's first time back to her childhood home for many years.
School. Pam Yonge, John Cope history Queanbeyan School.
Uncle Jack. Letter 8 November 1921, Eddison family papers. Buys The Oaks. Williams K 147.
Chapter 15
Spanish influenza. See online reference sites: e.g., Wikipedia article '1918 Flu Epidemic.'
Mrs Davidson. Marion Eddison 1970 interview. Evangeline Davidson died 11 August 1921. Emma Gillespie was the Informant on the Death Certificate, and the Burial was witnessed by Walter Eddison and Harry Calthorpe.
Hospital, housekeeper. Marion Eddison 1970 interview. Mrs Gimp is an imagined name. Marion recalled how the children 'had been giving her hell', that Tom had been very naughty and dropping things down the chimney. Pamela Eddison was born 25 August 1921.
Hens, cows. Advertisements, Queanbeyan Age 1924-27. See the excellent Trove site at the National Library of Australia www.nla.gov.au for the online digitized newspapers, search Eddison.
Letters. Surveyor-General to Eddison, 22 August 1922. See correspondence files NAA: Eddison. Block 132 Woden, 1914-25 A361 DSG23/2218. Cargill. Block 40 Woden, 1924-25 A361 DSG24/727. Gifford. Block 39 Woden 1916-25 A361 DSG23/359. Dulhunty. Block 30 Woden, 1920-25, A361 DSG23/57.
Digger Drover.Marion interview 1970.
Canberra 1922-27. See Gibbney, Ch 5 'The Builders'.
Size of blocks. See e.g. letter 7 February 1923 from Inspector Brackenreg, recommending that Eddison be given a larger block. Brackenreg states plainly 'The present block [of 754 acres] is not sufficient to maintain a family.' Eddison letter applying for larger block, 29 January 1923. NAA, A361 DSG23/2218.
Stock losses.Undated 1925 letter from Eddison, NAA A361 DSG23/2218.
Flood. Queanbeyan Age, 29 May 1925.
John Davidson drowned. Queanbeyan Age 30 June 1925.
Chapter 16
Canberra. See Gibbney Ch 6 'Climax'. Move. Gillespie 123-4. Bus. Ibid 145. Street names. Ibid 138. Post. Ibid 137. Liquor. Ibid 148-9.
Ceremony. Gibbney 129-30; Canberra Times 13 May 1927. Aborigines. Gibbney 131; see also excellent article by Casey. Pam Yonge clearly remembers watching the ceremony from a distance, sitting in a buggy with Frances Russell and others near the Prime Minister's Lodge.
Yanco. Tom's RAF enlistment states he was at Yanco 1926-28. I have assumed he came home to see the Opening of Parliament.
Family. Elizabeth Cator married the Hon. Michael Bowes-Lyon, a son of the 14th Earl of Strathmore 2 February 1928. See Burke's The Landed Gentry.
Review. Gibbney 129; 13 May 1927.
Hinkler. Canberra Times15 March 1928. Kingsford Smith. Canberra Times16 June 1928.
Yamba/Yumba. See http://encyclopedia.thefreedictionary.com/Ngunnawal+language
Gorman. Eddison file, summary, ACT Archives [AACT] Block 28A TL919 Part 1
Flower Show, Cake stall. Queanbeyan Age 9 November. 1923 and 26 November. 1926. Concert. Ibid 1 December 1925.
Splinter. Pam Yonge interview with author.
Preference. Gibbney 141.
Plans. AACT TL919 Part 1. House and cow bails. Ibid, Eddison letter 9 January 1928. Response. Ibid February 3 (dairy) and 20 March 1928 (House). See also Ibid. Eddison summary folios. 193-5.
Gumley. Pulling Nails.Pam Yonge interview with author.
Russell, Alister Campbell (Dick). NAA A192 FCL1924/305, Block 153, known as Narrabundah or Sweet Hills in the early days. Also A363 DSL1922/256. Service papers (No. 27643); author interview with Frances Nicholls and Pam Yonge; Douglas Corsets 4,9; AACT TL1027 Part 1.
Maguire, John (known as Jack). AACT TL916 Part 1. Block 25 Woden, known as Melrose. Service papers (17997). Also Douglas Corsets 4,8.
Campbell, George Blomfield.A ACT TL918 Part 1. Service papers (No. 33918); author interview with Robert and Curtis Campbell; Douglas Corsets 6,7. Frank Gifford moved to a property near Hall in the Territory's north.
Tanner, Guy Darrel Canning. AACT TL917 Part 1, Block 26 Woden, known as Illoura. Service papers (No. 20300); Douglas Corsets 5,9.
Anderson, Kenneth Primrose. AACT TL945. Block 22. Service papers (No. 31999); Douglas Corsets 8,12.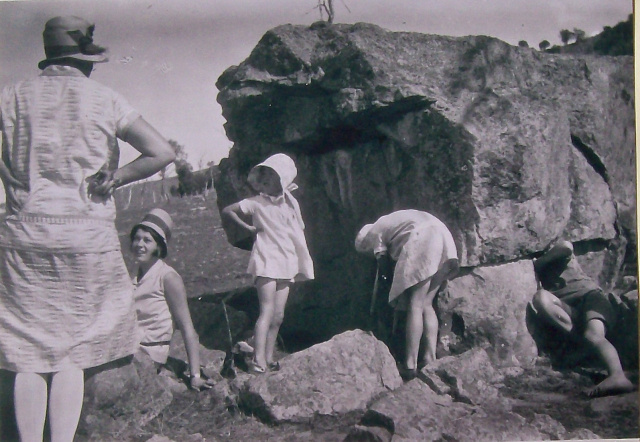 Chasing lizards: Marion with Diana, young Marion, Pam and Keith on the slopes of Taylor's Hill 1928-9
Chapter 17
Yamba. Notes of interview with Pam Yonge, 2011-13. See also AACT TL919 Part 1; Corsets; Douglas, Yonge ABC interview.
School fees. Canberra Grammar charged eight guineas a term for day boys (plus an extra three guineas for a hot midday meal) McKeown 6. Boarders paid 30 pounds ten shillings per term. St Gabriel's. Waterhouse 39, day fees were around £9 per term.
Canberra 1927-33. See Gibbney Ch 7 'Anticlimax', esp 141-44.
Don't want Mussolini. Canberra Times 29 May 1928. Benito Mussolini, leader of the National Fascist party, ruled Italy as Prime Minister 1922-25, and as dictator until ousted in 1943. Killed 28 April 1945. Known as Il Duce 'the leader'.
Bad temper. Sydney Morning Herald 22 April 1929; Gibbney 156. Friction. Gibbney 157. Butters leaves. Ibid 158. Advisory Council. Ibid 161.
Unemployment in Canberra. Gibbney 163-5.
Duntroon. Gibbney 164-5. A total of 12 cadets graduated at the end of 1930, there was no intake in 1931 when RMC moved to Victoria Barracks, Sydney. It returned to Canberra in February 1937.
Dr J E Eddison. Uncle Jack died 27 January 1929 leaving an estate of £172,494. His widow Elizabeth died on 10 April that same year. The estate, after special; bequests, amounted to £103,875. A Trust was established to disburse one fifth to the families of each of Dr Eddison's five brothers: Walter Eddison (who had two sisters) being entitled to 1/15th share. The Adel land, which formed the bulk of the estate, was sold gradually as Dr Eddison intended: the last of the land was not sold until 2012, and the numerous family descendants received a small payout. Letters Dibbs Lupton & Co. solicitors, 9 April 1930, 29 October 1937, in Pam Yonge's possession.
Mr Justice Pike. See Lloyd and Rees 223. The generous terms eventually offered to the soldier-settlers by the Government in the Federal Territory was in sharp distinction to the dire situation in many of the States, where the Commonwealth had no jurisdiction, though it did put up the funds.
Soldier-Settlers. Correspondence to and from the FTC Lands officers, reports, decisions and internal memoranda for 1929-33 are from the following AACT Archives files: Eddison TL919 Part 1; Campbell TL918 Part 1; Maguire TL916 Part 1; Tanner TL917 Part 1; Anderson TL945.
Chapter 18
Produce. See Corsets 27-8.
Families. Ibid. 3-7. For the general way of life see Corsets 20-26.
Russell. AACT TL1027 Parts 1 and 2.
Horses. Pam Yonge interview with author. Binder. Yonge/Douglas ABC interview.
Haystacks. Douglas interview for Corsets. Haystack fire. ABC interview. Lyndal Nott. Canberra Times 9 September 1935; interview with David Nott.
Photograph. Courtesy Pam Yonge, also names of horses. Joy Nott. ABC interview. I was un able to locate the family of the late Les Dwyer.
Diana accident. Canberra Times 26 March 1931; Pam Yonge author interview; Douglas/Yonge ABC Interview.
Keith. Pam Yonge interview with author. Eagle photo. Eddison collection.
Peppercorn. Pam Yonge interview with author.
Tom. Telopea School Rolls, courtesy Esther Davies. Champion. Philip Champion letter 22 October 1945. Wanting to fly. Pam Yonge interview with author; also Marion Douglas foreword to Tom Eddison's Letters Home.
RAAF recruitment. Coulthard-Clark, Third Brother, 205. Applications in the early 1930s reached 1200 for a dozen cadetships. At the height of pre-war expansion in 1938-9 the number of vacancies never exceeded 54 cadetships. 1933 cadetships, see e.g. West Australian 2 June 1933, Burnie Advocate 4 December 1933.
Voyage. Pam Yonge interview with author. Tom letters 1934: 30 August; 10, 25, 30 September; 30 November. Copies at ACT Heritage Library.
Chapter 19
Journey. Tom's letters from Palestine 30 November, 6 December 1934.
Jerusalem. Letters. Mount Scopus. 19 December 1934. Christmas, New Year. Ibid. 1 January 1935.
Jaffa. Letters. Connaught. 6 March 1935.
Hebron. Letters, 30 March 1935.
Balfour, British Mandate. See Internet, e.g. Wikipedia 'Balfour Declaration' and Middle East Research and Information Project 'The British Mandate in Palestine'. The Mandate in large part gave effect to the 1916 Sykes-Picot Agreement, which effectively divided the Middle East into British and French spheres of influence. Palestine was to be an international enclave – although the Balfour Declaration contained the promise of a Jewish national home, and Britain had also offered, through T E Lawrence, support for an independent Arab country covering much of the Arab Middle East.
Hebron. Tom letters 19 April, 26 May 1935. Eggs. 7 April (Tanner). Native cooking. 27 April 1936. PC. Various, e.g. 14 February 1935. Wogs. See e.g. 6 March 1935 for Africa. Sheikh. 11 March 1936. Bedouins. 15 May 1936. Search, murder. 30 March 1935. Manhunt. 26 May 1935. Beersheba. 21 July 1935, also (Light Horsemen) 27 April 1936. Mulholland. 22 September 1935. League of Nations. 11 October 1935.
Ethiopia.Internet, e.g. Wikipedia 'Second Italo-Ethiopian War', Encyclopedia Britannica ''Italo-Ethiopian War.' Also Bell in Hayes 228; Hill Billy Young 83.
Rearmament.Internet, eg Wikipedia 'German re-armament', History Learning Site 'Germany and rearmament. Also Bell in Hayes The Origins of the Second World War in Europe 233-7, an excellent summary for the general reader.
Yamba.Tom letters. Keith. 24 April 1936, CGS results 1935. Diana. 30 November 1934, 19 April 1935. Photo. 20 October, 1 January 1936. Jewish friend. 17 December 1935.
Estate. Correspondence Dibb Lupton & Co: W H Eddison Account with the Trustees of J E Eddison, 27 July 1935 to 1 March 1938. Eddison papers. Back rent. See Ch 17. Tennis court. ABC interview. Apricots. Letters 20 October 1935.
Campbell. George Campbell bought Block 19 Stromlo District in September 1931 for $675 after the previous lessee went bankrupt. ACT Archives TL913 Part 1.
Maguire. Snow lease was at Boboyan, now part of Namadgi National Park in the A.C.T., but not too distant from Yaouk. Clare Maguire interview for Corsets (Douglas papers).
Yaouk. Author visit February 2012 with Pam Yonge, thanks to Peter Cochrane of Yaouk, Jeff Murray and Penny Douglas. Jack McInnes taught Jack Eddision how to built a slab hut. Jack 'browned off'. Tom letter 14 February 1935. McInnes. Douglas Corsets 8. Cutting trees. Letter 24 November 1935. Leave. Letter 26 March 1936. Fool's talk. Letter 24 April 1936. Fences. Letter 15 May 1936. Tom's lease. Letter 9 July 1935. Sell Trooper. Letter 27 April 1936.
RAF.Air Ministry. Tom letter 26 March 1936. Shanghai. Ibid. RAF plane. Letter 6 July 1936.
New Car.Tom letter 1 February 1936, also Jack's truck. 'Mae West'. Douglas Corsets 8and Pam Yonge interviews with author.
Strike. Rifle Butts. Tom letter 6 March 1936. Sympathies with Arabs. Letters 5 and 6 July 1936. Spat at. Letter 17 December 1935. All the same. Letter 11 March 1936. Bir Junia. Letters 15 May, 9 June 1936. Decent blokes. Letter 15 May 1936. Tel Aviv. Letter 9 June 1936. Rotten shots. Letter 19 July 1936. Shrapnel. Letter 25 July 1936. Bullets whistle, Lewis gun. Letter 5 August 1936. Tin hat. Letters 12 June and 25 July.
Keith. Tom letter 6 July 1936.
Rhineland. Internet. See eg Wikipedia Remilitarisation of the Rhineland and also general article on Appeasement. Bell op. cit., 239-40 points out that France was not in a military (or political) position to make a rapid assault on the German forces, and Britain (236) was only slowly beginning to rearm.
To London. Tom letter 26 August 1936. Tea parties. Letter 25 July 1936.
Chapter 20
Tom's letters. 1936: Naples. 1 October. Medical. 11 October. Gran. 11 Ibid. Taking off. 30 November. Stunts, crash. 20 December. 1937:Uniform, batman.2 February.
Abdication. Tom letter undated January 1937; Internet sites Abdication, Edward VIII.Coronation.15 May 1937.
Tom letters. 1937: Diana dancing. 15 May; Pam Yonge interviews. 1938: Log shack. 3 October. Jack. 2 September.
Tennis club, bath. Keith letter, undated, probably summer of 1938.
Procrastinating, judgement. Letter 24 October 1935, AACT TL349/-/28A Part 4.
Improved lease. Walter letter, 13 February 1936. AACT, ibid.
Wagga. Tom letter, 5 September 1937. Glad I left. Ibid 1 August 1937.
Granny Mills. Mills letters, 6 October 1937 and 26 January 1938.
Keith. Tom letter 21 November 1937.
Guernica. Bombed 26 April 1937 killing perhaps 400 people. The horror is commemorated in Picasso's famous painting.
Nanking. The massacre of civilians in Nanking, or Nanjing, continued over some six weeks from December 13 1937. Estimates of the death toll range from 40,000 to 300,000 people.
Chapter 21
Anschluss. Various online sources. Germany invaded Austria 12 March 1938. The plebiscite held 10 April.
'Closer to a scrap.' Tom letter 13 March 1938.
Sudetenland. nternet sources. See e.g. Wikipedia, History Learning Site. The Munich Agreement signed by Germany, Britain, Italy and France 29 September 1938. Churchill's speeches make for absorbing reading.
'The ghostly shadow of peace'. Tom letter 22 September 1938.
Chamberlain broadcast. 27 September 1938
Churchill. House of Commons 5 October 1938.
Tom. Letter 22 September 1938. 'Heiling'. Ibid 12 September.
Parachute. Tom letter 14 October 1938. See also 'Caterpillar Club' online e.g. http://www.462squadron.com/images/images_caterpillar/The_Caterpillar_Club_Story.pdf
Kristallnacht. See Internet entries, e.g. Wikipedia, Encyclopedia Britannica, Jewish Virtual Library etc.
Jewish emigration to Palestine. See www.jewishvirtuallibrary.org; Wikipedia, White Paper of 1939.
Frank Prance. Tom letter 8 May 1939. Granny Mills. Mills letter 11 January 1939; also 1 February, 21 June.
Black Friday. Canberra Times, 'The horror weeks of 1939', 1 February 2003.
Dalkeith. Mills letter 10 November 1935. Bot: Pam Yonge interview. Scrounger: Tom letter 8 May 1939.
Woodbastwick. Tom letter 10 June 1939.
Instructor. Tom letter, first page missing, probably July 1939.
Diana wedding, Jack, Dudie. Mills letter Undated; Pam Yonge interviews.
Poland.Internet. Wikipedia, History Learning Site.
Keith.Service Papers E D (Keith) Eddison A563) and L A (Frank) Prance (NX7426); letter 27 August 1939.
Prance. Service papers.
Menzies. Radio broadcast at 9.30 pm
Adolf, Trooper. Tom letter 8 September 1939.
Granny Mills. Mills letter Undated, September 1939.
Chapter 22
Sellick.Tom letter undated, August 1939
No. 148 Sqn.148 Sqn Operations Record Book (National Archives UK)
Casualties.RAF website. Hank Nelson 183 puts the casualty rate at around 60 per cent
Shoot Baldwin.Tom letter 16 June 1940.
One-engine landing. Tom letter 27 October 1939.
Granny Mills. Ibid 10 October1939. Petrol. Ibid 6 December 1939. Pickard. Ibid 13 November 1939. Waiters. Ibid 6 December 1939.
Training. 148 Sqn Operations Record Book.
U-boats.Internet. See e.g. http://www.historylearningsite.co.uk/u-boats.htm
Wellingtons. Nelson 104-5, RAF website. History Learning Site. Dawn Patrol. Tom letter 1 January 1940.
Chapter 23
Hockey. Tom letter 13 November 1939.
Jill. Tom letters 1, 30 January 1940. Wedding. Ibid 24 February, Jill letters 29 March, 5 November 1940.
Prospects. March/April 1940. Source of newspaper clipping in family archive is unclear. It does not appear in a Trove search of the Canberra Times or the NSW newspapers for 1940.
Robert Eddison OBE (1908-91). A classical Shakespearean actor, noted for his fine voice and commanding stage presence. Later audiences remember him as the ancient Knight of the Holy Grail in the film Indiana Jones and the Last Crusade.
Married life. Tom letter 30 March 1940. Tired. Letter 12 April 1940. Hooray! Letter 30 January 1940.
Jackeroos. Pam and. Marion interview ABC radio interview.
Ronald Maslyn-Williams. (B. England 1911, d. NSW 1999). Musician, journalist, film-producer, scriptwriter and author of several books including the autobiography His Mother's Country (MUP, 1988), which does not mention Yamba. Maslyn-Williams was involved with a film, Wool Away, showing the Eddison girls taking the mob to the Yarralumla woolshed for shearing.
Labour problems, Jack. Tom letter 1 January 1940.
Dunkirk. Various Internet sites for quick reference. See e.g. http://www.britannica.com/EBchecked/topic/970448/Dunkirk-evacuation; http://en.wikipedia.org/wiki/Dunkirk_evacuation. Despite the success of the evacuation, some 40,000 Allied servicemen were killed or captured. The RAF is estimated to have lost over 1000 men and 1500 planes in the fighting before Dunkirk.
Battle of Britain. For quick reference Coulthard-Clark Encyclopaedia 173, Internet sites http://www.raf.mod.uk/history/thebattleofbritain.cfmon which I based my figures. Other sites include e.g. http://en.wikipedia.org/wiki/Battle_of_Britain; http://www.historylearningsite.co.uk/battleofbritain.htm. The costs were very high, including over 1100 German aircraft – some put it as high as 1900 planes. Fighter Command lost around 650 planes and 540 airmen – and another 1000 crew from the planes of Bomber and Coastal Command attacking Germany and the invasion barges gathering across the Channel
Bombing accuracy. See eg Nelson 106-7 ff. Careful discrimination. Churchill 'The Few' speech 20 August 1940.
The blitz. Various Internet sites including among a number of others, http://www.historylearningsite.co.uk/blitz_and_world_war_two.htm; http://en.wikipedia.org/wiki/The_Blitz. Jill Eddison's letter of 5 November 1940 is an excellent eyewitness account of life during the blitz. Pasting. Tom letter 23 September 1940 (his last surviving letter home).
Court Martial. RAF service record 24-5 October 1940. For some reason Tom is given the first name Frank. He was baptised Leslie Herbert Eddison.
Tom's appointment.RAF service record.
Captain Leighton Bracegirdle RAN. Official Secretary to the Governors-General 1931-47. He was promoted Rear-Admiral in 1945, and knighted in 1947. Thanks to members of the Bracegirdle family for permission to quote from his letters.
Picnic at Yamba during the 1940s
Chapter 24
Eddison brothers. Service papers.
Walter's finances. Archives ACT file TL349/-/28A Part 4. McInnes brothers, the shearing contractors, sent their 1940 bill for £98 to the wool brokers NZ Loan and Mercantile 'as discussed in conversation on phone'.
Yamba. Tom letter 26 June 1940.
Stradishall. Officer's mess. See Peden 228-31.
Ops in a Wimpey. Peden 173, Walker 52, who has the song. Nigel Walker was with No. 214 Squadron at the same time as Tom, see below.
Tom's operations. Taken from the RAF 214 SqnRecord of Events andOperations Record Book, both available online at UK National Archives sites.
First operation. I have drawn on descriptions given by Charlwood 37-40, Walker 53-5, Nelson 156-9.
Tour of duty. See Nelson 193-6. While a tour was around 30 operations, it varied in time and place.
Me 110. No. 214 Sqn Record Book, 6 May 1941. Rear gunner. Nelson 153-5. Night fighters. There are a number of useful Internet sites on the Messerschmitt 110 fighters, including the History Learning Site. The site www.sepsy.de states that infra-red sensors were used from September 1940. The fighters seem to have been equipped with Radar a year or so later in the war.
Promotion. Tom's Record of Service, 7 May 1941.
Hamburg. No. 214 Sqn Record Book, 8 May 1941. It states of R 1226: 'Failed to return. N.G.Z sent.' This appears to mean enquiries were sent out through the Resistance seeking news of the crew.
Walker. Walker 58-60.
Bracegirdle. Letter, 15 May 1941.
Chapter 25
Jack letter. 31 May 1941. Copy ACT Heritage Library. In both Jack's and Keith's letters I have mostly spelt out the ampersand & in full.
Keith letters. 9 June, 17 August 1941. Eddison family collection. Copies at ACT Heritage Library. I appreciate permission by the family to quote from them.
Keith moves. Letters and service papers NAA Flight Lieutenant E D Eddison No 563, available online www.naa.gov.au.
Keith Letters. Tiger Moth. 27 September 1939. Bumble-footed. Ibid. Initiation. Ibid and previous undated September 1939. Mannequin Ibid. 'Mysogenist' [sic]. Undated, Essendon probably December 1939. Under-Officer. Undated, Laverton, probably February 1940. Hudsons. 27 March 1940. How's Tricks? 1 April 1940.
Air Force numbers. Australian Bureau of Statistics 1944-45 Yearbook, online www.abs.gov.au/ausstats/ See also Coulthard-Clark The Third Brother 470, table Personnel Strength @ 1 April each year 1921-41.
EATS. See online AWM article www.awm.gov.au/encyclopedia/raaf/eats
Funeral, Green Timber. Keith letter 15 May 1940. Tetanus. Letters 31 May, 10 June 1940. Sensible Blond. 20 May 1940. TB, 'Waif'. 10, 15 July 1940.
Chapter 26
Yamba war years. See Douglas/Yonge ABC interview; Corsets 31-36; Pam Yonge interview with author.
Canberra war years. Principally Gibbney, Chapter 10. Expansion 208; No 8 Squadron 214; 3rd Battalion, 7th Light Horse 216-7; Lady Gowrie Services Hut 221-2, Douglas/Yonge ABC interview, Pam Yonge interview with author.
Hudson crash .Gibbney 213-4; Canberra Times 14 August 1940. Funeral. Keith letter, undated, August 1940. See also Coulthard-Clark The Third Brother 206.
Keith letters. Wendy. 29 September 1940. Ansons. 27 October 1940. Body shop. Undated, Point Cook, early 1941.
Australian war history. The most complete source is the official history Australia in the War of 1939-45, published by the Australian War Memorial, volumes dealing with the Army, Navy, Air Force, and Civil and Medical histories. Available online through AWM website. For quick referenced I have relied principally on The Australian Encyclopaedia, Volume 6, World War II. Also Coulthard-Clark Encyclopaedia 176-83 (North Africa), 186-193 (Greece, Crete, Lebanon). See also Denis et al and AWM online Encyclopedia for individual battles and campaigns.
Frank Prance. Service papers for Prance, Lewis Alfred, NX7426, available online at National Archives of Australia.
Propeller. Keith letter 4 July 1941.
Camden. Keith letters 1 July, 3, 17, 31 August 1941. 'Dark show.'16 September 1941. Yamba. 31 August 1941.
Eddison finances. ACT Archives TL349/-/28A. Letters and minutes 1940-41. Includes letters from NZ Loan and Mercantile. Agency Co Ltd re advances to Walter.
Auction. Held 23 October 1941. Advertisement. Canberra Times 11 October. Woodger. Letter 30 October in Eddison family collection. Thanks to Miss Helen Woodger for permission to quote from her father's letter.
Tom. A notice that Tom was officially presumed killed was placed in the 'Roll of Honour' column in the Canberra Times, 14 February 1942.
Tobruk. Australian Encyclopedia Vol 6, 394-97; Coulthard-Clark Encyclopedia 183-86. Malaya. Dennis 375-81. Pacific. Aust. Encyclopedia op. cit. 398-401. Kokoda. Coulthard-Clark op cit. 222-3; Aust. Encyclopedia 399-400.
NEI airman. See Gibbney 217-8; Pam Yonge interview with author; Douglas/Yonge ABC interview.
Prance. Service papers.
Uranquinty. Service papers. Keith letter 8 September 1942. There is one-year gap in the surviving letters between this and 18 September 1941. As OC. Notation on service papers.
Jack. A letter dated 8 September 1942 in ACT Archives file TL349/-/28A from the Surveyor-General notes that Eddison has lost one son (Tom) in the war, has another (Jack) as a prisoner, with the third (Keith) also in the forces.
New Guinea. In addition to the sources cited, see also Dennis 331-3; Coulthard-ClarkEncyclopaedia. 232-37; and articles from AWM online Encyclopedia.
Browned off. Notation on Keith's service papers.
Chapter 27
Forest Hill. See AWM photograph PO1335.012, Pilots and navigators in No.3 course No 5OTU RAAF, Forest Hill. Also recollections in Dick Service, especially Maurice Ball and Doug Raffen.
Beaufighters. No 30 Squadron RAAF Association website. Wikipedia article on Beaufighters. I was informed by Kristen Alexander's fine book, although I realise Jack Davenport flew in Europe not the Pacific. Kristen's advice has been invaluable throughout this part of the book.
Whispering Death. See e.g. Dick Beaufighters 6.
Nan Campbell. Corsets 35.
Townsville. Keith letter, undated, Townsville March 1943.
Port Moresby. 30 Squadron Association website. Dick Beaufighters gives a fine eyewitness account of No. 30 Squadron during Keith's time in New Guinea. Badge. 30 Squadron badge and motto adopted 1962. Thanks to Monica Walsh for assistance.
Bismarck Sea. Coulthard-Clark Encyclopedia 237-8; Dick Beaufighters 82 ff.
Raid. Dick Beaufighters Chapter 7.
Keith's letters.1943: Prance. 3 April. Shooting up houses. Ibid. Petrol dumps. Undated April. Raid. 19 April. Jungle vines. 3 April. Old hens. 29 March. Pictures. Undated, April. Club. 29 March.
Tom. Canberra Times 15 May 1943 published a news items stating the Dutch Red Cross had ascertained Tom's crew had been buried at Den Helder when their plane was shot down on 9 May 1941.
Keith promoted. Letter 19 March 1943. Insignia. 17 May, Keith's last surviving letter.
Lae. Dick Service, especially interviews with Don Miller, Maurice Ball, and Col Harvey.
De Salis. Note in Keith's service papers, also Archdeacon Robertson. Canon Edwards in Corsets 35. Nan Campbell. Ibid.
Bracegirdle. Letter from Admiralty House, 1 June 1943, in Eddison family collection.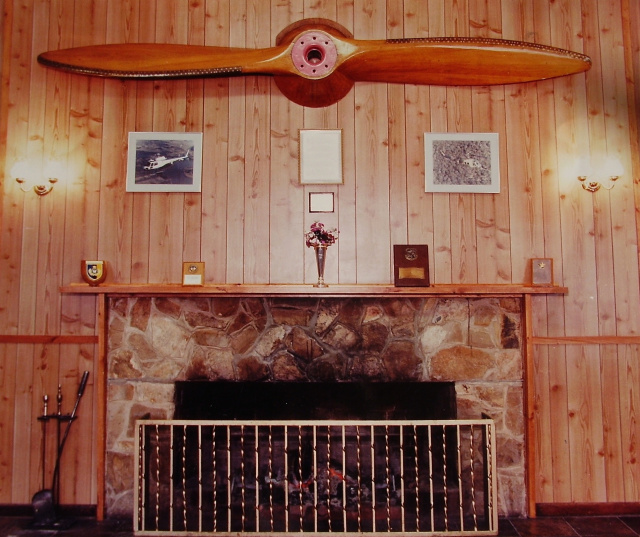 'Grumpy's' air screw at RAAF officers' mess Fairbairn
Chapter 28
Postcard. Canberra Times 24 June 1943, Eddison family collection, copy ACT Heritage Library MSS 166.
Herbert. William Valentine Herbert service papers (No. 622 1914-19, NAA); Donkinmonograph 2011; author interviews with Nan Pfahl 2013-14, who has my sincere thanks.
Jack's proposal. Author interview with Nan Pfahl.
Enlistment. Service papers,J.O. Eddison NX60320, NAA. Refrigerator. Marion Douglas interview for Corsets 17.
Tom. Letters 1 October 1939, 1 January 1940. Bloody fool. 16 June 1940, to Jack.
Keith. Letter 17 June 1940.
Jack's letters. Various dates, courtesy the Eddison family, copies at the ACT Heritage Library. 1940: Farm. 18 August. Militia. 31August. Lambing, Wilkinson. 3 September. 1941: Queen Mary. 4 February No. 1 Girl. 17 March. Scotch girls. 27 April, 15 May
Crepe-de-chine. Jack letter, undated, April/May 1941. Dress Material. 3 August. Middling. 31 May. Truck. 6, 31 August.
Bill Herbert. Service papers NAA. Enlisted Flying Officer W V Herbert with RAAF March 1941 service no. 2151. Died Newport NSW 21 September 1941, Inquest 24 November 1941. Author interviews with Nan Pfahl. Donkin monograph.
Jack's letters. Ill fated star. 5 October 1941. Paddle my own canoe Ibid. Auction. Ibid. No Japs. 3 August 1941.
Chapter 29
Malaya. Dennis 377-80; Coulthard-Clark Encyclopaedia 197-201; Hill Billy Young 153-66. For full account see Warren Chapters 5-12.
Mersing. Wall 21-47.
Jack's letters. Fit as a fiddle. 22 December 1941. Overseeing Nan. 15 December. Queer animals. 22 December. Christmas. 29 December. RASC, 4 January 1942. Regards to all. 16 January 1942.
Singapore. Warren Ch 18, Appendix 2 (statistics); Wall Ch 3. Hill Billy Young Ch 9; Dennis 380-81; Coulthard-Clark Encyclopaedia. 202-4.
Great World. Wall 128-30.
Naoetsu. Wall 260-71. Full description see Maynard and Gaden.
Marion's letters. Marion Eddison wrote long letters to each of her sons during the war. One dated 8 February 1942 to Jack survives, in which she mentions the diplomats' cars and hopes his 'No 1 wife' writes 'regler.' Eddison family collection, ACT Heritage Library.
Jack's POW cards. Three cards were send from Naoetsu, dated 22 December 1942, 4 March 1943 and 30 May 1943. Copies MSS 166, ACT Heritage Library.
Sickness. Wall 270-72 ff. Maynard 192-97.
Chapter 30
War history. The most complete source is the official history Australia in the War of 1939-45, published by the Australian War Memorial. See e.g. Army Vol VII 'The Final Campaigns.' Available online through AWM website. For quick reference see e.g. Coulthard-Clark Encyclopaedia; various World War II timelines online at Wikipedia or History Learning Site.
Stanley Charles Pfahl. NAA papers. Enlisted 13 February 1941 aged 23 years, RAAF Service No. 21745. Ring. Nan Pfahl interview. Marriage. 12 June 1945.
Canberra. VJ celebrations, see Gibbney 225-7.
Hilda Abbott. Australian Dictionary of Biography. See entry Charles Lydiard Aubrey Abbott, available online. Hilda Harnett was born at Eucumbene station in 1890. Telephone call. Douglas/Yonge interview, author interviews with Pam Yonge.
End of War. For Singapore. Hill Billy Young 352-5. Naoetsu. Wall 300-05.
Death. A description from the diary of Corporal Jack Redman is in Wall 272, Maynard 194-5. Article Canberra Times 10 October 1945. It wrongly stated Jack had been captured in the Philippines.
Duchess of Gloucester. Letter to Marion 10 October 1945 in the Eddison family archives. Copy at the ACT Heritage Library collection MSS 166. The Duchess was subsequently styled Princess Alice.
Chapter 31
Relief. Champion letter, 22 October 1945, also Department of the Interior correspondence, Chiefly responses, Walter's letter ACT Archives TL349/-/28A Part 4 [continuation of earlier files]. The file also contains letters and memoranda on Walter's finances. In February 1947 Eddison's debt to government was £442 in back rent to 1933 and about £300 in current rent; he owed £2,338 to his bank and £290 to NZ Loan. See also AACT files op cit for correspondence on Eddison finances, transfer of Yamba to Hyles. My thanks to Heather De Salis and Ben Champion for permission to quote from their father's letter.
Tanner. Douglas M, interview for Corsets, transcript ACT Heritage Library. Holiday. Ibid; Douglas/Yonge ABC interview.
Weddings. Douglas/Yonge ABC interview 15-16; Sinclair/EddisonCanberra Times 9 April 1949 (engagement).
Overseas trip. Letters in Eddison family papers, CT 14 October 1953, 22 June 1966.
Fires. 24-5 January 1952. Douglas Corsets 37-9. CT 25 January ff. Also Marion Douglas interview for Corsets.
The Oaks. Purchased by the Member for the ACT Dr Nott for £2500, Canberra Times 18 August 1950. Uncle Jack bought it in 1921 for £750, see Chapter 14.
Yamba sold. Transfer to Richard Hyles on 8 September 1954, ACT archives TL349/-/28A Part 2. The property was resumed by the Government for housing c 1964, by which time it had been sold by Hyles to another owner.
War Graves. Tom.No. 32.C.2. Bergen-op-Zoom War Cemetery, Netherlands. Keith. Panel 6, Lae Memorial. Seeletter by Marion Eddison to her daughter Marion 3 November 1953, family papers, copy in ACT Heritage Library. Jack. Plot A, Row B, Grave 6, British Commonwealth War Cemetery, Yokohama, Letter and photograph undated from Directorate of War Graves Services in Eddison family papers; author interview with Pam Yonge.
Japanese. W H Eddison letter Canberra Times 25 September 1963. Pfahl visit. Nan Pfahl interview.
National Equestrian Park. See Walter letter to Minister for the Interior 23 May 1961 and an undated statement in an appeal for funds which says in part: 'In recent years Eddie realised that the day of the war horse and the work horse was done, and that the only hope of survival is in the growing number of riding and pony clubs throughout the land.' Letters in Canberra Times e.g. 17 February, 13 June, 8 September 1961, 24 November 1964. The Equestrian Park still flourishes as Walter intended.
Desert Mounted Corps Memorial. See e.g. letters to Canberra Times 12, 24 November 1962, 1 April 1963, 8 April 1965. The Albany replica was unveiled on 12 October 1964, the one in Canberra on 19 April 1968. Walter was given the news in hospital, a month before he died, Canberra Times 18 March 1966.
Deaths.Walter. See Canberra Times 16 April 1966 (obit). Marion. Ibid. 11 September 1971.
Poem. Vale to the 60 men who died in Naoetsu Campby Lieutenant Jack Mudie. Given to the Eddison family and in their papers. I am grateful to the late Jack Mudie's daughter, Jenny Walsh, for permission to use these lines. Lieutenant Mudie, who was a member of the 2/20th Battalion, apparently wrote a poem for each of the 60 men who died at the Naoetsu camp.
Yamba as it was in the 1950s