Antique Furniture in Australia
Antique Furniture in Australia by Anthony Hill, illustrated with over 300 line drawings and photographs. Viking/Penguin, Melbourne, 1985, hardback, 3rd edition 1997, 254 pages, paperback. Out of Print.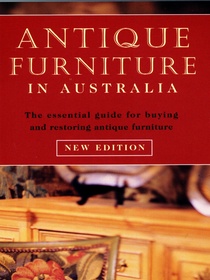 Billed as 'an indispensable guide to finding, buying, identifying, restoring and, most importantly, enjoying your furniture,' Antique Furniture has lived up to its promise.

I have often used ... Antique Furniture in Australia in my professional work, always finding it helpful and never coming across a single error in it. What more can I say? (Dr David Dolan, museum curator, Canberra Times).

This lavishly illustrated book was written with the novice antique collector in mind ... the person who is most likely to be confused and sometimes even defrauded by tricksters in the antique trade. It is useful to collectors not only in Australia, but to people everywhere who enjoy furniture based on antique British and European styles.
Partly set out in dictionary form, the book explains many of those strange terms used by antique dealers. What is a French bracket foot? What is cock-beading? It talks about the different kinds of timber used in furniture made both in Australia or imported from overseas, mostly from Europe and the UK.
There is a substantial furniture glossary, defining and illustrating the many kinds of tables, chairs, chests, dressers and beds made over the past 300 years. What is a dumb waiter? How can you tell a genuine kangaroo back chair? There are hints on what to look for when buying at auction, and ways of telling whether an antique is really what it purports to be.

Fakes and married-up pieces, alas, are all too common ... Begin with a healthy scepticism. Take time to satisfy yourself that the piece is legitimate.

Finally, the book has a section on simple repairs and maintenance for antique furniture. How to clean, wax, polish and care for your furniture so that it will continue to give pleasure for generations to come.



What the critics said about Antique Furniture in Australia.
An important useful introduction to its subject

(Kevin Fahy, Australiana).

..

. sound, succinct and easily accessible. Encyclopaedic in its scope and design, the book is a compendium of information essential to anyone setting out to collect antiques, or interested in learning more about what they already have.

(Geoff Maslen, The Age)

Antique Furniture Q & A
Why did you write Antique Furniture in Australia?
I was commissioned to write the book by Brian Johns of Penguin Books. I wanted to write the sort of book I wish we had when we started our antique shop ... one that tells you the things that most other books either leave out, take for granted or put in a footnote. What is a canted corner? How do you tell an antique nail or screw from a modern one? What are the proportions of genuine 18th century furniture? What tell-tale bits of evidence do fakers often leave behind them? What's a good recipe for making beeswax furniture polish? And there are a few jokes and funny stories, as well!

Where do the illustrations come from?
Most of the illustrations are taken from furniture pattern books of the 18th and 19th centuries. Among them are Chippendale's The Gentleman and Cabinet Maker's Director (1769), Hepplewhite's The Cabinet-Maker and Upholsterer's Guide (1788), Sheraton's The Cabinet Dictionary (1803), Loudon's Encyclopedia of Cottage, Farm and Villa Architecture (1842), Lassetter's Commercial Review (1909). These give the best indication of style. There are also photographs of furniture from collections in museums and galleries, so that readers can see what the made pieces actually look like.

Do you only write about Australian furniture?

No. Most furniture available in Australian antique shops is imported - mainly from Britain and Europe. And furniture made during colonial times was based on overseas models, as it still is today. It's therefore important to know about the periods, styles and fashions that prevailed among furniture makers, especially in the United Kingdom, during the period the book covers - from 1600 to the 1930s. This makes Antique Furniture in Australia useful to collectors around the world.
Antique Furniture in Australia, first edition cover