Writing Animal Heroes
Background to the book
Horrie the Wog Dog's Secret
By Anthony Hill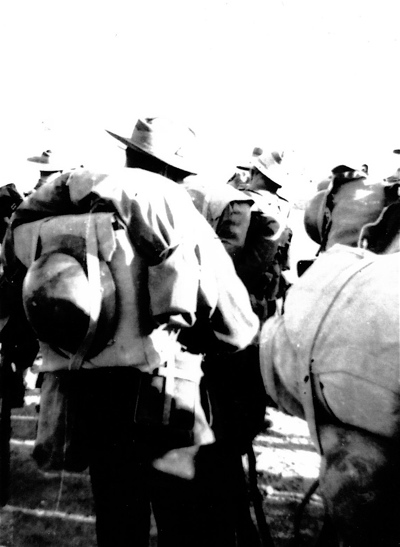 At the launch of my book Young Digger at the Australian War Memorial, a friend, Norma Allen, suggested I write about Horrie (another wartime waif who was smuggled back to Australia by the soldiers who adopted him).
'But Ion Idriess wrote that book in 1945,' I said. 'Horrie was destroyed by the quarantine authorities three years after he got here.' 'I mean,' Norma replied, 'that you should say what really happened.'
And for the first time in nearly 60 years, she broke her silence and told me the tale of the substitute dog - as Horrie's owner, Jim Moody, had told it to her. Even then, Norma offered a silent 'Sorry, Jim,' for the past can throw long shadows into the present.
[Courtesy Moody family]
Horrie is really in the smuggling backpack
[Courtesy Moody family]
In the months that followed I was able to confirm the main details of the story with two of Jim's children, Ian and Leonie Moody, and also with Brian and Betty Featherstone. Brian is probably the last surviving member of the signal platoon 'Rebels' of 2/1 Machine Gun Battalion, who adopted Horrie in Egypt and smuggled him home in 1942.
Through them I learnt how Jim had the last laugh on authority: of the 'switch', and of the 'five bob dog'. He was a Horrie look-alike, who was bought for five shillings from a Sydney pound and given to the officials when they demanded Jim hand over his dog for destruction.
Wreaths in memory of Horrie were laid on Anzac Day for many years in Melbourne and Sydney. But they should have honoured the five bob dog, who all unknowing became one of his country's animal heroes – the recipient of a remarkable outpouring of public grief.
As for Horrie, he was whisked away to northern Victoria, where he lived out his days and sired many puppies. Jim Moody used to say they all looked like father. 'Little Horries running everywhere. The authorities couldn't tell which one was him even if they came looking.' Which is the best laugh of all.
Jim with an unknown dog, perhaps the "Five bob dog"
It was one thing to have the story – another to know what to do with it. There wasn't enough new material to make a stand-alone book. Talking to my friend, Dr Michael McKernan, historian and former deputy director of the Australian War Memorial, he told of the large amount of material at the AWM associated with animals…
There is Horrie's khaki jacket and the back pack in which Moody smuggled his dog home. There are at least two stuffed dogs from World War I. One is a Sydney silky terrier called Driver, who was taken to war as a puppy and returned a veteran. The other is a German messenger dog – a splendid Doberman Pinscher called Roff – who wandered into the Australian lines, was captured with the aid of bully beef, and made a prisoner-of-war.
In a glass case is the mounted head of Sandy, one of the chargers used by General Bridges, who first commanded the AIF. Sandy was the only Australian horse to come home alive after the war (as Bridges was the only Australian killed in action to be brought back for burial).
Pigeon VC. Visitors to the AWM can see on display a stuffed carrier pigeon from the New Guinea campaign. It's often forgotten how many lives were saved by the messages carried through storm and fire by these birds. Two of them were awarded the Dicken Medal – equivalent to the Victoria Cross for gallantry. They are the only Australian animals so far to win it.
Here, I felt, was the proper context for Horrie's story. And as I began to research the material at the AWM, I realised what a rich and largely unexplored subject it is. There have been several books written about the animals of other countries in wartime, but few on those who served with the Australian forces. With the exception of Simpson's donkey, Murphy, and some of the Vietnam tracker dogs, most have become the forgotten heroes of our military history.
It's high time we honoured them again. The AWM collection is full of their stories and photographs. The problem for the book was which ones to put in and which ones reluctantly to leave out.
Mice and canaries. Some creatures, like the carrier pigeons, the mules and draught horses who pulled the big guns in the France, or the Gallipoli donkeys, have shown extraordinary and sustained courage under fire. White mice and canaries carried to test for poison gas in conflicts from Flanders to contemporary Iraq, are no less brave in their ways than a tracker dog in Phuoc Tuy Province signalling Ambush Ahead! or dolphins hunting for mines in the Persian Gulf.
Dogs and monkeys. All acted as their instincts and training told them. Indeed, those instincts have saved countless human lives. A kelpie dog called Gunner, had such acute hearing he could warn Darwin air crews of approaching enemy bombers up to 20 minutes before they appeared overhead in 1942. Horrie had the same ability – and so did a monkey called Smiler during the siege of Tobruk.
Friends and companions. They're good examples of the way some animals, originally picked up by soldiers as pets and mascots, have turned their natural devotion and protective abilities to military use. Horrie, for instance, also became a messenger dog in Crete – carrying signals, tied in a handkerchief around his collar, from outlying patrols in the hills to his master waiting below.
Eros, a German Shepherd tracker dog from the Korean War
Pets. But by far the greater number of mascots have been collected by soldiers on the road to war, for what these animals have to give: companionship, affection, laughter, release, hope and comfort. It may be a sparrow rescued by a teenage girl imprisoned at Changi, a mongrel pup, or a pygmy possum known as Ferdie. They are all living creatures with whom servicemen and women can share those gentler emotions they so often have to suppress.
It's not surprising that many attempts have been made by the forces over the years to defy strict Australian quarantine laws and smuggle their pets home. A few succeeded. Jim Moody and Horrie were among them. But the animals have mostly been caught and destroyed, or else have had to be left behind overseas.
This shaggy grey donkey pictured right, was a trophy of war – one of the few objectives captured by Australian colonial troops who took part in the Sudan campaign of 1885. The contingent is said to have been Australia's first expeditionary force, and it returned bringing the donkey in triumph.
The animal was first sent to the Sydney Zoo, but it ended its days at Duntroon, a property at Canberra, where Australia's Royal Military College was established in 1911. General Sir William Bridges was the first commandant, and also the first commander of the Australian Imperial Force following the outbreak of the Great War in 1914. Interestingly, General Bridges was the only soldier of the Great War to be brought home after his death – as his favourite charger, Sandy, was the only horse to be brought back.

So few came home

This is the most distressing aspect of all the stories about the animals who served abroad with Australians at war: until recently, they hardly ever came home.
Waler Horses. Of the 135,000 Waler horses who went to the First World War, Sandy was only one to return. Ten black Labrador-cross tracker dogs were left with western families in Saigon. Despite pleas to bring the dogs back from Vietnam and public money-raising for quarantine costs, the authorities never seriously entertained the idea – something which still cuts very deeply with the men and women who knew them, and with whom I spoke.
Yet among the grief there is also some good news.
t is widely believed that almost all of the 9000 horses left behind in Palestine by the Australian Light Horse were either shot or 'sold into slavery,' as some historians put it. Those mounts who were aged over 12 or in poor health were certainly destroyed, some shot by their own troopers. Yet veterinary returns on file at the AWM suggested that approximately two-thirds of the horses were transferred to Imperial, mainly Indian Army cavalry to continue their working lives. Their fate was not as dreadful as commonly supposed.
Military dogs. And since Operation Solace to Somalia in 1993, Australian military working dogs sent overseas have been returning home. Since that time, the dogs have worked in East Timor, Bougainville, the Solomon Islands and Afghanistan, where several dogs have died in the line of duty. While they have to observe strict quarantine protocols, the military authorities ensure that the dogs don't suffer the same fate as their cousins in Vietnam. They come home.

For one thing, a fully trained military working dog can be worth up to $50,000 - too costly an investment to leave behind, as unwanted engineers stores. For another, the authorities are increasingly recognising the sheer value of the service that a good dog can give.
In Iraq a couple of years ago, British troops swept five buildings for hidden arms and found nothing. They called in their springer spaniel sniffer dog, Buster. Within five minutes Buster found a cache of guns, grenades, explosives and drugs secreted in a wall cavity. He's now the latest recipient of the Dickin Medal for gallantry. A true animal hero.
Now, the Australian Defence Force Trackers and War Dogs Association has become the first organisation to issue medals to military working dogs and state government service dogs. Dogs who serve overseas receive the War Dog Operational Medal with Clasps. Dogs with service at home of more than five years are entitled to the Canine Service Medal.
The medals are unofficial, but that doesn't detreact one jot from the value placed on themby the recipients.
Memorial to the military working dogs at Alexandra Headland, Queensland. Erected by the Australian Defence Force Trackers & War Dogs Association
Suddenly we are becoming aware of them again. The animals are creeping from their hiding places in old newspaper scrap books and photograph albums, to take their rightful places beside the servicemen and women they knew and who wrote such proud chapters in our national chronicle.
It is my hope that the stories of just a few, as told in Animal Heroes, may be seen to honour them all.
A memorial for the animals
A few years ago Princess Anne unveiled a memorial in London to the animals – from elephants to pigeons - that have served beside British and Allied troops.
Here in Australia, the Australian War Memorial is planning to erect a memorial for all those creatures who were there with our fighting forces in time of war. Hopefully it will open during the major exhibition on animals in war – A Is For Animals – early in 2009.

Mascots. Many units, of course, have official mascots, ranging from a tiger, crocodile or water buffalo, to a Shetland pony, wedge-tailed eagle or a merino ram. They're supposed to represent the military virtues of courage, endurance and loyalty – the esprit de corps, in fact, and lead very much the military life with promotions through the ranks - and demotions for bad behaviour. They also manage to parody that life. Whether it's an eagle being busted for going AWOL, or a randy pony trying to mount the CO on parade, through quite unselfconscious humour they make the strict discipline of a service career that much more bearable.
The memorial in Sydney to the horses of the Desert Mounted Corps. The inscription reads: "They suffered wounds, thirst, hunger and weariness almost beyond endurance but never failed. They did not come home. We will never forget them."
Animal Heroes
Telling Horrie's story
Ian and Cindy Moody with Lauren and Hayden, and Betty and Brian Featherstone, 2003
'Sorry, Jim.'
Horrie on guard: Egypt, 1941

Horrie on board, with Jim Moody, 1941 [Courtesy Brian and Betty Featherstone]
The idea for Animal Heroes began in 2002 when I first heard the true ending to the story of the World War II mascot, Horrie the Wog Dog.