Scenes from London prisons, 1862
The Last Convict
Foreword
The Last Convict is a work of historical fiction based on the life of Samuel Speed, who believed himself to be –and is widely accepted as–the last of the transported convicts to survive in Australia. He lived into the modern era–dying in November 1938, on the eve of the Second World War.
Very little is known about him: even his true identity is uncertain from the many Samuel Speeds born in England during the 1840s. I have reconstructed his story on the basis of the few established facts on the public record, and an interview he gave with a Perth newspaper only a few months before his death. The whole book, in fact, is structured around that August morning when he gave this interview to the Mirror reporter.
While it remains an historical novel, for interested readers I have included in the Appendices the full interview as published (complete with factual errors as noted), the report of Speed's trial at Oxford in 1863, and a Timeline of the known facts of his life. I have also included a set of Chapter Notes to help separate historical fact from the historical fiction.
Afterword
Talk about the serendipity of a writer's life!
For fourteen years I'd been wanting to write the story of Samuel Speed, believed to have been the last of the transported convicts to survive in Australia. He died in 1938, not long before I was born – and consequently is almost modern. Yet during those fourteen years of digging we could find very little about him beyond the bare facts of his career recorded on his convict indent, a few official documents in Britain and Western Australia, and the reports of his trial and conviction for arson at Oxford in 1863. Even now we don't know precisely who, of the many Samuel Speeds born in England during the 1840s, was the convict. So I kept putting off the work in favour of other projects ... coming back to it ... and laying it aside once more...
It wasn't until January 2018, having just sent off the final pages for a new edition of Captain Cook's Apprentice, that I decided that this time I really was going to write Speed. I pulled out the old files, began reading them again, and contacted people in Perth who'd been so helpful with the research before. The very next morning my wife called out, 'Have you seen the ABC…?' And there, on the website, was an article about Speed, written by two British academics from Liverpool University. More than that, they'd discovered a photograph of Samuel and an interview he'd given from his bed in the Old Men's Home to the Perth weekend Mirror newspaper, published in August 1938, just over two months before he died. A day or two earlier, and we might have missed it. As I say, talk about luck!
All at once I had not only a face, but also some flesh with which to clothe the mere skeleton of a figure that we'd disinterred to this point. Clearly, the article had been digitised on the National Library of Australia's brilliant Trove site after I'd done my earlier sweep. And while we may well have found it during the new round of research, nevertheless the novelist now had something substantial for my imagination to work upon. Within a couple of weeks I began putting the first words down, and over the coming months the characters of old Samuel, Bob the 'Tuppenny Orderly', and the reporter (unnamed by the newspaper, but who now contains many fragments of my younger journalistic self) began to emerge fluently and indeed urgently, as ideas that had been germinating inside the head for fourteen years at last began to find their expression.
There was something of a hiatus in the writing mid-year – half way through the work and Sam just landed at Fremantle – when we made our own research journey to the West, visiting Perth, Fremantle, Busselton and the scenes Sam would have known. They included, in another rare bit of serendipity, finding Harwood's Cottage with a few remaining buildings from the convict years at Quindalup, a mere dot on the map south of Busselton – and, through that, an introduction to a descendent of Henry Yelverton who owned the timber mill where Sam had toiled during part of his ticket-of-leave.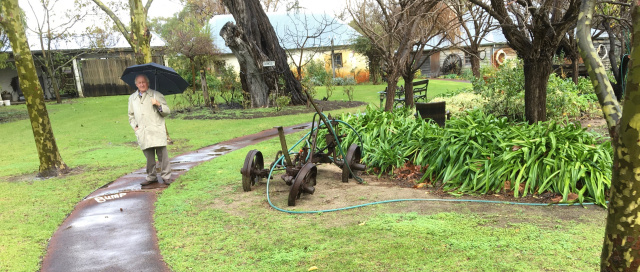 Harwood's Cottage and self, Quindalup WA
The visit also made plain that I needed to rework some of the earlier material. I'd been to Oxford, the castle, courthouse and Woodstock during a previous trip to the UK; but I realised that I needed to show in more detail how the English prison system, for all its nineteenth century horrors, did try to give the inmates some basic education. It was Sam's passing reference in his interview to a story by Mark Twain that suggested to me he'd become a reader: if Twain, why not Dickens and the others, whose characters might become his lifelong friends? Sam's funeral, in fact, was arranged by the Braille Society, and the records show an association between them over many years. Thus the necessity to show how the system could bring a semi-literate labourer to this stage; and while Sam's involvement on the convict ship with the religious instructor William Irwin is imagined, Irwin's compassionate, educated character, as revealed in his on-board Journal, suggests how he might well have guided the young Samuel along the paths of literature.
The rewriting done, I was able to return to the narrative, and it was completed exactly one year and four days from the day I began. Remarkably quickly for me: and the shade of Samuel Speed who, like every character, took up residence in our house like an extended visitor from the day I resumed work on his story, at last began talking of packing his bags and moving in with somebody else, namely his readers.
In all these aspects of his life I have taken my lead from the few hints given by Sam in his Mirror interview – even where they seemed to be fantasies, as in 'all the girls chasing me like they used to.' His return to the church was suggested by the donation he gave through the Trinity Congregational Sunday School to a flood relief appeal as reported by the West Australian. Two shillings and sixpence (twenty-five cents) may not seem much these days: it could be half a week's wages in 1888. These are the sorts of assumptions that have to be made by every historical novelist, and I emphasise that this essentially is a work of historical fiction.
Even so, I have sought to remain true to the historical facts – so far as we know them – concerning the actual Sam Speed, and referenced in the Chapter Notes and the Appendices. Sam's true age I have left fluid. He said in the 1938 interview that he was ninety-eight; the contemporary records indicate he was ninety-two or -three; his death certificate said ninety-five. No matter. Old men in novels (as in life) are allowed to be liberal with their age and antecedents.
I should add that it is has been said that there was another transported convict who died in 1939 – after Speed – but no name has to date been mentioned. Whether that turns out to be correct or not, the fact remains that Speed believed he was the last convict, the newspaper interview reported him as such, it has been repeated many times since, and it is Sam's story of survival into the modern era that I have been telling.
Anthony Hill
Canberra 2020